Editor's Note: There are spoilers for the first four episodes of Better Call Saul and some Breaking Bad ones, yadda yadda yadda, drop by our Better Call Saul Recap hub for more.
We're four episodes into a 10-episode first season of Better Call Saul, a series that sort of felt like it could come in box cutter range of Breaking Bad's greatness. Episode 4 was the first that made you kind of wonder whether it will ever get there.
We've gone two straight weeks without any new Breaking Bad character cameos, it doesn't look like we'll be getting any more flash forwards any time soon, no one has had their legs snapped in half in two whole episodes, and the foreshadowing-rich first three eps have been reduced to Saul gayly thumbing through a pile of orange dress shirts at a suit shop (guys, he's totally gonna wear one of those in Breaking Bad!!!!!!). The lulls that sort of paced the back end of the first few episodes, consume "Hero."
We start episode four with our flashiest flashback to date, Mullet Saul is coming out of a bar in Cicero, talking with someone he met inside about some sort of wolf howl-related sex move that we're pretty sure Saul has never actually attempted. They stumble down an alleyway together and we get the single greatest nugget drop of the entire episode. His bar stool buddy asks him what his name is and we find out that "Saul Goodman" = "It's All Good, Man." Whoa.
From here, we get to see a throwback Slippin' Jimmy scam where they find a passed out dude's $1,000-stuffed wallet, and then an actual passed out dude a few feet from it. Saul grabs the dude's Rolex watch, Bar Stool Buddy trades the $1,000-stuffed wallet and $500 of his own money for the Rolex, and -- after he jogs out of the alley screaming "SUCKER!" -- the passed out dude gets up, stone cold sober, and we realize pretty quickly the Rolex was a fake. SUCKER, indeed.
Bonus plot point: Saul used to smoke The Weed!
Back in the present, and back outside the Kettleman's tent, there's an awkward exchange between Saul and Betsy where she tries to bribe him, he refuses and then tries to win back their business, they refuse him, and Betsy heart daggers Saul: "You're the kind of lawyer guilty people hire." And he is. God is he. Saul takes the bribe, all but proving her point, and after a short little scene where Nacho is still all butt hurt about the whole jail thing, we see Saul counting the money in his office and assigning it to various fictitious lawyer fees.
"Upon this rock, I will build my church," he says.
There's all kinds of suuuuuuuuuper boring religious symbolism here that I've had too much whiskey to really get into, but the foundation for the Saul Goodman shadiness empire has officially been laid.
From here there's a nice little montage of Saul dropping some of his fresh stacks on a fancy new wool suit and a weirdly specific hair styling. Both, as it turns out, are for an I Love You, Man-caliber billboard that, at first glance, looks like it's a Hamlin, Hamlin & McGill ad with Howard Hamlin on the left, but nope! It's Saul dressed and styled exactly like him and the HHM logo has been doctored to read JMM, as in James M. McGill. The billboard is kind of an asshole move, honestly -- not, like, poisoning a little kid with berries from a Lily of the Valley plant and then convincing your partner it was actually ricin, and the poisoning was done by your arch enemy who you will now band together to kill, but still, some sort of lesser asshole move.
Despite later-that-night overtures from Kim to a University of American Samoa sweatshirt-clad Saul, he won't budge -- he and Hamlin go before a judge, he loses, obviously, and is ordered to take it down. Saul tries to take the "big law firm crushes little guy" story to local news stations, no one wants it, so he pays a couple college kids from UNM to check out equipment and film him waxing poetically on the injustice.
While he's there, a dude taking the billboard down falls off the ledge, suspended only by a safety rope, Saul runs to the sign, climbs 50+ feet in the air, reels him in, everything is caught on tape and boom, he's a hero. Except, SYCH, he totally planned the whole thing.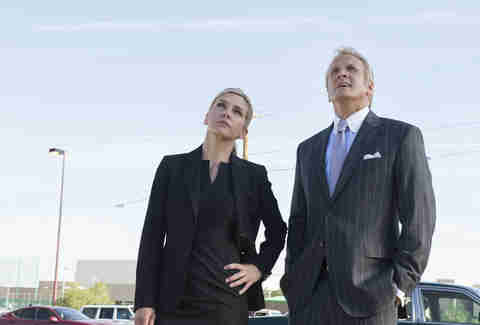 While you kind of totally see the Slippin' Jimmy scam coming, this one not so much, considering it's set up for over half of an episode titled "Hero." You kind of, mistakenly, think Saul's going to actually do something heroic.
Back at his office he has seven new messages on the voicemail we've seen him periodically check throughout the season, and suddenly, the rock he's building his church on seems pretty stable. And, much like the church, as corrupt as ever.
The final scene features a solid five minutes of Saul's brother Chuck, during which time you kind of secretly wish someone would accidentally light him on fire, but no, he's sadly totally fire free. Saul doesn't tell him about the rescue, he also doesn't give him his local paper, so Chuck, realizing something is up with the missing paper and the new client prospects for Jimmy, runs across the street into electromagnetism land (ahhHHHHhHhHhhhhHHHHH!), snags a paper, finds the story on his brother, and continues to be the most annoying character in the history of AMC programming.
Sign up here for our daily NYC email and be the first to get all the food/drink/fun New York has to offer.
Grant Marek is a Senior Editor at Thrillist and he really, really thinks Vince Gilligan should consider writing Badger into episode five, assuming he isn't already in it. Wait... is he??? Tell Grant how much Chuck annoys you, too, on Twitter at @grant_marek.