Editor's Note: This article includes major spoilers for the first three episodes of Better Call Saul, and Breaking Bad in general, none of which can be attached to the back of your Honda Civic. Sorry. Drop by our Better Call Saul Recap hub in case you missed the first two recaps.
If you grew up in the '90s, you owned a portable CD player, and if you grew up in the '90s and were super cool/sagged your pants a lot, you owned a Discman. And if you bought that Discman after 1995, you're familiar with the most thoroughly worthless button that has ever existed: "Anti-Skip Protection." My ass. That thing protected CDs from skipping about as well as Todd deals with unexpected 12-year-olds on bikes. And even though we all knew that button did absolutely nothing, every. Single. Kid. Pressed it.
In Better Call Saul's third episode ("Nacho"), Saul is that button.
For the third straight episode we start at a different place on the BCSSTC (Better Call Saul Space-Time Continuum): in "Uno" it was the future (with Saul Goodman hiding out in Omaha, post-Breaking Bad), in "Mijo" the present (with Tuco about to welcome two new skateboarding BFFs into his abuelita's home), and in "Nacho" we get the past, with Saul's lawyer brother Charles meeting a client in Illinois' Cook County jail. That client obviously turns out to be a fantastically mullet-ed Saul who, well, we're not quite sure what he did to end up here, but it involves being labeled a sex offender, assault charges, property damage, and a Chicago sun roof.
And while this way-too-long opening scene is largely uneventful, it does fill in some plot details for us:
1) Saul and his family were estranged for five-ish years prior to this.
2) Saul probably wasn't a lawyer before this exchange ("I know you've got a million legal loopholes we can dance through in your big bag of tricks. Any clever technicalities, huh? Any reasonable doubt type... stuff?").
And 3) Cicero, IL-native Slippin' Jimmy has yet to make his way out to New Mexico. It's pretty easy to piece together that, after Chuck gets him out of this jam, he'll move to New Mexico, and work his way up at Hamlin, Hamlin, and McGill (there's a line earlier in the series about Saul's "cronies in the mail room").
We speed past Mullet Saul on the BCSSTC and are back in the present where we find Jimmy in the nail salon late at night, dipping into the forbidden cucumber water "for customers only." He stares at the matchbook with Nacho's number on it, picks up the phone, and calls... Kim, his one-time phone sex (and probably real sex) buddy at HH&McG. He proceeds to plant the "Someone might try to rob the Kettlemans" seed, Kim gets weirded out, Saul feigns intoxication, hangs up, and mumbles to himself:
"I'm no hero."
We know this. We've always known this. Saul also knows this. And yet, he still tries to be one. Saul is that anti-shock protection button, pressing himself firmly into hero action even if we know it's not going to work out in the end (side note: why was that even a button? Shouldn't the Discman just have always been in anti-shock mode?).
He drives out to a pay phone in the middle of nowhere, and calls the Kettlemans (three times) to warn them ("Kettlemans, you're in danger, they're coming for your money, bye").
There's actually a great Breaking Bad parallel here. In the series finale, Walt uses a similarly middle-of-nowhere pay phone in Cañoncito (a ghost town outside of Santa Fe) to call some kind of assistant to Elliott and Gretchen (Walt's best bud and co-founder of Gray Matter, and his lab assistant/former girlfriend, both of whom got rich off the company he helped found), poses as David Lynn from the New York Times , convinces the assistant to give him the Schwartz's address, surprises them in their home, and forces them to launder his millions of dollars in drug money to Flynn/Walt Jr. It's the hero/anti-shock button thing all over again.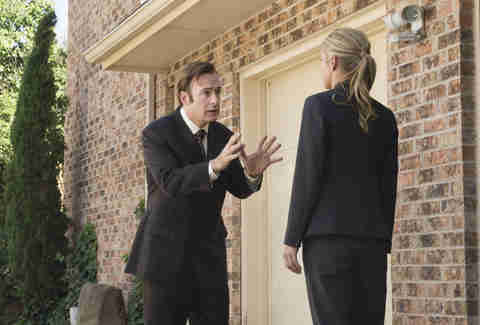 Tucked between pay phone scenes (in the first he's warning the Kettlemans, in the second he's trying to reach Nacho after the Kettlemans go missing), there's a great short scene with Mike and Saul -- Saul is trying to rush to the Kettleman crime scene, he doesn't have his stickers (as usual), doesn't have enough cash to pay for parking, and doesn't have time to go back.
"I'm not making you do anything, those are the rules," Mike says.
Saul reaches into the attendant window to press the gate button and drives off. It's incredible how these seemingly minor exchanges between the two mirror what's unfolding in the show on a more macro level. Saul is trying to toe the judicial line, to be ethical, trying to, as he tells Chuck, "make both of us proud." And yet, here he is, breaking the parking lot rules in the same breath he's breaking real life ones.
We reach the second pay phone scene, and we finally get the payoff to the line Nacho left Saul with at the end of the second episode after he hands him his number on the matchbook ("For when you figure out you're in the game" -- something that takes him less than one full episode to figure out). He calls Nacho four times and leaves him four messages wherein he frantically informs Nacho he doesn't know anything and that he can fix whatever he doesn't know. And this is where things get really plot driven.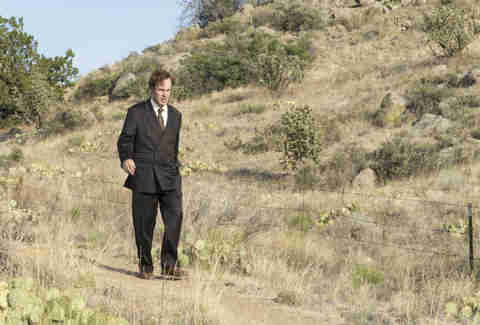 While Saul waits for Nacho to call him back on the pay phone, two plain clothes officers converge, they chase Saul down an alley, and eventually bring him into the station -- not because he's in trouble but because Nacho has designated him as his lawyer. Saul and Nacho talk, we find out Nacho hasn't done it and that he'll kill Saul if he 1) sold him out to another crew, or 2) doesn't get him out of jail today.
Saul returns to the Kettleman crime scene to try to figure out what happened, realizes that the Kettlemans themselves might be behind this, fills Kim in on his warning call to them the night prior, and returns to the courthouse to talk to Nacho. Mike won't let him in the lot though, Saul tries to abandon his car, Mike tells him not to ("You got a poop-filled diaper in there you're gonna throw it at me? You gonna gum me to death, huh geezer?"), and Mike nearly breaks Saul's arm pinning him to the ground.
The cops try to get Mike to press charges so they have leverage to get Saul to make Nacho confess, but Mike believes Saul's "No one took the Kettlemans, the Kettlemans took themselves" story, and even goes as far as to tip him off to where they probably ran off to ("It's human nature to wanna stay close to home").
Saul wanders into the desert behind the Kettlemans' house and eventually finds them in a tent way out in the brush. He calls Kim ("I found your dumb ass clients"), confronts them with the same line he used to confront his brother in the jail at the beginning of the episode ("Heeeeere's Johnny!"), and, as he tries to force them to pack it up and head back to their home, gets in a tug-o-war over a bag that rips open to reveal piles of the embezzled cash.
"Yeah," Saul says.
Yeah.
Sign up here for our daily NYC email and be the first to get all the food/drink/fun New York has to offer.
Grant Marek is a Senior Editor at Thrillist and he used to mow his parents' lawn while listening to TLC's CrazySexyCool and would stop every 25ft to check if the anti-shock protection was on. Follow him on Twitter at @grant_marek.