Editor's Note: This article includes major spoilers for the second episode of Better Call Saul and minor Breaking Bad spoilers, yadda yadda yadda, watch the shows before you read, yo. Oh, and hit our Better Call Saul Recap hub in case you missed recap No. 1.
Remember that Saved by the Bell episode where Jessie Spano starts taking a BUNCH of caffeine pills so she can keep up with everything going on in her life (geometry/her one-episode-only girl group/washing her hair), except she takes too many of them and starts freaking the fug out and we all learn important life lessons about how many caffeine pills you should actually take so you don't go all Spano on everyone?
Well, that's kind of exactly what happened in the second half of Better Call Saul's two-night premiere. Saul does a bunch of drugs and Mark-Paul Gosselaar shows up to comfort him... wait, no... Saul goes full-on self destructive (there we go), but, like E-Berk, makes it out of the episode in one piece.
Recommended Video
'Last Week Tonight' Writer Josh Gondelman Takes Shots, Talks About Working For John Oliver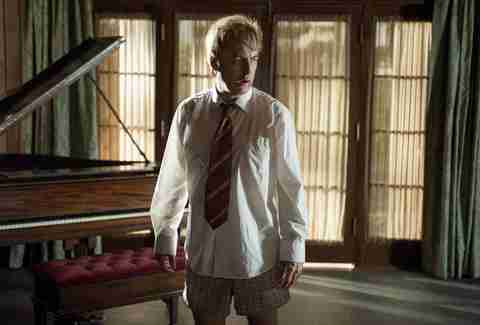 Here's what we know when we arrive at Episode 2 of Better Call Saul: 1) the skateboarding wonder twins are both inside Tuco's Grandma's house trying to scam money out of her, 2) Tuco is also in his Grandma's house and has a huge-ass gun, and 3) Tuco does THIS to No-Doze in Breaking Bad because No-Doze has the audacity to... remind Walt/Jesse that Tuco is in charge.
It all makes the Dexter-esque intro sequence with a knife and what looks like raw meat just a liiiiiiiiittle unsettling until we get the zoom-out reveal -- Tuco's just making fajitas, yo.
"Mijo" starts about 10 minutes before "Uno" ends in terms of space-time-continuum -- Zak and Luke enter Tuco's abuelita's house, make the mistake of calling his Grandma a "crazy old biznatch" and Tuco eventually strikes them each a couple times in the face with his abuelita's cane. We're left with an empty living room and Tuco scrubbing a spot of blood he tells his Grandmother is spilled salsa. Saul eventually shows up, we find out Zuke (Zak + Luke!) is still alive, and Saul basically convinces Tuco to let everyone go ("Why jump to the nuclear option?").
As much as we want to see Jimmy become Saul (which is kind of the whole point of the show), the prospect of watching this toned-down Tuco become the murder-y asshole Tuco who punches No-Doze to death in Breaking Bad is almost way. More. Fun.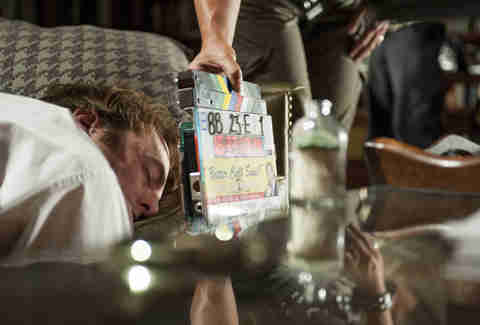 Back in Tuco's abuelita's garage, Zuke tries to pin the whole thing on Saul WHILE HE'S CUTTING THEM LOOSE, and just like that, we're out in the oh-so-familiar desert, everyone is tied up, and Tuco sends Nacho to the truck to grab the "nuclear option" (in this case, wire cutters).
The desert is where the Jessie Spano caffeine pills thing comes in. Saul talks his way out of having his fingers wire-cut-off, and instead of hopping back in the van, fully fingered, Saul puts himself back in harm's way -- something he avoids at all costs in Breaking Bad -- for the same two dudes who just sold him out. "You're tough, but you're fair. You're all about justice," he tells Tuco, but really, he tells himself. Saul is fighting becoming Saul, he's trying to do what's right, trying to be more public defender and less Slippin' Jimmy. And that's where Jessie Spano and Saul Goodman diverge -- Jessie's self destructiveness acts as a means to maintain her public perception, whereas Saul's self destructiveness acts as a means to build the one he thinks everyone wants him to have. He somehow bargains Tuco down from skinning them alive to breaking just one of their legs each.
Somewhere in the midst of all that nuance, we also get the best part of the entire episode: while trying to figure out a fair punishment for Zuke, No-Doze interjects, just like he does in Breaking Bad, telling Saul that Tuco can't give them black eyes since they already have them. Tuco turns and walks over to No-Doze, gives him a cold, hard look, and says "stop helping." For whatever reason Tuco FUGGING HATES that dude. And it's fantastic.
Saul takes Zuke to the hospital, pays for their medical bills (this broke-ass lawyer will self destruct in 3... 2...), and then like we got in the first episode, there's the lull. There's a weird scene where Saul is courting a cleavage-y chick at some swanky New Mexico bar (are those a thing?), feeding her tropical drinks while he sips on what looks like another Rusty Nail (with a lemon peel instead of a bottle squirt). He gets sort of mild PTSD while a dude at a table nearby cracks breadsticks, Tuco-stomping-on-Zuke's-legs style. He passes out at his brother's house, forgets to leave his electromagnetic stuff (so... his phone) in the mailbox, Chuck finds it, uses some wooden tweezers to chuck it on the lawn, and when Saul wakes up the next morning, he's sitting across from him wearing a space blanket, looking as crazy as he's ever looked. And then there's the line: "I'm not relapsing." He's talking about the medical bill he paid for, despite being broke, trying to convince his brother he's not scamming again, but really he's talking about a lot more than that.
To prove it though, we get a montage of Public Defender Jimmy running train on the courthouse. It's incredible, a sort of Memento-esque mix of sights, sounds, and repetition, with a classical concerto playing in the background.
Things finally slow down at episode's end, and we find out Jimmy is sleeping in his back-of-the-nail-salon office when he's not passed out on his brother's couch -- we watch as he oragami-ifies his office so he can pull out the bed in his couch, then has to abruptly put it all back when there's a potential client outside his door.
The reveal isn't on the same "Tuco is inside the house and he has a gun" level the show hit in episode one, but it's probably a more important one: Nacho wants the Kettleman's embezzled money, and he wants Saul to help him find out where they're stashing it.
Saul declines, still pushing the good guy agenda. Nacho hands him his number written on a matchbook anyway.
"For when you figure out you're in the game," Nacho says.
Saul looks through the beaded curtain as Nacho leaves and you know exactly what's going through his head.
"I'm so excited. I'm so excited. I'm so... scared."
Sign up here for our daily NYC email and be the first to get all the food/drink/fun New York has to offer.
Grant Marek is a Senior Editor at Thrillist and he's never tried a Rusty Nail, something he plans to address this week. Aggressively. Let him know who makes a good one on Twitter: @grant_marek.