You've played table shuffleboard before at a handful of bars in NYC, but you've probably never played shuffleboard shuffleboard, a game that, for generations, has been dominated by... old white dudes on cruise ships. Well, thanks to Royal Palms Shuffleboard Club in Gowanus (close to the new Whole Foods and Dinosaur BBQ), you'll now finally have your chance. A massive hall of Florida kitsch (cabanas! Drink umbrellas!) mixed with industrial not-kitsch (concrete!), RPSC is officially NYC's first and only bar outfitted with 10 bonafide sunken shuffleboard lanes.
These are "tangs", aka, the sticks used to push the "biscuit" down into the scoring zones. But enough about fantastic sexual euphemisms, what's this place got to eat/drink while you play?
Allow us to direct your attention to the food truck docking station, where they'll serve eats from one of their rotating cast of vendors, including Mexico Blvd, whose tacos are excellent and come with a layer of cheese that's been grilled to crispy perfection between the toppings and the tortilla.
And you didn't come here to NOT drink tropical cocktails out of mason jars, so get down with their not-too-sweet take on the Pina Colada called the Mae Hall (... all the 'tails are named for shuffleboard greats... also: there are apparently shuffleboard greats...), which is cream of coconut, pineapple juice, Angostura, and spiced rum, with the always essential cocktail umbrella.
Or if a fancy straw twist is more your scene, hook yourself up with the Christine Page Punch, which is three rums mixed up with "tropical" juices, orgeat, orange citrate, and the fancy straw twist. Or, just ask for the fancy straw twist... both are good options.
If, for whatever reason, you find yourself here but hate shuffleboard, they've also got an arsenal of "retirement home" games you can play... and everybody loves Uno. It's a fact.
Get there early, and you can snatch up one of these awesome indoor cabanas. If they're all full, poke around the rest of the place for somewhere to post up...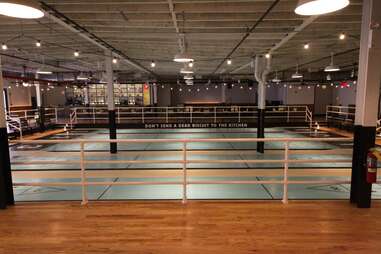 It always comes back to the bar.