Brooklyn Night Bazaar -- basically a night-time version of Smorgasburg... but with live music, ping pong, mini-golf, and booze -- is transforming this Wednesday and Thursday (April 16th & 17th) into CAMBALACHE. In celebration of Malbec World Day, from 6-11pm, BNB will feature over 120 of Argentina's finest wines, Buenos Aires street food, Argentine cocktails, and dulce de leche ice cream from Cones. If you're not there for the food (why are you not there for the food???), there'll be a ton of renowned Argentinian street artists, a DJ, and lessons in Buenos Aires street slang. Right.
Tickets are $80, and include food and drink, as is the Argentinian way. Or... you can win a free ticket (for you and your +1) by tweeting THIS.

Recommended Video
Winter Starbucks Beverages Around The World
Previous Venue
Next Venue
Venue Description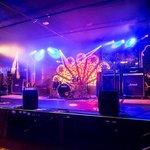 1. Brooklyn Night Bazaar
165 Banker St, Brooklyn, NY 11222
It's impossible not to find something you're into at Brooklyn Night Bazaar, a flea market/restaurant/concert venue mash-up housed in a 15,000sqft space right off the Manhattan Ave G stop in Greenpoint. Once a Polish catering hall, the three-floor building now has an Art Deco sensibility with multiple performance spaces, wacky carpeting, and mirror-plated walls. An onsite bar and restaurant churns out fried chicken and cocktails, sating shoppers on the hunt for vintage goods and local crafts. Don't come without a trip to the basement where karaoke, arcade games, ping-pong, and mini-golf complete the funhouse experience.