Turns out, there's more in Brooklyn's secrets bag than just those warehouse parties your cool friend took you to once. We actually found 21 totally awesome ones: everything from hidden rooms inside the Brooklyn Bridge to -- DUDE THERE ARE HIDDEN ROOMS INSIDE THE BROOKLYN BRIDGE.

There are hidden rooms inside the Brooklyn Bridge
Brooklyn Bridge
Towards the Manhattan side of the bridge, there's a hidden, Cold War-era bomb shelter, which was only rediscovered in 2006 -- perfectly intact and filled with supplies like medicine, crackers, and blankets. On the Brooklyn side, there exist a vast series of massive, beautiful music venues, ballrooms, and art spaces that once comprised Brooklyn Bridge Anchorage, but which closed after September 11th due to security concerns.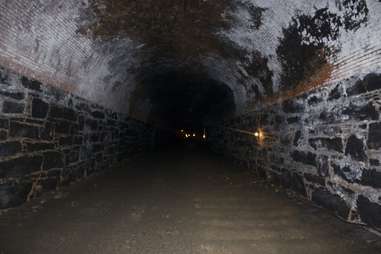 There's an abandoned subway tunnel under Atlantic Ave
Downtown Brooklyn
Once the world's first subway tunnel, this passageway was sealed up in 1861, when the city banned steam locomotives in Brooklyn; Walt Whitman would later write sadly of its closure. It was forgotten, then briefly remembered and reopened during each of the World Wars (it was suspected, erroneously, to be a Nazi hideout), but was eventually resealed and forgotten again. It was eventually rediscovered by a guy named Bob Diamond in the early '80s, who lead rickety tours of the place for a few years, but these were eventually deemed unsafe, and now nobody has been back in years. There's allegedly an entire steam engine buried somewhere inside.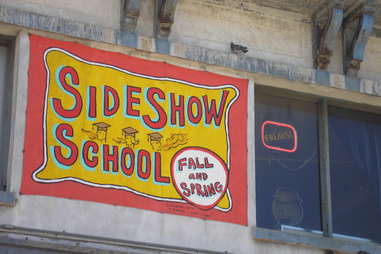 You can attend Sideshow School on Coney Island
Coney Island
Among a flotsam of collected oddities, the Coney Island Museum hosts classes that will enable you to run away with the circus, should the need ever arise. Here you'll learn everything from sword swallowing, to fire eating, to snake charming. Really.

And pay your respects at the Topsy the elephant memorial sculpture
Coney Island
Despite what you may have learned in school, Thomas Edison was a massive jerk. Nothing confirms this like the fact that he electrocuted dozens of animals -- not for scientific value, but merely for publicity. His company was responsible for the 1903 electrocution of Topsy, a Coney Island elephant, and now the Coney Island Museum honors her with a sculpture, where you can visit and apologize on his behalf.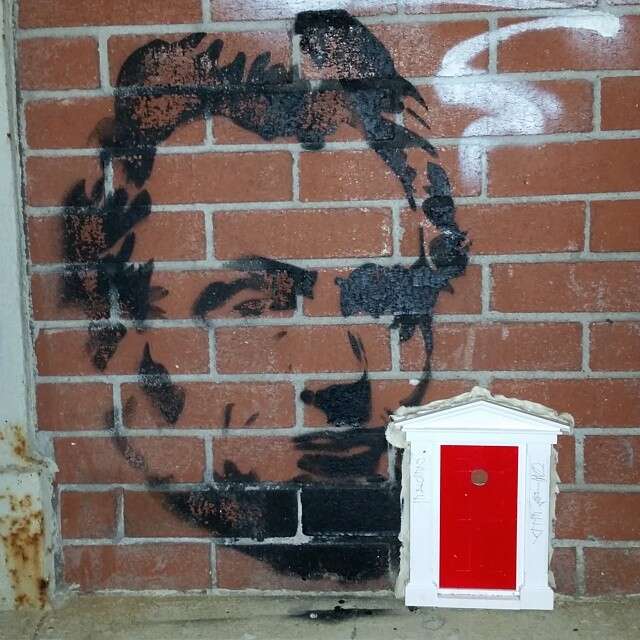 There are tiny fairy doors in Williamsburg
Williamsburg
There have been teensy doors popping up all over the city, including on Wythe Ave in Brooklyn. Some speculate that they're designed for mice, while others contend that the doors were clearly constructed by fairies (OBVI GUYS), but it seems like it was all actually started as marketing for the Speakeasy Dollhouse show, but then took on a mind of its own, with non-marketing doors appearing all over.
There's a farmhouse in Prospect Park
Prospect Park
Julie Golia, Director of Public History of the Brooklyn Historical Society, told us about the now oddly incongruous 200+ year-old Lefferts Dutch farmhouse that you can visit in... Prospect Park??... where they'll teach you candle making, butter churning, and how to make fire with flint and steel.
Kensington has a 500+ animal taxidermy museum
Kensington
Although there's been rumors of its imminent closing, we called and you can still make visits by appointment to this absolutely incredible Jewish taxidermy museum (but do your own due diligence), displaying everything from giraffes, to elephants, to crocodiles. The best part? You're completely encouraged to touch the crap out of everything. The space houses more than 500 preserved animals that are described in the Torah.
There's a cemetery in Prospect Park
Prospect Park
Yup, there's a Quaker cemetery (Friends Cemetery) in the middle of Prospect Park. It's not the easiest thing to find, but if you'd like to pay your respects to actor Montgomery Clift -- or sing Smiths songs in a hidden cemetery or whatever -- it's worth it.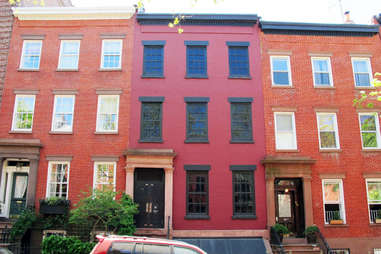 This is the world's only Greek Revival subway ventilator
Brooklyn Heights
58 Joralemon St appears to be a house like any other on the block, largely because it once was. The space was gutted in the early part of the 20th century, when it was turned into a subway ventilator and emergency exit. Aside from being a strange, empty shell of a home, the space looks especially spooky because the upper windows are coated in black resin.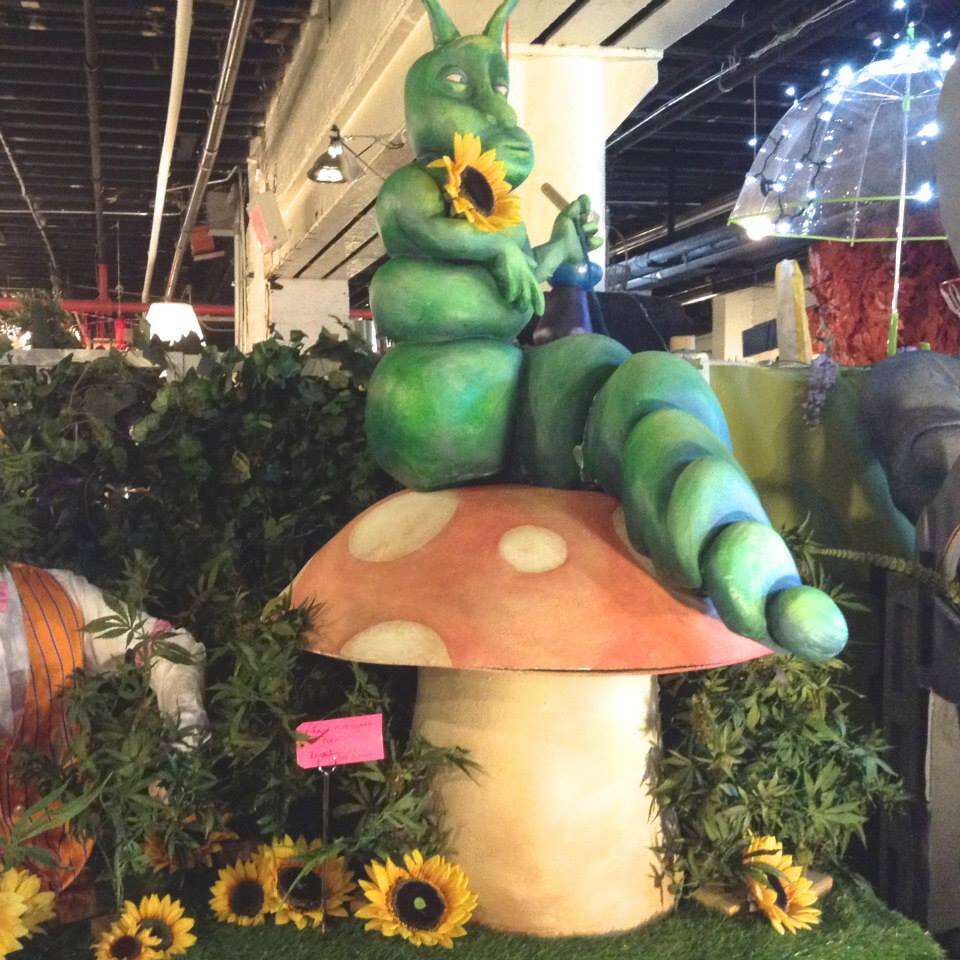 Film Biz Recycling lets you buy old props
Gowanus
An incredible and strange playground, Film Biz Recycling differs from most prop houses in that most of the items are available for purchase. That includes everything from really great vintage furniture to weird props, like a five-foot-tall banana or a powder-blue casket.
There's a chunk of Plymouth Rock in a Brooklyn church
Brooklyn Heights
Brooklyn has its own little chunk of Plymouth rock, which was, uh, "procured" decades ago, and is currently tucked away in a little niche in the wall of Plymouth Church of the Pilgrims.
There's a tiny museum in Downtown Brooklyn
Downtown Brooklyn
The Micro Museum -- the smallest in all of New York, actually -- unfortunately isn't dedicated to Micro Machines, but instead "interactive, media, visual, and performing arts". Tours are by appointment only so they can make sure everyone can fit.
The Pratt Institute has an engine room
Fort Greene
This is the longest continuously-operating, privately owned, steam-powered electrical generating plant in the country, and it looks kind of incredible. The gentleman who runs the operation, Conrad Milster, owns a remarkable collection of steam whistles that he takes out once a year and plays for an audience, usually right around New Year's.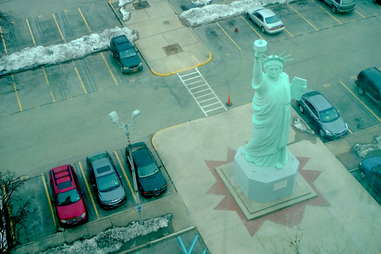 There's more than one Statue of Liberty (sort of)
Prospect-Lefferts Gardens
Because Prospect Park isn't close enough to the actual Statue of Liberty (15-minute train ride away from a decent view of the famous monument? As if, bro.), the Brooklyn Museum's outdoor garden offers a 37ft-tall replica for your Instagramming pleasure.
There are Colonial houses in Crown Heights
Crown Heights
The Colonial Williamsburg-style Weeksville Heritage Center honors the history of 19th century African Americans. The buildings are all original, and look like they appeared in the middle of contemporary Brooklyn through a time warp.
The front of this house is always changing
Boerum Hill
The strange and beautiful façade covering artist Susan Gardner's home is worth checking out: the entire exterior is a constantly-evolving, colorful mosaic. Gardner uses everything from teacups to old CDs in her massive project.
You can sneak inside this grain elevator
Red Hook
You can sneak inside the abandoned grain elevator near the IKEA (but totally don't because it's probably illegal) for one of the most breathtaking, private views in the whole city.
The Triumph of Civic Virtue Statue wasn't always in the same spot
Windsor Terrace
This statue of a gigantic, semi-nude man trampling two mermaids (representing vice and corruption) was originally outside of City Hall, but was deemed too lewd and relocated to Queens by Mayor Fiorello LaGuardia, where it was again deemed too "controversial" in 2012, and was moved again to where it now resides in Green-Wood Cemetery in Brooklyn.
There's a strange museum on Metropolitan Ave
Williamsburg
The City Reliquary and exhibition hall contains remnants from all sorts of weird bits of local history, from doughnut history, to the chicken museum, to bits and pieces of vintage New York burlesque costumes.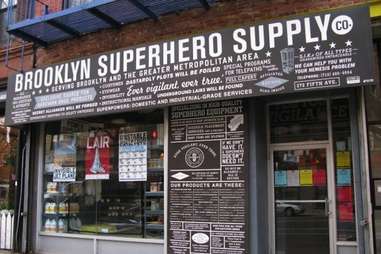 Park Slope has a Superhero Supply Store
Park Slope
This store is completely unlike any other store in the country: it supplies aspiring superheroes with the (sometimes imaginary) tools they need to fight evil. Because Dave Eggers decided he'd like a storefront, and of course this is what he went with.
There's a pyramid in Green-Wood Cemetery
Windsor Terrace
The Van Ness-Parsons Tomb is the coolest tomb you will ever see, ever. It doesn't matter what you end up accomplishing in your life, you will never be buried in anything remotely as awesome as this thing. It involves sphinxes and the Virgin Mary, together at long last.
Sign up here for our daily NYC email and be the first to get all the food/drink/fun New York has to offer.
Jess Novak is a Thrillist contributor who divides her time equally between drinking Scotch and exploring New York. She'd love nothing more than for you to stalk her on Twitter and Instagram.