Whether you're at an abandoned warehouse or a secret sex club, there's no shortage of insane parties in NYC. There are, however, a shortage of insane spa parties in NYC, a plight that's finally being addressed with Body by Brooklyn's bi-monthly event, When In Robe. With the next event scheduled for March 9th, we're getting you adequately prepped with this extensive guide to spa partying (yes, with pictures).
Everyone has inflatable pool toys
Everything from balls, to boom boxes, to whales. Now's a good time to break out that inflatable mustache you've been saving for a special occasion.
You've got a couple options for actually getting wet
Showers, cold baths, and hot tubs. You're gonna want to focus on the latter.
Be careful though, it's a cash bar, so you're gonna have to find a place to stash some money
Sangria, cans of beer, wine, Champagne, and cocktails are all on hand.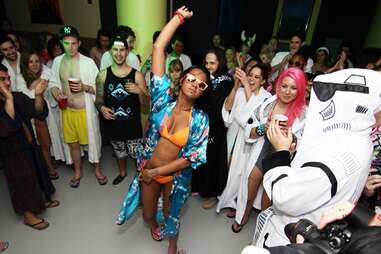 Bring your own robe
The best robe of the night wins tickets to the next event.
Also bring some flip-flops with traction
It can get pretty slippery in there, and you're gonna want to dance.
Make sure to stay hydrated
It's gonna get hot in thurrr (so hot).
You don't have to listen to all the signs
Especially the ones that suggest you should be quiet.
Free food!
Thanks to Fresh Fanatic.
If you need a schvitz -- and dancing isn't doing it for you -- hit the uber-hot saunas
The Swedish sauna goes to 155 degrees, and the Russian ups the ante to 175.
You can get honey scrubs, full-body salt scrubs, massages, and a Platza
Remember the thing all the correspondents were doing over in Sochi? Yeah, that's called a Platza, a "Russian healing" deal where you get whacked.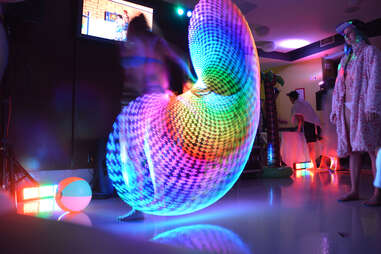 There's a bunch of wacky stuff going down
Like Marvel cartoons playing on the TV, and people hula-hooping with weird, light-up rainbow hula-hoops.
You're going to be in a bathing suit
Maybe do a couple crunches before you go.
Brittany Miller is a contributor for Thrillist and also a gym rat, who loves food and working four jobs just to get by in the city.
Andrew Zimmer is Thrillist's NYC Editor and likes going to the spa for a nice schvitz. Also: saying the word schvitz as often as he can. Follow him on Instagram, Facebook, and Twitter.