New York has a lot of weird going on in it, but nowhere more so than in Coney Island. Located at the very last possible stop on the D, F, N, or Q lines this peninsula (it's not ACTUALLY an island) in the Southern part of Brooklyn has been a haven for the colorful and the crazy for much of the 20th century. Today it comes alive during the summer with carnival rides, a buzzing boardwalk, a parade devoted to mermaids, lots of Italians, and, of course, the beach.
Here's what's not to be missed on your pilgrimage to Coney Island.
Recommended Video
Turn Your Old Fruit Into Booze With This New Gadget
Where to eat breakfast
Should you find it necessary to get to Coney Island at an ungodly hour (or maybe you've just been there since the night before...), you're going to need a hearty breakfast to take in all the weird. Tom's Coney Island (1229 Boardwalk West) is a solid slice of Americana right on the boardwalk, dishing out diner favorites like pork sausage, omelets, and beautifully sexy egg creams. Nothing on this menu is GF, so please don't ask.
Where to beach
As far as beaches in New York go, Coney Island is... not the best. I mean, it's fine. But we've seen better. Still, the ocean is... right there and you could jump in if you so choose. If you don't so choose though, your mid-morning might be better spent cruising the boardwalk. Here you'll find carnival games, concessions, souvenirs, and the rides at Luna Park. Take a spin on the Coney Island Cyclone roller coaster (and seriously question its security measures), swing on the Brooklyn Flyer (and moderately question its security measures), or spin around on the B&B Carousell (and rest easy because it's really slow). You might also consider winning a stuffed minion that will fall apart immediately and/or buying a giant plastic cup filled with a piña colada at any one of the MANY piña colada stands (and then going back for free refills).
Where to eat lunch
Everyone knows Nathan's Famous at Coney Island, if nothing else for its omnipresence in all airports and the annual hot dog-eating contest every July 4. And yes, you should definitely stop and suck down an original, and dirt-cheap, dog. If you want to go beyond this tourist hotspot though, there are a few other places worth mentioning for lunch: 1) Totonno's is an 80-year-old pizzeria serving thin-crust whole pies (no slices). Some say it's the best pizza in New York, though that's a fight we don't want to enter. And 2) for something quick, cheap, and without any lines visit Plaza Mexico Dona Zita, a stand near the Wonder Wheel that dishes out $3.50 tacos and $8 tortas the size of your head.

Where to eat after lunch
You can't call it a summer day at the beach without ice cream. Well, you could, but it would be wrong. In Coney Island your ice cream options are unlimited as every dive is selling soft-serve, along with funnel cakes, sno cones, and anything else to kill your summer diet. But you're fancy so go ahead and treat yo'self to the gelato at Coney's Cones.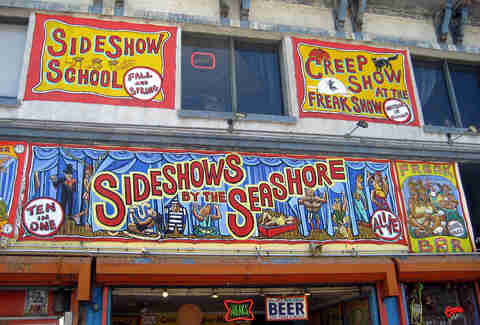 Beyond the boardwalk
Pay homage to Coney Island's peculiar past at the Coney Island Museum. Here you'll find antiques like vintage carnival rides and fun-house mirrors. Best part? Admission is only $.99. You can also visit the Coney Island Circus Sideshow. Once known as a freak show (we can't call them freaks anymore), this Coney Island institution has fire eaters, snake charmers, and even a Sideshow School where you can learn to unleash your inner freak (er... um... "circus star").
Where to happy hour
After all the fire-eating and bearded ladies, a beer might be exactly what you need. Scratch that: a beer IS exactly what you need. Option No. 1: head over to Ruby's, a beachy, dive bar-y throwback on the boardwalk. Order a pint of the sweet house ale and maybe a few fried apps before you head out for dinner.
Option No. 2: the Coney Island Brewing Company, which is a small craft brewery open to tourists on several summer weekends, but not allllllll summer weekends, so call ahead.
Where to do dinner
As if you haven't eaten enough today, make sure you're well-fed for that epic Odyssey of a train ride home. Visit Gargiulo's, a historic banquet hall that is all about old-school Italian. Menu classics include shrimp scampi and fettuccine verde al Gargiulo. Locals have been calling this place the best Italian in town since 1907.
Also a pro move: taking the N train one stop back to W 8- New York Aquarium to visit L&B Spumoni Gardens for some seriously kick-ass Sicilian slices and frozen spumoni. Sure, it's not technically Coney Island but... are you ever going to come out this far again?
If you ate at Totonno's for lunch and really, really don't want Italian for dinner, you're going to want to drop by Tatiana Restaurant & Grill, a gaudy, over-the-top, Russian dining establishment that looks exactly like the commercial for The Grand Prospect Hall. It, too, will make your dreams come true!
Sign up here for our daily NYC email and be the first to get all the food/drink/fun New York has to offer.
Meagan Drillinger is a freelance writer for Thrillist and thinks they shouldn't call it an island if it isn't actually one. It's very confusing and someone might embarrass themselves that way. Follow her on Facebook, Twitter, and Instagram at @drillinjourneys.