Cool Hunting's Josh Rubin stalks NYC
Whether he's expounding on intuitively functional, visually pleasing products on Cool Hunting, or creating gloves that enable the use of those products in winter, Josh Rubin knows a thing or two about design. We asked Josh to tell us about the places and things in NYC that inspire him, and from sublimely executed restaurant layouts to sublimely back-supporting chairs, this is what he came back with.
Insane in the Inseams: 3x1
Because most people know where their clothes come from like they know what's in their hot dog, 3x1 provides a the slow-food option for denim, maintaining transparency by housing all their materials and labor in-shop, including master tailors who only make two pairs of bespoke jeans a day.
Year-round Classic: Four Seasons Restaurant
Designed by heavyweights Philip Johnson and Mies van der Rohe, the Four Seasons "remains an institution in terms of classic modernity". Opened in 1959, they were the first restaurant to introduce seasonal dishes, and the first outside of California to serve American wine, and their furniture & dishware even made it into the MoMA. Also, there's a tree in the middle of the restaurant, and trees always score design points.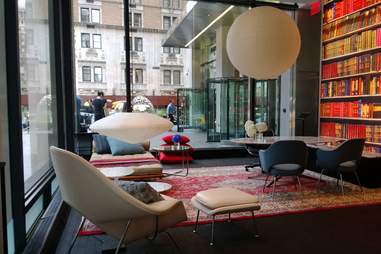 Hot Seat: Knoll
In addition to a rotating roster of designers, Knoll also brings on architects to design their sophisticated furniture. A "true example of living the brand", their first brick-and-mortar shop is a great place to kick back and pretend like you own things.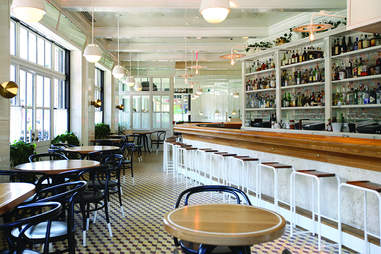 If Construction Materials Could Talk: The Standard Grill
"More than a beautiful space", Roman+Williams' mission with the Standard's ground level was "to create a new history in a rapidly changing neighborhood".
Motor City Rad House: Shinola
Not everything good that comes out of Detroit is Robocop. This "new-old brand" is changing the way that Americans think about American-made products through watches, shoes, and leather goods that are making the Motor City Renaissance infinitely handsomer.
Everything's Made Of:Matter
Brooklyn born and Manhattan bred, Matter combines the best parts of art (aestheticism, vision, creativity) with the best parts of furniture (sitting) to create pieces that'd look good in your living room, or a museum, or both at once if you're a mummy.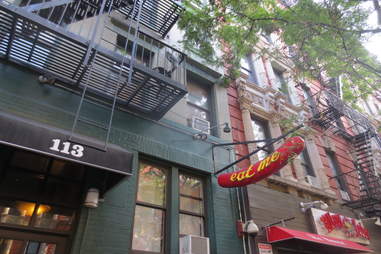 Shhhhhhh: PDT
Unlike other bars which waste time on windows or signage, Jim Meehan's PDT wholly commits its energy to crafting what Josh deems the best cocktails in town. On the doing New York checklist, slipping behind the hot dog shop has become as important as ascending the Empire State or standing next to Denis Leary in an elevator and thinking "This is totally weird, I'm standing next to Denis Leary".