For all those times you've been like, "Man, I wish I could start my day with a sweet-ass 7am rave before work", well, now you can (wait, really? Even we're a little surprised... and we're WRITING this...) thanks to Daybreaker.
It's a new dance party series (hosted at different venues throughout the city; this one was at Gilded Lily) that encourages you to get nuts early in the morning, on a weekday, with other like-minded life-enthusiasts. Sign up here for notifications on the next event in June, and read on to find out what you need to know before going.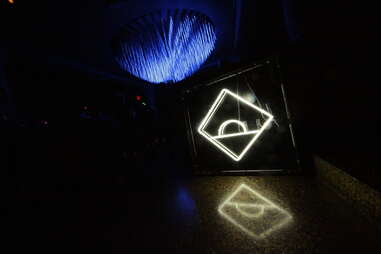 Yes, you've just woken up, but you'll need to get adjusted to the light, because the darkness of the club can be disorienting at first. Push on, though, because things will get brighter, louder, and much crazier...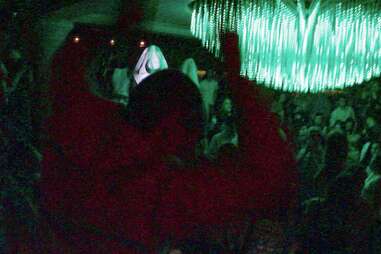 ... Like, holy-crap-I'm-dancing-with-a-carrot-(who has some excellent moves by the way)-in-a-sea-of-glow-in-the-dark-fake-jellyfish-at-8am crazier.
There's a DJ throughout the whole thing, but every so often they throw in a brass band and an accompanying violinist, who can do a killer rendition of "Suit & Tie".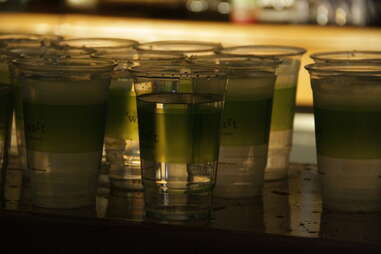 Sorry to disappoint anybody looking to get anything more than high-on-life before work, but there's no booze here; just water, coffee, fresh juices, and tea. So... you can't really hide at the bar if you're a wallflower.
Also feel free to pop to the top if the spirit moves you/you work out this much. There are all kinds of people in costumes and wigs, too, so get loose!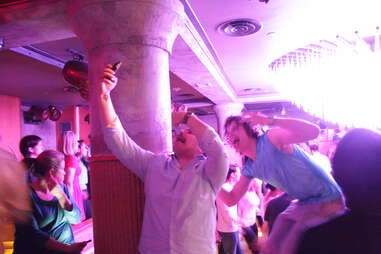 And don't worry, you won't be the only one selfie-ing.
Also kind of weird and awesome? If you notice a couple of dudes in suits tapping away on actual typewriters in a corner, talk to them. They'll write you a free haiku on the subject of your choice. We went with "breakfast sandwiches".
oh,youre hungover?
get that yogurt outta here
and eat this sandwich
And despite not being hungover, we listened, and then went to work.
Andrew Zimmer is Thrillist's NYC Editor, and he'd never been to a party that started at 7am before, but now totally thinks he could start every day this way. Follow him on Twitter and Instagram.