As much as we like complaining about our cramped, roommate-stuffed, perpetually messy living situations, we also like to gawk at where the 1%-ers get to live out their unfathomably rich lives (do they even know what roaches are?). So, we looked into it and came up with the 10 most luxurious buildings in NYC, with their modern-day, Gatsby-esque features. And if you live in these, good for you -- please invite us over for a party. We'll even bring the pizza (do you even know what pizza is?)
The Residences at Mandarin Oriental
Condos
If you love the performing arts (or just have a crap ton of money) this is a great location. You're only three blocks from Lincoln Center. You've got the amenities of both the hotel and the residence at your fingertips, including a 24hr concierge, housekeeping, valet, and in-residence dining. Plus, you have a mall downstairs with a Whole Foods Market in the basement, which seems like it's worth a small fortune unto itself.
Average price of unit: $22 million (via StreetEasy)
One57
Condos
For the moment, this is the most prominent building on what is known as "Billionaire's Row." The 10,923sqft duplex penthouse was just sold for a record-setting $100.5 million. It rises 90 stories with unparalleled views (at least they better be unparalleled). It features a two-table private dining and function room, a full catering kitchen, a private screening and performance venue, a library complete with a billiards table and aquarium, a private fitness center and yoga studio, a pet washroom, an arts and crafts atelier room, available on-site parking, and, naturally, a 24hr doorman and concierge, plus the Park Hyatt hotel is in the same building for whatever that's worth (a lot).
Average price of unit: $29.8 million (via StreetEasy)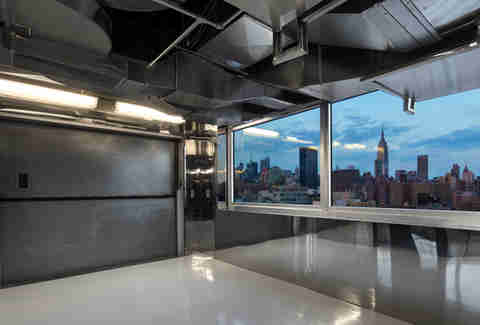 200 Eleventh Avenue
Condos
The 19-story building in West Chelsea has an unobstructed view of the Hudson River and does a great job of reflecting the sunlight back to New Jersey at sunset -- taste our rays Jersey! The building includes doormen, a health club, and well-appointed units. The big selling point about this building is the "Sky Garage," an elevator that brings you (while still in your car) up to your home.
Average price of unit: The penthouse is asking $19.5 million, but the average current asking price is $4,954 per square foot (via StreetEasy)
Baccarat Hotel & Residences
Condos
This is one of the newest hotel residences in the city. The first 17 floors of the building are a hotel, but the rest are condos. You get the traditional amenities of a luxury building in the city, such as a doorman and a concierge, but you don't just get the hotel's concierge, you get a special concierge for the residences, also available 24 hours a day. So, too is room service, maid service, and maintenance. You want a meal, your bed made, and your toilet fixed, all at 3am? No problem. Your home is also controlled by a smartphone-linked Crestron system, which means you can turn on the heat when you land at your private airport in your jet that's probably made of gold. The duplex units have 20ft ceilings. All units have a Baccarat crystal chandelier. You also have access to all of the hotel's amenities, including the pool, spa, and fitness center, and you also get priority access to hotel rooms and upgrades when available.
Average price of unit: $6.5 million (via StreetEasy)
35XV
Condos
It's brand new (occupancy starting this quarter) and just off Union Square and it's beautiful, blah blah blah. Plenty of fancy-schmance new buildings include a small wine refrigerator in the kitchen design. It's very nice, but 35XV goes beyond that with a climate-controlled wine cellar and personalized lockers for each residence. The building also has a fitness center, and a large terrace. Plus, since the bottom of the building is actually a school, the first residences don't start until about 100ft up.
Average price of unit: $4.9 million (via StreetEasy).
ohm
Rentals
This building, constructed in 2010, is on the far West Side, right across the street from the High Line. Its amenities are a little different from other buildings' -- it's got both a video arcade and actual live music from the Knitting Factory. There is also a 3,400sqft lounge with a fireplace, billiards, card tables, a big screen TV, and shuffleboard. There is a gym overlooking the Hudson River and a landscaped skydeck. There is on-site parking and bike storage, shuttle bus service to Penn Station, and the concierge includes dry cleaning, shoe repair, dog walking, tailoring, personal shopping, catering, and personal chefs.
Average price of rental: $3,800 a month (via StreetEasy)
Abington House
Rentals
Shhhhhh! Completed just last year, this building overlooks the High Line and features a room called the Sanctuary. It promises you'll "find silent refuge and relieve the stress of the everyday in this contemplative space, with acoustic ally treated walnut walls and a linen-wrapped ceiling, designed for complete silence." The building also rocks a private entertainment lounge, a sun terrace with multiple outdoor dining options, bike storage, dry cleaning, dog pampering, valet parking, and a "technology concierge."
Average price of rental: $5,000 a month (via StreetEasy)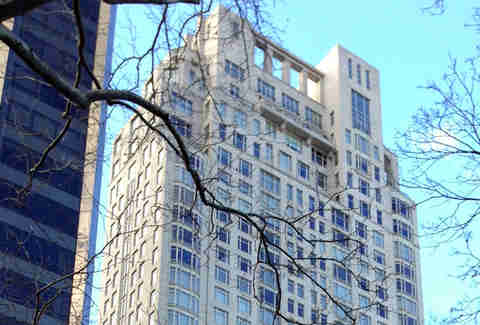 15 Central Park West
Condos
This Robert A.M. Stern-designed Art Deco tower was the previous record-setter for most expensive apartment in the city. It was widely reported that Russian billionaire Dmitry Rybolovlev spent $88 million to buy his 22-year-old daughter the penthouse. Keep in mind, Mikhail Prokhorov spent $200 million to buy the Nets. The building features private a dining room for residents, a walnut-paneled library, a screening room, private wine cellars, a health club, and pool. Also, it was reported that Alex Rodriguez was banned from the building, which's invaluable.
Average price of unit: $14.7 million (via StreetEasy)
 
1600 Broadway on the Square
Condos
This place is amazing if you're one of two things: a broadway fanatic (it's incredibly close to the action) or a golf nut. Maybe you're both -- you're like a human unicorn, good job by you. Its fourth floor lounge takes over the whole floor and has billiards, a putting green, virtual golf, and a fitness center. There is also an observation lounge at the top of the 25-story building. Naturally, there's also 24hr concierge.
Average price of unit: $1.5 million (via StreetEasy)
The Plaza Hotel
Condos
This is a landmark, literally. It's where Jay Gatsby spent a hot summer afternoon. It's where Cary Grant was kidnapped. It's where the children's books character Eloise lived. Now, you can live there, part time, at the Plaza Pied a Terre Hotel Condominiums, located on floors 11 through 20. You're right on the Southeast corner of Central Park. It features nanny, limousine, turn-down, and private butler service along with, naturally, a 24hr concierge (which we're not sure is super different than having a butler at most of these places).
Average price of unit: $19.85 million for a four-bedroom (via CityRealty)
Sign up here for our daily NYC email and be the first to get all the food/drink/fun New York has to offer.
Evan Bindelglass is a local freelance journalist, photographer, cinephile, and foodie. You can e-mail him, follow him on Twitter, or check out his personal blog.