Fear and Loathing at SantaCon
I feel like Bad Guy No. 4 in a terrorist sleeper cell this morning. That's about the level of subordination I'm agreeing to when, at 9a sharp, I pry my eyes open to check the SantaCon twitter handle so I can find the first stop of what's basically a frenzied city-wide bar crawl where everyone dresses up like Santa. Or Heisenberg, depending. And since I'm a thirsty Yuletide goon, I'm ready to go wherever the Internet tells me. I'm told to head Uptown, and do so while sporting the appropriate head-ttire -- one CVS stop later, it's on.
Jeremy Glass
On my screen is the SantaCon code, which strictly tells me to not "f*ck with kids or cops on this special day". Right on, don't f*ck with cops, good advice for any day really.
919a: Keeping the biblical "no f*cking with people" prophecy in mind, I make my way through a particularly hard snowstorm in search of other cheery ice-crusted people. On the endless walk from LES to Union Square, I see other members of various Santa sleeper cells, bundled up with as much Christmas glee as they can fit on their thirsty little bodies, walking from bar to bar -- all inhibitions left in the snow. This is SantaCon 2013, and I'm knee-deep in festivities.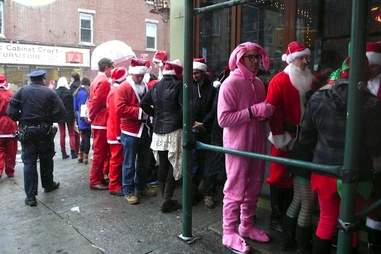 Jeremy Glass
1035a: My first stop is a little bar on East 3rd, where I walk into a room full of Kringles. Everyone looks exactly like St. Nick, except instead of carrying around a bag full of presents, they have handfuls of shots and party beers. I keep thinking how funny it would be if every person in a Santa suit got together to form one giant MechaSanta.
Jeremy Glass
1120a: I'm reminded that I'm not about to embark on a kitschy little pub crawl with a bunch of Reddit-loving tech geeks and ornament enthusiasts, but rather more of a Christmas-themed Gathering of the Juggalos. I make a mental note to buy myself a shot if I actually come upon a Juggalo dressed as Santa, since after that, there are no more things to see.
1158a: I can't help but think every state school in America received a group email telling deans across the country to send their loudest/beer-pong-playing-est students over to good ol' NYC. However, as my editor's warnings to keep this article fair and balanced echo in my snow-covered dome, I trudge on.
1230p: As I walk further Uptown and stick my head in bar-after-bar, I notice everyone working today seems pretty cool with the onslaught of festive tomfoolery. Then, considering the amount of cash I see flying around, realize that all the bartenders are going to end their nights crying into a bathtub full of money. I make a friend and ask him if I can take his picture. He tells me yes, but asks what it's for.
"Thrillist.com!" I say.
"Best place I've ever been to," he replies.
"Nice." I snap a picture and move on.
Jeremy Glass
108p: As I walk into the heart of Union Square, I fully take in how expansive SantaCon really is. This is bigger than a trending hashtag on Twitter. EVERY other goddamn person is dressed up as Santa, an elf, or a festive slutty reindeer. I suddenly wish I could care about normal things the way everyone outside cares about SantaCon and suddenly feel out-of-place  in my black overcoat and red beanie. Maybe I should've brought the decapitated head of a reindeer? Just a baby one. Just to see how it feels.
230p: As the grey skies get even darker from the slowly worsening snowstorm, I begin to notice a general atmospheric change within the SantaCon community. People seem tired, belligerent, and  chilly. Most of my queries to take a photo are met with guttural laughs and middle fingers.
This sharp barometric drop in character becomes especially evident on the corner of St. Marks and Second Ave, as I witness two separate Santa groups attempt to consolidate into one. A brave diplomat steps out from Group A and attempts to start a conversation with an elf lighting a cigarette from Group B.
"Yo dude, which bar are you guys coming from?"
"Cigarette-ville," says the elf, not taking his eye off his lighter.
"Ah, go f*ck yourself."
The consolidation is a failure, and I mourn for the great things that could have been accomplished had these two groups gotten together. Every time a group of tipsy Santas fails to resolve their feelings, an angel gets punched in the face its wings. God bless you, intoxicated Yuletide heroes.
Jeremy Glass
250p: I step into a divey looking spot North of Union Square and am met by a bartender who couldn't have been born any time after 1930. I rally everyone together to do a toast of shots, but am beaten to the punch by some dude who looks like a gingerbread man. He seems really nice and probably has a larger penis than I'll ever have. Much sad.
3p: Each and every bar in Manhattan is seemingly free of any non-SantaCon individuals. I wonder if all the bar regulars feel especially disenfranchised and unoriginal. The crowds inside are rowdy and snow-soaked, but united in their continuing plan of getting absolutely blizzardkrieg-ed. It reminds me of high school parties from the movies. I wonder for a minute if Freddie Prinze, Jr. is here, then assume he's died and move on. As I watch each droplet of water hit the ground by my feet, I can't help but wonder if anybody else is as physically exhausted as I am. With only a couple beers in my belly, I realize I'm going to need a kiddie pool's-worth of spirits before I can begin to forget the hypothermia slowly creeping up my bones.
Jeremy Glass
355p: I'm starting to become more and more paranoid that I've landed in some kind of Planet of the Apes-type scenario. Has Earth always been like this?! Are there any people left in the world not dressed as Santa? Am I the only one? If only Charlton Heston were alive, he would set things straight.
440p: I decide to treat myself to a cold-ass brew as a self-congratulatory gesture for that awesome Planet of the Apes analogy. I pat myself on the back and meet a man who is legitimately Santa Claus. His beard is tinged with yellow and he smells like flower-water from an old vase, but he makes the evening feel a little less crazy. I buy him a beer and then ask him what he would do if he was trapped in the same day over and over for 10,000yrs. He tells me he'd learn piano, I tell him Bill Murray is the best actor of all time, and we drink. This guy's alright. I tell him I'm going to call him Mr. Freeze and he seems fine with that.
Jeremy Glass
550p: After surveying the scene and taking pictures further Uptown, I decide the snow has gotten the best of me. I take the long walk back to Chinatown and reflect on what I've seen today. I've never once seen a city so unified in partying without the backdrop of a sport victory. I've also rarely seen a sport victory, so this is all kind of uncharted territory. Will I go to SantaCon next year? Jump back into the red velvet land where social standards are that of a dorm room kegger? Heck yeah. Would I bring a friend? Sure. Just be weary of dudes in Santa hats. This is hat country.

Jeremy Glass
As I walk home, I hear a blissfully unaware child point out and shout, "SANTA!". Santa's dead, kid.
Jeremy Glass hates writing in the third-person almost as much as he hates superfluous fictional job titles on business cards. I'm not a ninja, gangster, guru, or rockstar. Here's my twitter, I have to shower and vomit.