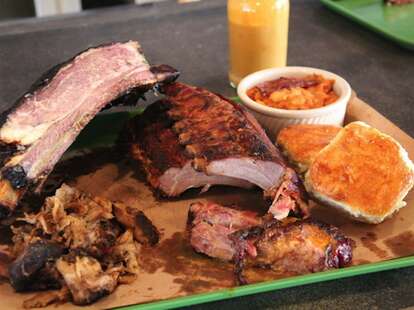 It's New Year's Eve, and there's no doubt you've already decided you're gonna infinitely improve your life in 2014 by finally getting in shapefinally saving money finally reading more stories about NYC sex parties. Us? We're content with just writing down a list of resolutions we might actually try to keep this year.
1. We resolve to never underestimate NYC BBQ again.
2. We resolve to move out of our sh**ty neighborhood.
3. We resolve to really appreciate the size and scale of our unmatched skyline, and to drink on top of it as often as possible.
4. We resolve to figure out what the hell those palm reading places are actually fronts for used for.
5. We resolve to go to that classic NY dive spot you heard Blondie used to hang out at back in the day, because it'll probably be some high-rise apartment building in, like, six seconds.
6. We resolve to start hating Chicago and Philly as much as they apparently hate us.
11. We resolve to try something new, and perhaps sexually adventurous.
12. We resolve to explore areas of the city we may not've otherwise ever gone to.
13. We resolve to not get so upset at people on the subway. Everyone's just living their life.
14. We resolve to only go to strip clubs at A-Team time rather than for sushi happy hour.
15. We resolve to cook more than ramen and Easy Mac in our kitchenette, which we pay an extra $500 for... just so we can tell people we have a "junior one-bedroom".