Gettin' Buff With Robert Irvine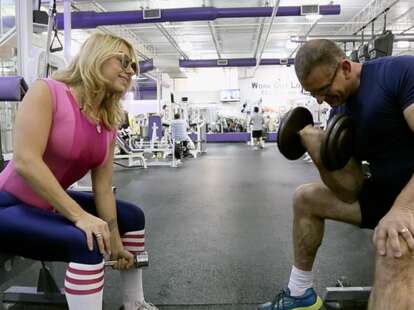 Between hosting Restaurant: Impossible & Dinner: Impossible, touring Afghanistan with Operation HOT and lending a hand to the Gary Sinise Foundation, perfecting a new recipe for his Fit Crunch Bars (30g of protein, only 6 of sugar), and consistently over-satisfying his wife, TNA wrestling champ Gail Kim, it is almost absurd that Robert Irvine has set aside some time to host Thrillist's Barbecue and the Blues event during the New York City Wine & Food Festival.
One thing Irvine never fails to find time for: making his muscles even more enormous. Our correspondent Sam Jones, from the only occasionally SFW show At Home With Sam Jones, caught up with him at Northfield, NJ's Island Gym to ask him some deeply probing questions.