Governors Ball Recap: Mud, Music, and the Yeezus
Rounding out its third year of bringing some of the biggest acts in the world to the Big Apple, 2013's Governors Ball was one for the books, books that were very muddy by the end of it. Fans and musicians alike fought heavy winds, torrential downpours, and abounding fields of grossness. From Deerhunter, to Grizzly Bear, to Animal Collective, to bands that have nothing to do with animals at all, Thrillist got down and dirty with some photo evidence of the madness.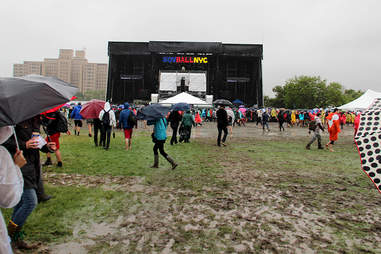 There was once a ton of grass at Govs Ball.
This girl purportedly came for the cornhole, but stayed for Icona Pop, who has little regard for automobile safety.
These ladies obviously knew how to have a good time. Beach balls?! HEADBANDS?!?!
Mud baths are great for the skin. Fact.
If this was a movie, Matthew McConaughey would star in it.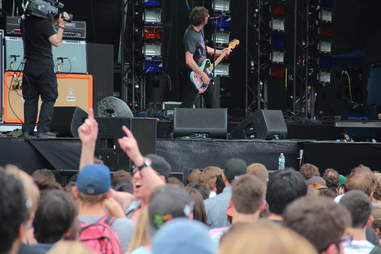 These dudes are from Canada but go by the name Japandroids, and much like Bryan Adams, can rock. Someone should tell that to that guy who's facing the completely wrong direction.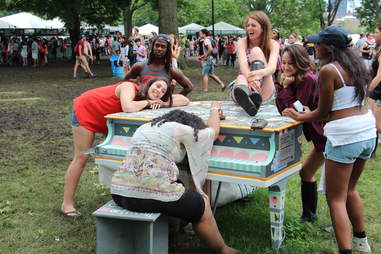 I hung around this woman for about five minutes. She did not play "November Rain", like the crowd had expected. I still gave her an 8/10.
Edward Norton straight pounding on the drums! Just kidding, it's just Thom Green, sticksman for UK indie rockers Alt-J.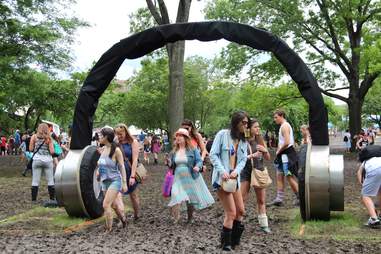 These gigantic novelty headphones served absolutely no purpose.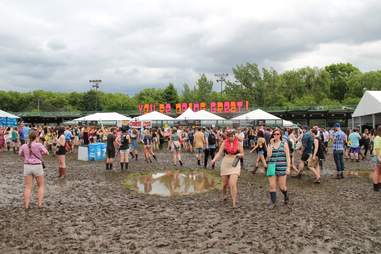 Puddle of Mud was consistent, but lacked energy and range.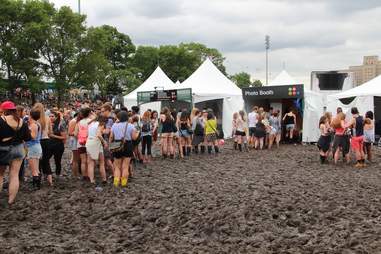 This photo booth was a huge success, probably because of its Dirty Projectors, but nothing compared to the biggest act of the evening...
The Avett Brothers! Kanye West! After coming on stage about 15mins later than he was slated, he played some new tracks, some hits, referred to himself as "Yeezus", and then achieved world peace & ended gun violence.