If you don't go to Governors Island this Summer, you're blowing it.
Sitting placidly at the mouth of the Hudson & East Rivers, the one-time colonial outpost is a modern-day New York paradise: leafy sycamore groves & Revolutionary fortresses compete with top-notch food trucks & free hammocks for your undivided attention, all under the watchful eye of Lady Liberty, who stands stark still off the island's West shoreline. And if that's not enough to convince you, THERE'S FREE MINI-GOLF, YOU GUYS!!!
I've made several trips to Governors Island, but on my most recent outing, I brought a camera and my girlfriend to show you -- yes, you! -- how to do the best Summer day trip NYC has to offer.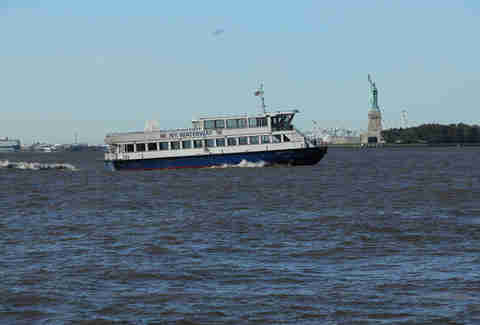 Getting there
Considering it is, in fact, an island, you'll have to access this verdant refuge by boat. Specifically, you'll float to fantasyland via a NY Waterway or the East River Ferry vessel. Check out the comprehensive schedule here.
Leaving from Manhattan: You're headed to the Southernmost point of the Financial District — past Stone Street, the White Horse Pub, and about 17 Panera Breads. The Governors Island ferry pushes off from the Maritime Building every half-hour on weekends. Don't board the much-bigger Staten Island ferry -- it docks next door, and though it will take you to gloriously underrated pizza, it will not take you to Governors Island. Stay focused.
Leaving from Brooklyn: Pier 6 is where the magic happens. It's a bit of a hike from the nearest subways (Court St or Borough Hall), so if you've got the means, take a bicycle cruise down cobblestoned-but-rideable Joralemon St, on which you'll see enough beautiful brownstones that you'll temporarily forget that you're actually headed to an even better neighborhood in a second. Again: stay focused.
Joralemon aside, bringing your bike to Governors Island will pay dividends no matter which ferry you ride, because bicyclists are permitted to board before pedestrians on foot. Especially in Manhattan, this is a huge advantage — after racking your steed, you'll get primo seating on the top deck before the queued-up hoi polloi is allowed to board. You'll also likely get to de-board first upon arrival.
To get preferential treatment, simply locate a ferry employee and ask them to direct you to the bike entrance. It's not really cutting: everyone gets on eventually. You're just helping the crew board the boat more efficiently. Go you!
What you should bring
You "technically" can't bring dogs or booze (unless you're a hardened criminal/person who likes fun and owns a Nalgene bottle), but these items should make it into your daypack no matter what.
What you don't have to necessarily bring: a phone charger
Scattered throughout the island are these AT&T StreetCharge towers, which use solar power to generate free juice for your device. There are a variety of plugs available, including the still-sorta-rare iPhone 5 Lightning attachment. Again though, they're scattered, so use your phone sparingly — choice Instagrams only!
Where to lounge
First of all: everywhere! No matter which way you turn, you'll find blessedly empty, unreasonably green squares of sod on Governors Island. But here are some of my favorite sprawl-out spots.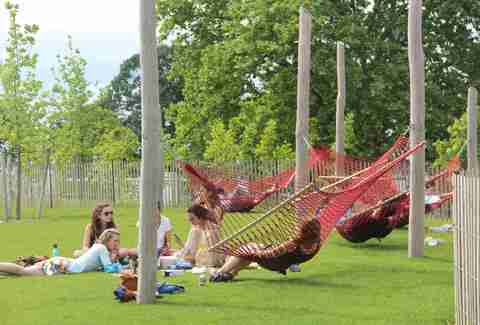 For sunshine:
The Parade Ground is the less crowded, more pastoral version of Sheep Meadow in Central Park.
Check out Hammock Grove for the finest public rope slings you've ever seen. Around a dozen were installed last off-season, and they boast unbeatable views of the Statue of Liberty. Thanks, Bloomberg!
Head to the Southern tip of the island, and you'll find the Play Lawn, complete with rolling hills, saplings, and ballfields.
For shade:
On the East side of Governors Island sits Nolan Park, a lazy little quad criss-crossed by quiet walking paths.
Colonels Row is where most large events on the island take place. If there's something going on there, stay away; when it's vacant, though, spreading a blanket and picnicking amongst federally protected officers' quarters is the move.
There are a few secluded Adirondack chairs inside the walls of Fort Jay, the island's Revolutionary War fort.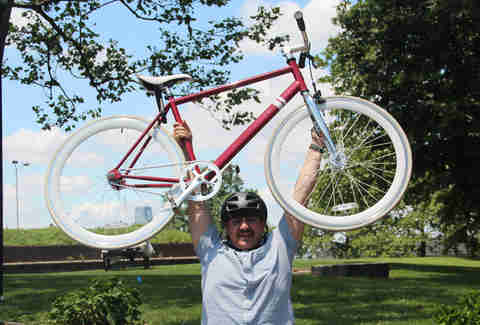 Getting around
This rock is about 72 acres worth of awesome, and the only motor vehicles on the island belong to the (very friendly) park police & caretakers. Bummer. You can:
Cruise by bike. If you don't own one, you can rent on the island at Blazing Saddles — a 10min walk from the ferry drop-off.
Walk it out. It's your best bet if you're there for an event, or just to sunbathe on the Parade Ground.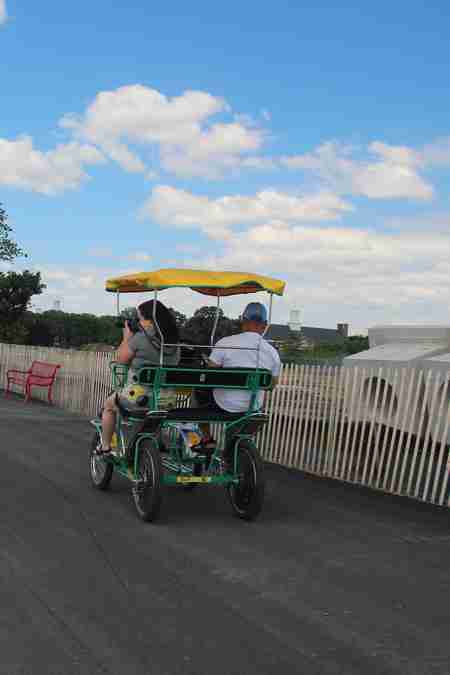 Roll deep in a surrey. Also available from Blazing Saddles, these multi-person, side-by-side carts are ideal for professional-grade bike gang activities.
Look at that view!
Expect jaw-dropping Financial District views from pretty much anywhere on the North half of the island...
... and this sorta-cool green statue thingy to the South. What's it holding?
Come hungry or not at all
As you may have heard, Governors Island is crawling with real-deal eats these days. Familiar faces like Wafels & Dinges and Mayhem & Stout sling next to dark horses like Snowday -- the heroes responsible for this ridiculously tasty maple grilled cheese.
To assist you in your quest for walk-free gluttony, all the vendors are clustered together on the island's King Ave. Say hello to the prettiest food court in the five boroughs (and possibly the world).
Rad Revolutionary War history? Check.
Once you're done stuffing your maw, pick your head up to appreciate the island's incredibly badass citadels. Fort Jay & Castle Williams (built in the 18th & 19th centuries, respectively) are both open to wander through.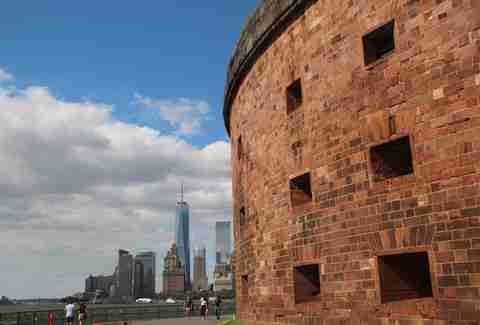 Want a history lesson? Just ask one of the knowledgeable rangers stationed at the buildings' entrances, weirdo.
Ball so hard
Governors Island is home to the Harbor School, which is home to this unreasonably awesome basketball court that you could be playing HORSE on RIGHT NOW (... if you're already on the island, and reading this on your phone, and have a basketball, and someone to play against, and're standing right about where this picture was taken).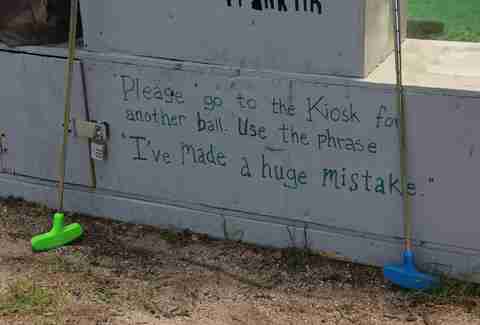 For the discerning sportsmen who don't play roundball, there's also a full-scale mini-golf course laid out on the Southeastern corner of the Parade Ground. Organized by Figment Project and built by artists, each & every NYC-themed hole is free to play (though donations are encouraged).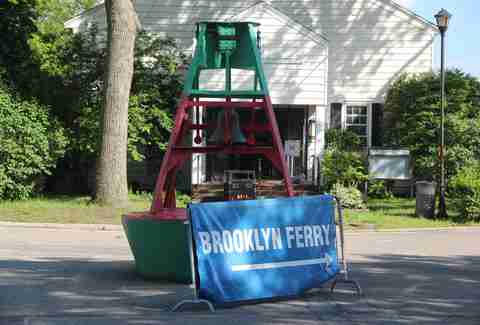 Getting back
Eventually, you will have to leave this wonderful cloister and return to a proper borough. When that time comes (last boat to both boroughs is 7pm), be smart and come back on the Brooklyn ferry instead of the Manhattan.
Technically, you can ride either, but the latter gets way more crowded, pressuring you to join the massive line that stretches all the way up the hill from the dock. This cuts into valuable leisure time, which is despicable.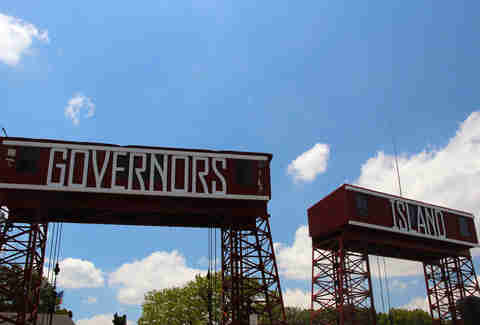 In conclusion
Skip Central Park, cancel Coney Island, and reject that invitation to the Rockaways. If you're looking for the best day trip in NYC (and the cheapest, probably) this Summer, look no further than Governors Island. Don't blow it.
Dave Infante is a Senior Writer for Thrillist Food & Drink. Follow him on Twitter at @dinfontay, or just creepily walk up to him and say hello when you see him on the Parade Ground.