Life in the 'Hamilton' Ticket Line, 5 Minutes to Showtime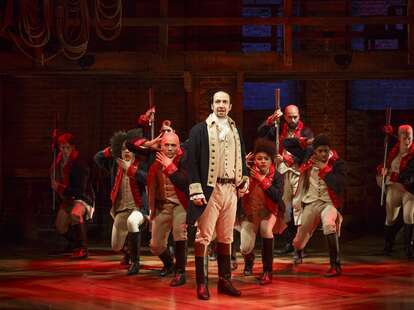 Courtesy of Atlantic Records
"I can't do less than five hundred. I'd rather eat it. I spent thirteen hundred." So says the calm, elegantly dressed older woman outside the Richard Rodgers Theatre moments before the cast of Hamilton takes the stage.
Her husband, she tells me, is "quite ill" and unable to join her for this evening's performance. After a lightning-fast conversation (more facial signals than anything else), Greg and Lanie K. of Atlanta say they'll go for it. And thus a man in a green polo shirt, tan shorts, and a mild sunburn leaps from the standby line to chase down a very Upper East Side woman in a spangly dress. Five Ben Franklins later and Greg has a printout in his hands. Lanie had been standing/sitting/snoozing on West 46th St since morning while he was "in meetings," but not early enough for her to get one of the $40 surplus tickets that do exist. Greg is thrilled she gets to go, but isn't too sad for himself. "I hear it's great, but I'll go hang out at a Starbucks."
Alexander Hamilton, America's founding capitalist, is surely amused by the nightly financial pandemonium that accompanies each performance (a furor that's only increased since star/composer/lyricist/close-personal-friend-of-Barack-Obama Lin-Manuel Miranda has announced he'll step away from the production in July). Surveying the scene on a random summer Thursday, one finds that the audience shares a common trait: everyone is willing to throw down serious cash to get in.
"Hamilton! Hamilton!" an usher shouts, as though this were Yankee Stadium, not the multimillion-dollar social event of the year.
"Don't ask!" the matriarch of the Geller family of Westchester, NY laughs when I inquire what they paid for four tickets to tonight's show. "It's coming from her college fund!" she says as she points at 15-year-old Melanie, who already knows the songs inside and out. The overjoyed teen says that Hamilton makes US history much more interesting and relatable, before cracking herself up for "sounding like a total dork."
Elsewhere on the ticketholder line are Mike and Karlin, vacationers from Tampa, who also refuse to tell me exactly what they paid their third party broker for tonight's show. "It's the thing, right?" Mike jokes, while Karlin admits that she hasn't heard one song from the show. When I warn them that, despite the play being staged at the Richard Rodgers Theatre, the music isn't traditional "show music," they are undeterred. "We saw 50 Cent!"
Fellow Floridians Ron and Mary are more willing to discuss the issue of ticket brokers, a system about which Lin-Manuel Miranda himself voiced his displeasure in a New York Times op-ed before raising the price of prime seating for the show. "Clearly they are doing very well," Mary says, nodding her head toward the theater, not too concerned with the notion of money not getting to the show's producers. "I don't feel like I was scammed," Ron says, though still hesitant to give me a precise figure for what he laid out for tonight's gig. "And listen," he adds, glancing at his StubHub printout, "more power to Barney O. for having the foresight to buy tickets over a year ago. He's happy, I'm happy, everyone is happy."
Happiest on the ticketholder line is Amy Taylor of Los Angeles, California, the only person I can find attending this evening's performance at face-value prices. "I grew up in New Jersey and was raised on theater. I saw [Lin-Manuel Miranda's previous show] In The Heights and loved it. I knew I was going to be in New York this week for a wedding, so I bought my tickets about a year ago."
But it hasn't been an easy year for Taylor. While musical theater lovers around the world have been losing their minds over songs like "Non-Stop" and "Who Lives, Who Dies, Who Tells Your Story," she's pledged herself to rigorous show-tune abstinence. "I wanted to go in fresh, so I've pushed the soundtrack aside." When I joke that she might be the most organized and driven woman in the country, her date for the night whispers an aside: "You have no idea."
The Richard Rodgers Theatre stands in the shadow of New York's massive Church of Scientology building, and to say this new musical has a bit of a cult following is an understatement. A family of five from Louisville who haven't seen the show yet proudly wear Hamilton T-shirts and, despite assigned seat numbers, hover near the front of the ticketholder line so they can pounce the minute the doors open.
And when those doors do open, the madness really kicks in. "Hamilton! Hamilton!" an usher shouts, as though this were Yankee Stadium, not the multimillion-dollar social event of the year. Women in gowns mix with slobs in gym shorts, and nervous individuals take to their cell phones. "Where ARE you!?!" a woman screams, while another woman, panicked at how soon it is to showtime, barks "Stop explaining yourself and MOVE YOUR ASS!" Two women stand in the middle of the street, eyeing every taxi crossing 8th Ave. "He'll be here, he'll be here," they repeat, sounding more like a prayer than a statement of fact.
Most anxious are those at the front of the standby line. All have been there for at least eight hours, and will soon learn if it was worth it. As it's explained to me, there are a few seats saved for VIPs that get released at the last minute, in addition to those who call in last-minute cancellations. These tickets are sold at face value, plus there are often standing room tickets that sell for a mere 40 bucks.
It's 7pm on the dot, and Nancy is seeing Hamilton on the cheap for the second time.
KK from Park City, Utah, got there at 11:30am, holding a spot for her daughter, a recent college grad who "actually has a job." (You are allowed to hold for one additional person.) At 10-to-seven, KK's daughter keeps hitting refresh on StubHub. "It's at $600 now." If it goes down to $300 they'll consider.
It's now 6:52 and a group at the front of standby got in. They receive cheers and congratulations from the people directly behind them. The ones further down the line are getting a little worried.
That's when the woman with the spare ticket approaches and is nearly tackled amid the scrum of ticketholders trying to get in the theater combined with general Midtown Manhattan foot traffic. But her firm stance ("Not less than $500, I spent $1300") drives most away. After Greg and Lanie make the decision to go for it, Lanie skips past security with a big smile and calls back to Greg, commanding him to stay on line. "You might get in!" (Obviously, he doesn't.)
At 6:59, a woman who isn't even on line, but has come to cheer a friend, lets out a shriek. "Oh my God -- JOE!!!" Joe, next on line, got a ticket, and races inside. "He tried before, but didn't get one," the woman behind him explains to me. "We're all friends," she says, pointing to the woman on the sidewalk, "so I'm happy he got in even if I--" She's interrupted by screams from her onlooker friend. "NANCYYYYYYYY!!!!" An usher is waving her in. It's 7pm on the dot, and Nancy is seeing Hamilton on the cheap for the second time.
At 7:03, KK and daughter seem resigned to her fate, but then they get the wave. There's one more seat only. The daughter runs in, taking some cash from Mom. She might have said thank you, it's hard to say for sure. "It's OK. My back is killing me, I'm going to a bar to drink heavily."
A few stragglers linger, but the doors close and the show begins. There is, however, one woman, Casey Maher from Connecticut -- who was actually ahead of KK on line -- that sits down. She was never here for tonight's performance. She's in the middle of her 30-hour wait so she and a friend who'll be joining later can be first on the standby line for Friday's performance. She has some pillows and warmer clothes, and a book to keep her busy. She's just a few chapters into Ron Chernow's Alexander Hamilton. Though it's possible she may still get shut out, being first minimizes the risk as much as possible for a person without hundreds of dollars to spend. And she's not throwing away her shot.
Sign up here for our daily NYC email and be the first to get all the food/drink/fun New York has to offer.
Jordan Hoffman is a film critic and writer whose work appears in
The Guardian
,
Vanity Fair,
and
Mashable
. Follow him on Twitter: @jhoffman.