It doesn't matter HOW many "No Fear" t-shirts you still own from middle school -- haunted houses can be truly frightening places. We scoured the city to give you the five that will produce the kind of nightmares previously only experienced by people playing behind the Giants' offensive line.
Nightmare Killer's 2
Where to find it: Lower East Side
Why it will give you nightmares: For its 10th anniversary, Nightmare is revisiting the "Killers" theme, which focuses on real murderers like Charles Manson... but not in a "romanticized or glorified" way... which hopefully doesn't mean there will be, like, actual murders, because that would be scary and super-illegal.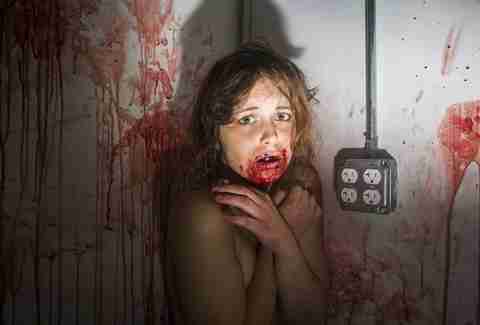 Blackout Haunted House
Where to find it: Chelsea
Why it will give you nightmares: Blackout doesn't release many details in advance, but based on their previous reputation, they aren't going to hold back. One year they straight-up waterboarded people, so... yeah, be prepared for anything.
Blood Manor
Where to find it: Hudson Square
Why it will give you nightmares: The actors throughout the maze get uncomfortably in-your-face, and this year they've added new attractions like the "Shocktorium", "The Carnival of Souls", and "Jungle Terror", where if you "enter the cave, you'll never return". Editor's note: you will most likely return.
Then She Fell
Where to find it: Williamsburg
Why it will give you nightmares: This "fully immersive, multi-sensory" experience takes place in an old hospital ward and loosely interprets the works of Lewis Carroll by transforming the space into a "dreamscape" where you'll explore solo, and encounter "performers and hidden scenes"... which all sounds almost highbrow and literary until you realize you're in a SUPER CREEPY WEIRD HOSPITAL!
Darkside
Where to find it: Riverhead, Long Island
Why it will give you nightmares: Beyond the fact that it's on Long Island, this haunted village will lead you through rickety old fences that won't appear capable of keeping chainsaw killers from getting in your face... not to mention the blood-covered, pig-faced madmen with axes. Like we said, Long Island.