Even though he speaks with a distinctly British accent, Toby Daniels knows New York. As co-founder of Crowdcentric (which seeks to facilitate collaboration between people and businesses in an effort to make the world more awesome) and the driving force behind the global conference series Social Media Week (which seeks to make social media actually social), he also gets the power of innovation. Here are his picks for the NYC restos, stores, services, and more that impress him most with their willingness to do things a little differently.
Innovative Rolling (of burritos):Calexico
They were at the forefront of the "street food that isn't hot dogs or halal" movement (they first sprung up in 2006), and they were among the first food trucks to turn into a brick and mortar, all financed in $8 increments every time somebody walked away with a gut-torpedo overstuffed with their vastly superior ingredients.
Innovative Shopping:Story
Toby calls Rachel Shechtman an "all-round retail genius" for spearheading the 2000-square-foot 10th Avenue space that "has the point of view of a magazine, changes like a gallery, and sells things like a store". "It's one of the last brick and mortar retail spaces I actually frequent."
Innovative Innovation:Quirky
"Making invention accessible to designers, entrepreneurs, and, of course, aspiring inventors, NYC's Quirky brings products to market faster and more efficiently than competitor firms, while at the same time opening up new opportunities to people whose ideas may have never seen the light of day." If you've been holding off your own innovating waiting for a really innovative plug adapter, it looks like Quirky has you covered there too.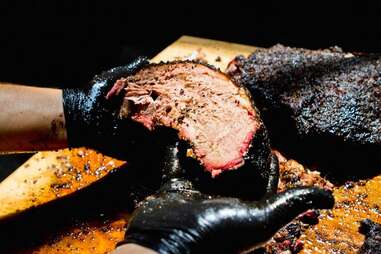 Innovative Protein:BrisketTown (Delaney BBQ)
"What I love about Dan and the BrisketTown story is how his passion, combined with a superbly well-executed crowdfunding experiment, has resulted in him being able to open his first brick and mortar restaurant. Plus, the meat is incredible."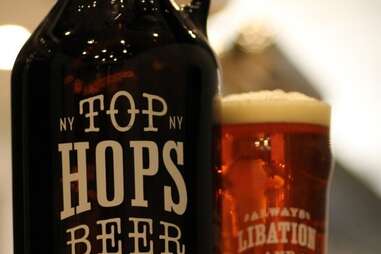 Innovative Suds:Top Hops
"It's a cultural center for craft and import beers -- the kind of place where seasoned geeks can share their enthusiasm and new craft fans can learn a bit more about the magic combination of hops, yeast, barley and water."
Innovative Delegating:Task Rabbit
Getting deliveries and errands done by a crowd-sourcing service might sound like a terrible idea, because now a complete stranger will know that you don't currently have batteries for your emergency flashlight. But TaskRabbit uses only background-checked, community-rated people who live in your neighborhood. Toby used them to put together 24 new office desks, and not only did they complete the job fast, they left behind a minimum of those extra parts that make you think whoever assembled your chair secretly wants you to break your coccyx.
Innovative Gatherings:Kitchensurfing
This NYC-born enterprise will send an experienced chef to your domicile to prepare meals for you and your friends, or even teach the lot of you to cook. Who knew learning could be so fun? Besides that woman in the picture who's smiling because she knew learning could be fun the whole time.
Innovative Way To Avoid La Colombe Impulse Buys:PiggyMojo
"Say you're tempted to buy that latte. Pull out your phone and text PiggyMojo the amount instead -- you'll find your savings build really quickly." Of course, you can't always not buy that latte, but if used smartly, the Brooklyn-based start-up can at least keep you from compounding it with a pastry.
Innovative Cooking:Plated.com
Of the NY service that delivers everything you need to prepare a gourmet meal to your door (or door man) (or office if for some reason you have a stove in your office), Toby says: "The experience, from unpacking the food, to studying the recipes, to cooking the actual meal itself, is tremendous."
Innovative Making Of Stuff:MakerBot Store
Toby could go to any store that lets you fabricate anything in the universe from sunglasses to gumball machines using their state-of-the-art 3D printer, but he chooses MakerBot, partly because they're located in his building, and partly because no other stores actually let you do that.
Innovative Leg Stretching:Citi Bike
"I love sustainable public/private partnerships, and this is one of the best -- it's changed my relationship with New York." To which New York responded: "Wait, we're in relationship? I thought you said we were just 'hanging out'."