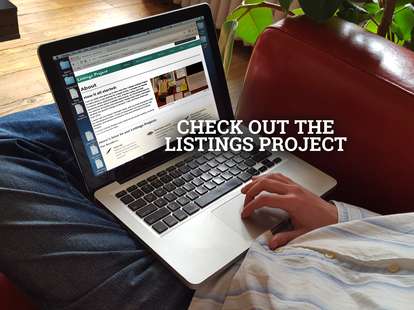 Whether you're looking for your very first digs in the city, or thinking about a move (everything looks so reasonable, amirite??), you've probably heard that finding an apartment in New York is an absolute nightmare. The thing is, it really isn't. It's MUCH worse than that. Luckily, there are ways to make the process a little less painful, a little less protracted, and, if you play your cards right, even a little cheaper.
Here's our guide to finding an NYC apartment the smart way.
Get your credit act together (and make sure your potential roommate does, too)
As one broker put it, "Credit is everything right now." By federal law, you're entitled to a free copy of your credit report from each of the three credit reporting companies (Equifax, Experian, and TransUnion) annually. Go to annualcreditreport.com or call 1-877-322-8228 to make the request, and make sure there are no inaccuracies in your reports. The docs you should have at the ready include recent pay stubs, a bank statement, your latest tax return, and a letter providing proof of employment. (The rule is that you -- or you and your roommates -- should make at least 40 times the monthly rent, annually.) If you don't, get a rich relative to back you, or be what's called a "guarantor."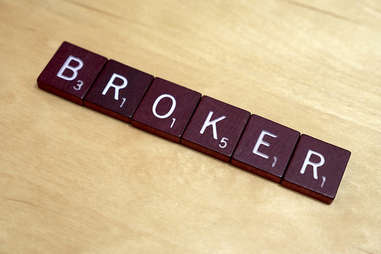 Find a good broker
Look, it already sucks that we NYers often have to pay thousands of dollars to people just so we can pay someone else more thousands of dollars. You might as well at least do yourself a favor and find a good broker. Try interviewing a few, or check out nakedapartments.com, which features reviews of brokers from former clients -- including negative ones, which brokers can't scrub from the site.

Remember that the "no-fee" apartment is kind of a myth
Okay, sure, you won't pay the fairly typical 15% broker's fee to the agent who hooked you up with an apartment listed as no-fee. However, the apartments offered as "no-fee" are frequently some of the most expensive units on the market, so you're paying that money -- as part of your monthly rent. So, do the math: it may make sense in the long run to pay a broker's fee for an apartment with cheaper rent.

Use the Listings Project
Of course, there's always an exception to the no-fee rule. The brainchild of artist Stephanie Diamond, the Listings Project is a curated, weekly e-mail of no-fee, broker-free, landlord- and tenant-direct apartment and share listings. The e-mail accepts listings from, and is distributed to, people worldwide, but is very NYC-centric, with as much as 75% of its 200 or so listings featuring New York vacancies. (You can list yourself as a person looking for a place, too.)
It's a seller's market right now
Deal with it. It's not uncommon for vacancy rates to hover around 1.5-2% in many parts of the city, so there's not a ton of room for negotiating on price. If a place is under $3,000, the landlord knows it will eventually rent. Over that amount, you might be able to swing taking $50 or $100 off the monthly rent.

Ask to see the stragglers
That said, if you're using a broker, ask to see apartments that have been on the market a long time (60 to 75 days); yes, you'll probably see some stinkers, but these are also the places where you might be able to get a price break.

Don't bother with Craigslist
You probably know this, but it's a bait-and-switch wonderland. You're better off spending your time and energy pursuing other avenues.

Tell everyone you're looking
Most people with really amazing apartments and deals in the city got a back-door hookup through someone. (i.e. "My barista's ex-boyfriend's sister was moving to Barcelona...") So spread the word. Any small community you can mine -- a sports league, writing group, list serve, etc. -- can also produce fertile leads.

Not sure? Apply anyway.
Act now, decide later. Even if you're not in love with a place, if it seems like it could work, put in an application.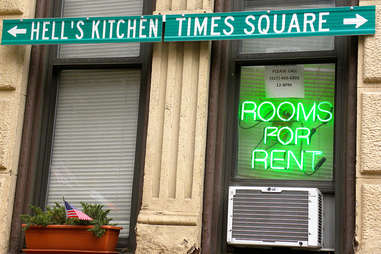 Pound the pavement
Know where you want to live and have some time? Go there and walk around. Look for "For Rent" signs, walk into apartment buildings and ask if there are any upcoming vacancies, etc. Yes, people really do find apartments this way in New York, and sometimes they're of the big and/or cheap variety.

Got cash? Try TripleMint.
If what you need out of your apartment search is efficiency and some white glove handholding, TripleMint may be for you. Founded by two Yale grads, the service enables you to search every available NYC property and pairs you with your very own TripleMint broker. (TripleMint's reps are salaried and receive bonuses on customer satisfaction, not commission.) The service claims this system results in a 33% price cut on the average broker fee. TripleMint also provides its clients with discounts on all sorts of bougie services such as Blue Apron, Uber, Handy, Drizly, and Equinox through its "Moving Concierge" service.

Offer to move in early
You might be able to get a bit of an edge by offering to move in on the 20th of the month rather than the 1st of the next one. It shows you're serious and puts a little extra cash in the landlord's pocket -- which, you know, never hurts.

Don't B.S. your broker
Virtually every industry pro we talked to stressed this. Be upfront about less-than-perfect credit, your dog, your hatred of the Upper East Side, your unwavering need for a doorman/golf-simulator/gym in your building. Surprises often mean wasted time, and in this city, that's one thing no one can afford.
Sign up here for our daily NYC email and be the first to get all the food/drink/fun New York has to offer.
Mimi O'Connor is a freelance writer and editor who rents across the street from a zillion-dollar condo in Brooklyn that used to be a Parmesan cheese factory. She wrote The Dictionary of Corporate Bullshit and other titles. Follow her on Twitter and Instagram.