Editor's Note: The other day, Thrillist Food & Drink senior writer Dave Infante mentioned to the editorial staff that he was looking for a new apartment. Naturally, we pressured him into liveblogging the experience, because watching Dave lose his temper at anonymous brokers is better than watching him lose his temper at innocent, delicious IPAs. He'll be updating this post until he finds a new place to live or goes insane. Whichever comes first.
If you're reading this, you already know: I'm moving, you guys. The very words send a chill up my spine. Luckily, it's August, so that chill is soon washed away by the outrageous humidity that swaddles this city like a gym sock, but even so — I'm not happy about it. After two years of tirelessly gentrifying the Prospect Heights/Crown Heights area, I'm going to move back into Manhattan with a buddy from college (we'll call him Steve). For the good of humanity/my ongoing employment, I'll be liveblogging our (assuredly horrible) apartment-hunting experience right here.
Check back for updates as I descend into Craigslist's seedy bowels in search of a new place to live, or follow me on Twitter for even more up-to-date updates, if you're into that sort of thing. (For the list of criteria I'm using for our search, check out the Ground Rules* below.)
Day 1: Tell my current roommate that I'll be moving out a month early. She's totally cool with it, and posts this Craigslist ad for the sublet. Alright, things just got real — now I've gotta find a place.
Day 3: Steve is moving back from Denver to start some finance job the first week of September. Between the time difference and the fact that we're both lacking in follow-through, we've been playing phone tag for the last two days.
Day 4: Finally talked to Steve. Agrees that $2,800 is a good limit for the price. Doesn't want a tough walk-up, which is great, because I don't either, but figured it was just due to my abhorrent physical fitness and planned to say nothing. Also, told him about PadMapper & StreetEasy. Mood: enthusiastic.
Day 6: After work, I ate a string cheese and watched three episodes of Breaking Bad. Ignored a text from Steve. We're off to a big start.
Day 7: I have been looking at Craigslist for what feels like eternity, but is probably only 20-minutes. After getting off of a fruitless call to a broker from my desk, our managing editor accuses me of pitching this piece solely to facilitate apartment-searching at work. I'm weirdly indignant, possibly because I wasn't smart enough to think of that.
Day 7, after work: Tried to go see an apartment on Mulberry & Hester. Roie (names have been changed to protect the innocent, like Steve, but everyone knows NYC brokers are anything but innocent, so that's his real name) calls me at 5:30pm and tells me he'll be "at least 20 minutes late". I can tell he is lying. I reschedule the visit for the following day. Steve is disappointed, but I tell him to buck up — it'll only get worse.

Apartment No.1: Little Italy/Chinatown

Day 8: I've been waiting for Roie for the past 30 minutes because he "forgot" our appointment. I eat lunch on the street like an urchin and send four emails. Roie calls me twice; claims he "can't hear me" both times and hangs up. He has a heavy accent, because of course.
Finally, Roie materializes on the sidewalk next to me. He's sweating. I'm sweating. We enter the building, a dingy walk-up sandwiched between two Chinatown knick-knack shops. Surprise! The unit's on the fourth floor, not the second floor. Roie doesn't apologize, or even seem to register the error. Another broker is leaving with a group when we arrive; he and Roie jabber aggressively to one another in a foreign language, then he's gone.
I wander around the unit while Roie sits on the counter, texting another potential sucker. The place is cramped, uncomfortable, and cramped. No bueno. With a dubious tone that suggests he thinks I'm being a diva, Roie asks me what I'm looking for. I explain our parameters, and he scoffs at me. "I've never seen an apartment like that for that price," he says. I decide that I don't like Roie very much. We shake hands and exit the building. As I walk up the street, he is leering at a girl in jorts who is clearly underage. I decide I am done with Roie.
Day 9: I get a text from someone -- not Roie -- about an apartment in Alphabet City. Then, a call. It's Mike! (I have no idea who Mike is, or how he got my number, but he has no accent, so I decide to go with it.) Mike begins pitching me on the East Village: "great lounges, lotsa density, there are bars, and... " He trails off there, at which point I explain to him I'm familiar with the neighborhood. Turns out, Mike's apartments all have fees, but "not 18-20% like some guys". His fee is "just 12%". Despite the location of the word "just", this is a lot of money. I tell him to call back if he finds any no-fee places, and he says okay.
Day 9, after lunch: Steve GChats me a listing on the Lower East Side. "Man, it'd be great to be so close to Beauty & Essex, huh?" Unclear if joking.
Day 9, evening: My friend Liz GChats me about this very diary. Though she's lived here for almost two years, Liz is originally from Florida. Nevertheless, she has some "wisdom" for me -- that I'll never, ever, ever find an apartment with laundry in-unit for that price. She's right, of course; that's a pipe dream. I hate her anyway.
Day 10: Even from Denver, Steve grows more familiar with the peculiar agony of finding an NYC apartment each passing day. "This weekend is like halftime," he GChats to me as we discover both of us will be out of town and unable to scour for places. "Right now, we're down by a lot." Steve always had a way with sports analogies.
Day 10, lunch: I call three no-fee listings — two LES, one Alphabet City — and leave voicemails for all three. "Don't email; call or text only", they say, then they don't pick up or call back.
Suggestions pour in from friends and co-workers. I am referred to NYCBits, Compass, and Listings Project, additional resources for the search. Steve continues to grind on our traditional channels. "Padmapper is my life now," Steve tells me. "Just waiting for that unclicked orange pin." His resolve is impressive.
Field Trip: DC & Charlottesville
Days 11: Long before I realized I'd be spending August on the hunt for a new apartment, I booked a long-weekend trip to Charlottesville, VA with my girlfriend. On one hand, I lost three valuable days I could have used to look for a new place. On the other, the insight into other housing markets left me seething with impotent rage towards NYC real estate. So really, this was a win-win all around, amirite?! (I am wrong.) Steve and I agree to hit the bricks hard after the weekend, and I board the train.
Day 11, night: I arrived in DC, where we were staying at the girlfriend's sister's new apartment. She'd warned us it was "way smaller" than her previous spot (an incredible, three-story townhouse she shared with two roommates), which made me perversely smug. Good, I thought. She finally has to deal with the realities of city living. Uh, not really.
They say "don't email; call or text only", but they don't call back or respond.
Her two-bedroom rents for about $2,000, and is medium-to-large by NYC standards. Air conditioning units are mounted in every room — they came with the place. There's laundry in the building. There's a FINISHED ROOF DECK. While there, I get calls from three brokers, one of which pushily tells me that she's just returning my call about a $3,300/month place with no dishwasher. When I explain that surely, this couldn't have been me, she testily snaps, "Well whatever, I already have an application in on that place anyway." The conversation pretty much ends there. I am baffled and hurt.
(None of these brokers had any no-fee apartments to show me.)
Day 12-13: One more train ride (Amtrak: transit no one likes, unless your other option is nonexistent/a bus!) and I'm in Charlottesville, the mid-sized Virginia city where I attended UVa and drank SO MANY BEERS. My girlfriend booked us this Airbnb for the weekend, which was the bottom half of a renovated house on a sleepy city block behind the train station. When we unlocked it the front door, I was overcome with joy so severe, it moved me to sorrow. This place was incredible. Washer/dryer in-unit? Check. Stainless steel double-door refrigerator? Check. Claw-foot bathtub in a colossal stone-tiled bathroom? Check.
Why can't we just live here?, I whined desperately to myself. Obviously, Charlottesville and NYC don't have comparable markets; my rational brain gets that. $2,800 gets you different things in different places. But this was not a rational thought. This was an instinctive, visceral, "ohmygodlookatallthespaceicanhazthis?" reflex. And it made me sad.
Day 14, morning: Back in NYC, I realize I have just over half a month to find a subletter for my current room. I do no apartment searching because the office internet is sporadically down and I'm up against a deadline.
Day 15: Steve took the redeye into town from Denver this morning. He's at his company's office all afternoon, Padmapping away. "Liars!" he GChats me, annoyed with the bait-and-switch no fee/fee chicanery. "They're all liars." He's not wrong.
Day 15, afternoon: On Craigslist, Brooklyn listings flow forth like water from a leaky faucet. Bushwick. Bushwick. East Williamsburg. North Bushwick (?). I haven't seen a Manhattan listing in an hour. We should really be looking in Brooklyn, I think.
Apartment No. 2: Alphabet City
Day 15, evening: Lo! On the horizon, an Alphabet City flex-two appears. There's a broker's fee, but at $2,500, it's under budget, and there's laundry in the building. I make the call. Broker Franco (not James) says I'd better come see it todayrightnow. Thrilled by the chase, and feeling ever so slightly desperate, I coordinate with Steve and 30 minutes later we're standing outside the spot, shaking hands with Not-James Franco.
The apartment is small, but relatively modern. I quickly realize that when we flex it — "you can put in a pressurized wall," Franco says, as though I know what that means — we'll effectively turn the common area and kitchen into a sunless cavern. Not great, but I've lived in worse. The current tenant is an overeager 30-something dude who tells us Seth Rogen lives in an old synagogue up the street (!?), and mentions he never wore shoes in this apartment because he'd "spent time in Asia." (??)
There's a courtyard. I ask if we have access to it. Response: unclear. Confusion reigns.
It's time to talk business. I tell Not-James we'd like to bring the broker's fee down to something manageable (10-12%, from 15%) and sign a longer lease in exchange for a cost-offsetting free month of rent. "You've done this before, eh?" He chuckles nervously, which makes me nervous. "I don't want to say yes, for sure, but we can work something out with my boss," he says.
His boss is Sami. Sami's office is in the Flatiron, and 20 minutes later, we are in it. Though he promised to meet us there, Not-James is not present. Sami is SO HAPPY to see us that he makes us sit in his office while he sends ~27 text messages on his colossal-screen Android phone. This device represents half of Sami's formidable mobile-communication arsenal; he also owns a BlackBerry (!!), because it receives email "faster". Confusion: still reigning.
I haven't seen a Manhattan listing in an hour.
"So you guys are ready to sign," Sami states evenly. It's not a question, and Steve shifts uncomfortably in his seat. Pressure tactics! I've seen Eastern Promises, and also have rented apartments in NYC before, so I know I need to be polite but firm. I explain that we don't want to pay a fee above 10%, and we'd like a month free to diffuse the cost.
"I might be able to do 13% on the fee, but on the rent there will be no concession," Sami drawls placidly.
"How about 12% on the fee, and a month rent?"
"12.5%, but there can be no concession."
"Okay, cool. That's more than we want to pay. Thanks anyway!" This isn't hardball so much as it is indifference — we're not THAT desperate just yet. We make a motion to end the conversation, when Sami catches us off-guard.
"What will you do now?"
[blinking] "Um, I'll probably leave your office and go find another apartment to rent?"
"What WOULD you do, though?" Sami is staring at me intently. I have no idea what he's asking me, so I say so. He repeats:
"The fee. What WOULD you do?"
"12%."
"What about 10%?" That's Sami talking. He has reverse-negotiated himself 2.5% down from his previous offer. Confusion is a dynasty that will reign 'til the Rapture.
(We didn't take the apartment because it turned out Sami didn't really have negotiating power on the fee. When he called Franco on speakerphone — who was still on the FDR, 45 minutes after we left him in his car headed over to the Flatiron — they both agreed that we were terrible people for seeking better leasing terms. Then, Sami returned to texting on his Android flatscreen TV phone, signaling the end of our negotiation.)
Day 16, extremely early morning: Today's our big day for seeing apartments. Steve has the day off, and I am up early to knock out some work. It's raining, because of course. Follow me on Twitter to track our progress. Will update with pictures of the apartments (and the brokers, if possible) throughout the day.
Apartment No. 3: Nolita/ChinatownDay 16, noon: Steve and I meet up at Mulberry & Hester for what he thinks is a different unit than the one Roie showed me on Day 8. The photos in the listing he found are different, but when he tells me the address, I'm almost sure we're being duped. I pray it's a different unit in the same building, but no dice: we waste 20 minutes meeting a broker named Saul (better call... oh, nevermind) and checking a place that we already knew we didn't want. The bamboozle continues.

Apartment No. 4: West Edge of Soho
Day 16, 12:30pm: The broker texted saying she'd be 15 minutes late, a small inconvenience considering that when I first texted her, she was trying to lure us up to her Theater District offices. The listing claims it's got plenty of light and a dishwasher, but when we arrive at the address Oana has texted us, we find this: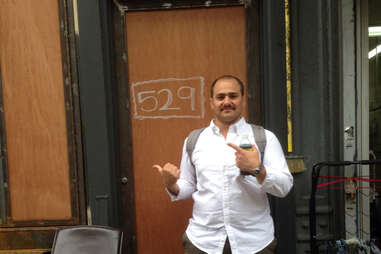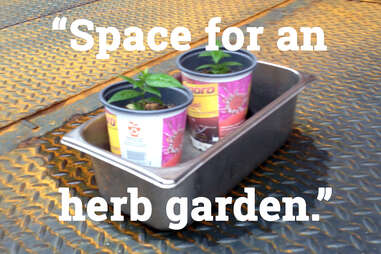 Day 16, 1pm: Finally, we discover a second, less horror movie-esque entrance, and find Oana in the unit. Success! Except not really: it's a flex (not as advertised!) and has a tiny, dishwasher-less kitchen (also not as advertised!!).
Exasperated, she demands to know why I didn't tell her I wanted a dishwasher. I explain that I intentionally withheld this information to trick her, because I like to fruitlessly traipse to various deceitfully listed Manhattan walk-ups in 100% humidity just for kicks.
I don't really tell her that, but I do explain our criteria again. She rolls her eyes and tells me it's impossible. I get the sense that we won't go much further together, when — wait! — Oana has an "amazing" place to show me that she just located. Key features:
It's amazing!
It's in Murray Hill!
She hasn't seen it yet!
It doesn't have a dishwasher!
It's a flex-two!
TEMPTING. We decline. On the way out, I point to these little plants growing in a catering tray on the steps of the building. "There's space for an herb garden," I tell Steve. He smiles gamely, then we beat it back to Thrillist HQ to recover in the air conditioning and plot our next moves. Follow me on Twitter & Snapchat (screenname: dinfontay) for more updates this afternoon.

Apartments 5-8: East Village, LES, Alphabet City
Day 16, afternoon & evening: I'd bore you with the play-by-play, but after enduring this eight-hour tour-de-sh*t (I'm writing this the morning after), I really don't want to relive it in full. So instead, here are some vignettes from my Twitter feed, because #NEWMEDIA:
There was this "magnificent" dishwasher-less spot soaring a mile above the corner of 14th St & Avenue A:
The bathroom of this shoehorn railroad 2BR on 5th St was designed by Versace, maybe:
To lease a "luxury" unit, brokers must be trained in over-use of highlighters, and profane dishonesty:

Everyone we talk to tells us that it's the worst time to rent. Landlords are gauging prices to take advantage of the student influx (NYU specifically, but all the university systems contribute to this surge) and inflation is high. Brokers are accusatory, as though we CHOSE this time to move specifically because it was more difficult. Not so — like students, we're beholden to a budget and a set of responsibilities.
Day 16, 6:30pm: Almost put in an application on a flex-two on 14th St, but the broker is so terrifically abrasive that A) I don't remember his name, and B) we spitefully decided not to give him the sale. He wouldn't earn his fee from us. Not with that garbage attitude.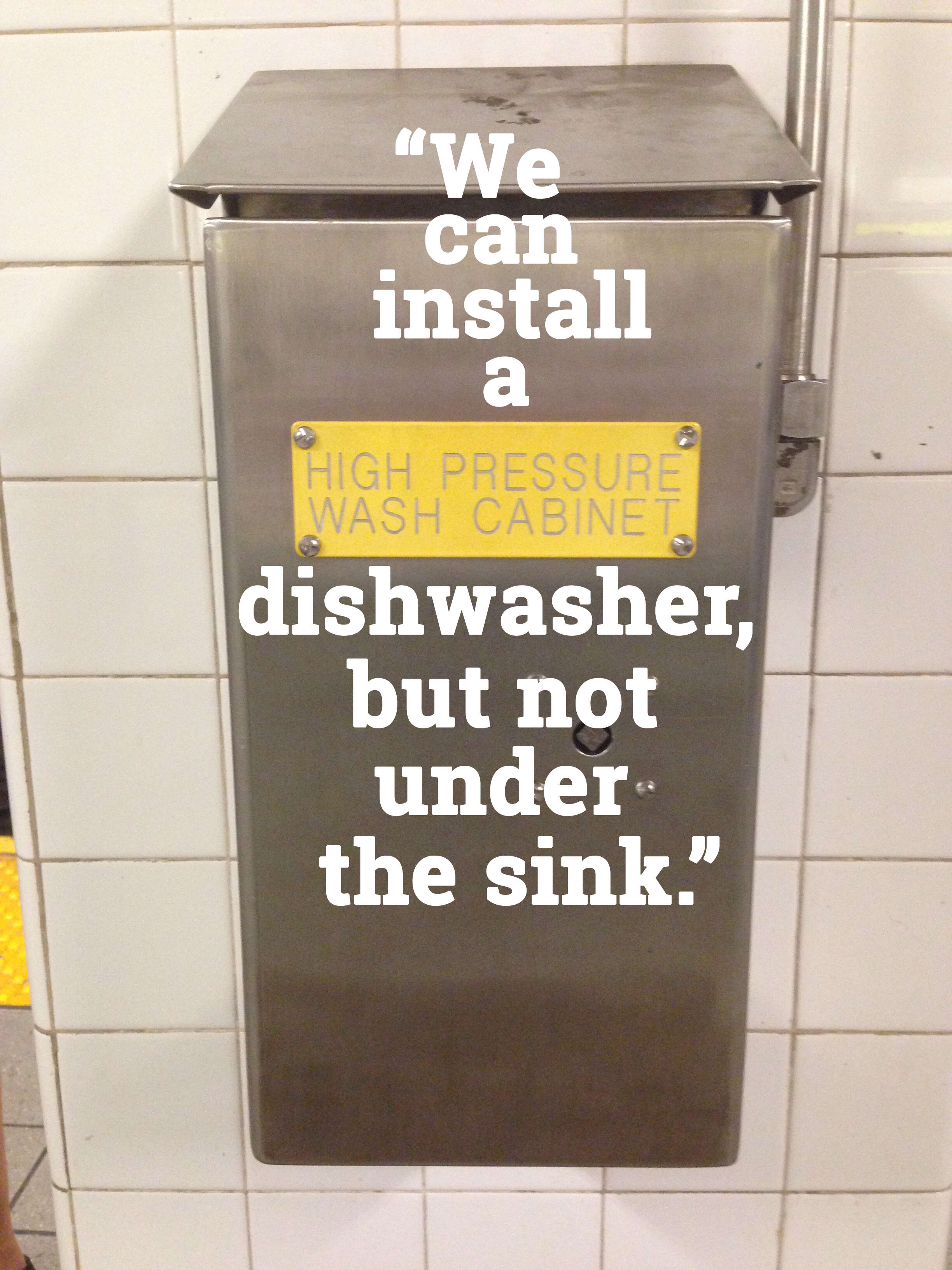 Day 16, nightfall: Mentally and physically drained, Steve and I part ways after seeing our last place of the day — a third-floor, true 2BR in lower Alphabet City. It doesn't have a dishwasher, and it's out of budget, and we almost just take it anyway. What started as a confident-but-crazy day has turned into a bit of a conundrum at dusk: Steve is only here for one more day, and we aren't much closer to locking down an abode.
"If I could apparate, I'd apparate a pile of poop on her."
After a day in Manhattan's Craigslist trenches, he's ready to open up the search to Brooklyn. We agree to assemble some options in Kings County and head home. I catch up on tweets & comments and find a perfect encapsulation of my Day 16 experience from a reader: "What it really comes down to are the brokers that do this job [are just] careless, inconsiderate human beings."
Sounds about right. Hopefully we find one that proves us wrong.
Day 17, morning: After an evening to decompress, Steve and I are back from the ledge, but the mood is still tense. Irrational resent grows with each passing moment — each of us wonders if the other is being unreasonable. The process is turning us on each other.
We fight off conflict with grim humor; after hanging up on a broker who wouldn't reveal the walk-up floor of a West Village apartment unless we came to her office, Steve GChats, "If I could apparate, I would apparate a pile of poop on her." I laugh. What else is there to do?
Day 17, 1pm: In a plot twist that astonishes approximately no one, the West Village apartment in question turns out to be a sixth-floor walk-up with no common area and a kitchen that looks straight outta Wet Hot American Summer. No soap.
"This is the farthest I've ever been from the shire."
Steve & I regroup at Blind Tiger (excellent kale salad, you guys) and talk about our afternoon showings, which will be our first in Brooklyn. After a week of thorough searching, and a day spent pounding pavement to no avail, we've realized that Kings County may be our best/only shot at an actually decent apartment under $2,800.
I check my phone and find three voicemails from a number I've never called. Each is about the same listing — a $3,100 flex-two in "lower Midtown East". Brooklyn, Brooklyn, take us in.
Day 17, 3pm: We emerge from the Montrose L station into sun-bleached Bushwick. "This is the farthest I've ever been from the shire," Steve half-whispers.

Apartment No. 9-10: Bushwick
Day 17, 3:30pm: We meet up with Rich the broker, a shockingly coherent 20-something wearing a hoodie and hiking boots, and climb two stories to the first apartment on Bushwick Ave. The space is big, and even though it's currently under renovation ("Oh it'll definitely be done by September," says Rich unconvincingly), we can tell it's going to be nice. Steve and I feel a weight ever-so-slightly lifted from our shoulders. Alright, so there's at least something in this goddamned city we can afford. Rich tells us there's central air in this unit, and we politely ignore his lie. Nothing can dampen our mood now.
Even though I'm pretty familiar with both, I have subconsciously conflated Bushwick with Greenpoint. As such, I'm expecting these units to be in a big Polish-American community, so when Rich pauses outside the door of the second unit and mischievously whispers "guerilla showing!", I'm expecting to walk in on this:
Thankfully, there's no elderly, pickle-wielding Slavic man behind Door No. 2 -- just another reasonably sized apartment with decent appliances (full-size dishwasher? Yuuuuup.) and three -- count 'em, three -- windows. For the first time in a week, I feel the cold grip of despair loosen its grasp on my nuts. We just might find a place after all.
Day 17, 5pm: Our last appointment of the day is due South, so we hop an UberX and battle the BQE traffic that's flowing towards downtown Brooklyn.
Probably a good time to mention that we took a lot of cabs & Ubers on this search, which got expensive. Normally, I'd suck it up and ride the subway to avoid burning funds, but Steve's company is compensating him for his relocation costs, so we're charging these wheels to the game. Pro tip: move in with someone who has a better job than you.

Apartment No. 11: Fort Greene
Day 17, evening: Another improbably normal broker meets us on Dekalb Ave. "Sorry I'm late," she says with a polite, sheepish smile. Her humanity catches us off-guard, and we quietly follow her upstairs to a sunny, second-floor walk-up (as advertised!) that's absolutely colossal (better-than-advertised!) and comes with two already-installed A/C units (seriously, what is going on?). Dishwasher? Check.
Oh man, you guys.
Day 17, late-night: Steve and I are preparing our application on the Fort Greene place. Sure, it's in Brooklyn, but I love Brooklyn, and lower Manhattan has robbed us of optimism. We scurry around our email inboxes dredging up a slew of personal documents. This is worse than the DMV, I think to myself. My desktop is a cornucopia of paystubs, bank statements, and tax forms. If for some incomprehensible reason, someone wanted to steal my identity, it'd all be attached to this one email and ready for the taking. This unnerves me, but I hit send anyway.
Day 18, morning: We receive confirmation from the broker that our application has been received. It's a waiting game now. There are 15 days between now and move-out. Steve flies back to Denver to start packing. "Fingers crossed," he texts me.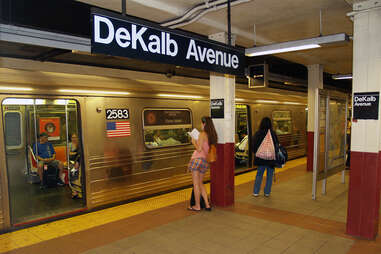 Day 19-20: I have a consultation for dental surgery, at which I receive some semi-good news about the impending procedure. Huzzah, I think to myself. This is the good momentum I need. The Fort Greene apartment seems like it's mine already.
At several points throughout the weekend, I catch myself absentmindedly Google Mapping things from its address. How far to work? How far to girlfriend's? How far to Shoolbred's? I'm smitten, but in the back of my mind, I can feel a pesky snag. After all, the application still has to be approved.
Day 21, midday: Amidst an unremarkable Monday slog, Steve & I get an email from the broker. "Because your credit is less than stellar," it begins sternly, "the application is approved with contingencies." Oh, super.
I'm not going to get into the gory details here, because this isn't a financial diary, and I'm not Jamie Dimon (or his lesser known cousin, associate branch manager Geoff Dimon). But the word was... not good. The landlord, scared away by our deeply subprime existence -- I DIDN'T KNOW I WAS GOING TO HAVE TO PAY FOR THE HOT TUBS LATER! I THOUGHT THEY WERE GIVING THEM TO ME ON MERIT OR SOMETHING, ALRIGHT? -- requests an additional two months of rent to tie up in security deposit. For those of you keeping score at home, our total is:
First month of rent: $2,500
Last month of rent: $2,500
Broker's fee (I hate myself): $2,500
Security deposit: $2,500
Additional security deposit because credit is a confoundingly opaque system full of numbers & deceit: [undisclosed]
---------
GRAND TOTAL REQUIRED TO TURN THIS HOUSE INTO A HOME: Over $10,000. I'll leave it at that.
I'd like to tell you reason prevailed. I'd like to say we took one look at this astronomical sum and hit the bricks. I mean, that's a Kia. A nice Kia. I'd like the story to end with us walking bravely into the sunset, apartment-less but on the hunt for a two-bedroom with dishwasher, and still in control of our pride. But that's not what happened, readers. We were tired, we liked this apartment, and we were tired. After a feverish night of number-crunching, money-moving, and bridge-gap loan-begging, Steve & I had scraped together this princely sum. We were going to pay. Then this would all be over.
For someone who sleeps on a throne of self-doubt to begin with, this process wasn't pleasant.
Day 23, 2pm: After a brief walk-through of the spot, and a thorough read-through of the contract, I sign the lease. In Denver, Steve does the same, notarizing his signature for posterity. The apartment is ours. We technically move in September 1st, but I convince the landlord to give me the keys a few days early to make the move easier. A small victory in the face of an agonizing expenditure.
I have an apartment now, you guys. If you're in Fort Greene, shoot me a tweet and let's meet up. Unless you're dangerous. In which case... don't.

Takeaways

Day 24, 6pm: Alright, I've had some time to reflect. Here are some thoughts about the apartment-finding process in NYC, which I've just completed for the fourth (!) time.
In no particular order:
We paid a broker's fee. It was small, and the broker actually did some work for it, but I'm still appalled at myself. I don't know if we would have been able to get away without one in this market without A) settling for something less than we wanted; B) getting lucky; or C) both.
This city's housing market, like this city itself, makes you weak. It just wears you down to the point where you can't tell if you're being smart or stubborn. For someone who sleeps on a throne of self-doubt to begin with, this is not particularly pleasant.
Location really is everything. I'm on the same subway line as I was in Prospect Heights, but I'm about 10min closer to the subway station, and the subway station is two stops closer to my office. It makes a HUGE difference in commute times.
"Disrupting" this market is really hard. There are a bunch of firms trying to make this process suck less, and in doing so, become the go-to apartment-finding service. And I applaud them. But the bottleneck isn't at the interface level; it's at the inventory level. And until a brokerage or landlord starts making serious, consistent money by not screwing over, deceiving, and otherwise bamboozling renters, that bottleneck will persist.
Compromise is key. You never get everything you want in life (well, unless you're Nick Jonas, who's really got it all), and the same rings true in NYC real estate. Know what you can live without, and what you can't. If you want a dishwasher, don't let anyone tell you it's not happening. Go out and find it. Or decide it's not that important to you, and find a bigger place without one.
Here are the basic parameters we're working with. Feel free to offer suggestions in the comments, but understand that for the purposes of this exercise, Steve and I are inflexible on the following:
Neighborhoods: Lower-ish Manhattan, defined here as South of 23rd St, West of Avenue D, and East of 9th Ave
Budget: $2,800 a month or less
Up and Down: Walk-up on the 4th floor or lower, or an elevator building
Amenities: Dishwasher for sure, washer/dryer in unit would be killer (as in, I'd kill someone for it)
Broker? Nah. We're doing this old-school to avoid paying a fee, and also to maintain fidelity to the experience of most twenty-something New York residents.