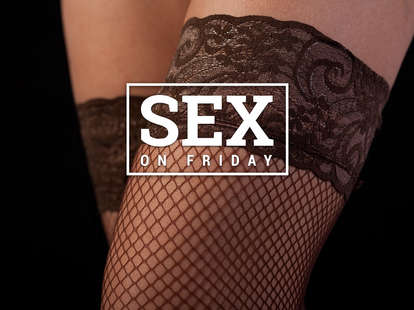 Shutterstock/Jennifer Bui
Want to learn about naked yoga? How to navigate an NYC sex party? Other sex and dating things? Check out previous Sex on Friday stories here.
Much like ancient Greece and Rome, New York City is also steeped in folkloric myth, from rent-controlled apartments, to seedy old Times Square peep shows, to all manner of secret bars, restaurants, and train stations.
And then there's the Saint Venus Theater, a speakeasy-style gentlemen's club that moves from place to place along with a roster of "normal" girls who look more like the hot chick you walked past in the laundromat and less like someone who has 13 pairs of clear heels. It's the type of spot that can only be found if you know a guy who knows a guy... and if you are actually a guy.
Despite the website's mantra that Saint Venus is "something positive and progressive in a world that is dominated by female exploitation and dissatisfaction," try as I might to be the positive and progressive female who is totally down with the NYC sex scene, I was brusquely denied when I applied for the secret location and password. My online application wasn't even acknowledged. Boobs need not apply. Unless you want to show yours.
What's a female to do?
Like any other spot that "celebrates the feminine in erotic themes," I needed a man to get in. Fortunately I had a friend who was more than willing to help me with my "research." My friend, let's call him Silent Partner J, logged onto the website, applied for membership, and within moments was accepted as a member into the elusive fold. Penis power. He was immediately sent a lengthy e-mail with very detailed rules, instructions, and what to expect. Most notably, that Saint Venus is NOT a strip club. Not even a little bit. It's oh so much more...
The events are held Wednesday, Thursday, and Friday nights in different locations, which are revealed when you receive your formal invitation, along with a password for the events. We decided to head to a Wednesday night party, which promised 70 girls "dancing and prancing in lingerie" throughout the entire month of May. A $50 admission gets you two-for-one drinks between 7 and 8pm, one free dance card between 7 and 9pm, complimentary chocolate and strawberries, complimentary baked ziti and chicken fingers (because nothing says aphrodisiac like a dab of ricotta on your lip) from 1am 'til closing, and, if needed, NBA playoffs on wide-screen TVs. Essentially, if there was a Mount Olympus for New York City bros, this would. Be. It.
Fortunately, ladies are allowed to attend as guests of members, so long as all guests know to be "respectful and in control." The e-mail contains an entire code of conduct to ensure that the evenings don't devolve into orgies (it's not a sex club), and also provides protection for the dancers (you can't... um... "date" them).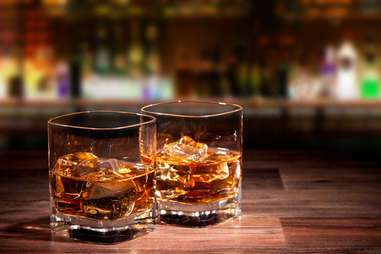 Doors open at 7pm, but the bar didn't begin to fill up until about 9-9:30pm. SPJ and I arrived and gave the password. After having our IDs checked, and a warning to SPJ to "keep his lady with him" (umm... what was that about feminine celebration?), we were allowed inside. $50 later for SPJ (and $20 for me), we cozied up to the bar for $12 beers and a view. I'm not a strip club aficionado (sorry NOT a strip club!), but IMO these were some of the most beautiful women I had ever seen. Seriously. I suddenly felt like Kathy Bates in Misery and I wished I had taken that extra yoga class that day. They were anywhere from 19-25 years old and looked completely natural (or else had fantastic plastic surgeons).
We started chatting with A (they probably gave us fake names but we're still not going to use them here), a young brunette wearing a deep V-neck teddy and G-string, who was putting herself through a psychology major at college. After a few minutes of idle chitchat, SPJ disappeared with her into the back room for a lap dance. FYI: no lap dances happen in the main bar area. There is a back room where the girls take their gentlemen for a more private experience. That said, all the lap dances happen in one room so it's not like you're all THAT alone. Hands where we can see them.
While he and A were getting better acquainted, I took the opportunity to sip my $18 whiskey neat and pick at the bowl of Hershey Kisses. I found this to be a thoughtful snack addition, for fear I might carelessly spill marinara sauce on my LBD if I went for the sexy, sexy ziti. The crowd was... not what I expected. Men in suits clung to the bar, sometimes nervously turning their backs to the wall of half-naked women on the dance floor. Skinny dudes with glasses and floral print button-downs awkwardly sipped beer from a distance, emphatically discussing something finance-related. "It's so awesome that you can actually have real conversations with the girls here," I heard one of them say. A little tip: if you're dropping $50 on admission, $18 for shots, and $20 for a two-minute lap dance just to socialize with a woman, you probably are not good at finance. And you probably are not good at women.
Six minutes and a cool $60 later, SPJ returned, hair tousled and a big grin on his face. Having frequented various, more public establishments in the past, he reported that this was one of the better experiences. Translation: it was a full-contact lap dance, and the boobs definitely came out.
By the time we were ready to go, more and more uncomfortable investors had paired off with lingeried ladies, sloshing back double-priced drinks, and opening their wallets for more. Sure, maybe it's a complete rip-off (it SO is), but if anyone ever tells you that no where in New York does there exist a place where $50 can get you entrance to a palatial playground of prancing girls, a buffet spread that is the envy of any Super Bowl party host, and all the dangling boobs for just $10/minute, I ask you to tell them the legend of Saint Venus.
Sign up here for our daily NYC email and be the first to get all the food/drink/fun New York has to offer.
Meagan Drillinger is a freelance writer for Thrillist. She blames Saint Venus for now getting turned on whenever she sees baked ziti on a menu. Follow her on Facebook, Twitter, and Instagram at @drillinjourneys.