Since flying in and out of JFK, LaGuardia, or Newark is only slightly worse than being scissor kicked in the groin repeatedly, we came up with 10 NYC airport hacks that'll make it... kinda a lot better than being scissor kicked in the groin repeatedly! Seriously though, these tips are about to make flying to/from NY infinitely more bearable.
1. Use these (and only these) public transportation options
For anyone who has ever paid for a taxi to a NY airport: you are stupid, and it's only worth it if you've got a s-ton of luggage or it's super early. If you don't or it isn't, though, you should instead take these alternative routes, which're definitely way cheaper and can sometimes be way faster than (or at least just as fast as) sitting in traffic on the Van Wyck.
For JFK, catch any of the nearly countless LIRR trains from Penn Station that stop at Jamaica, usually a 20-minute ride. If you're going between 4pm and 8pm, you'll pay the peak time fare of $9.50, otherwise it's $7 or $4 on weekends with a City Ticket (you didn't know about City Tickets, did you?). From there, take the escalator one flight up, swipe a MetroCard to pay a flat $5 fee, and hop on the AirTrain that connects you with all JFK Terminals, starting with 1 and swinging around to 8. Total travel time from Penn Station? About 35 minutes. Bonus: you can totally BYOB on the LIRR.
For LaGuardia (from here on out just LGA), you probably have friends with horror stories about taking the M60 bus. While it's still a bus -- nothing can improve that -- it has gotten considerably faster and it still only costs $2.50. Helpful if you're coming from Upper Manhattan, yes, but much less so if you're departing from Brooklyn or Queens. Have you heard of Uber?
For Newark (whose airport code is weirdly EWR), don't even dream of taking a yellow cab for nearly $100. From Penn Station, take NJ Transit to the Newark Liberty International Airport stop. The $12.50 fare includes $5.50 for the on-airport AirTrain, which goes to all terminals. Total one-way time is about 45 minutes.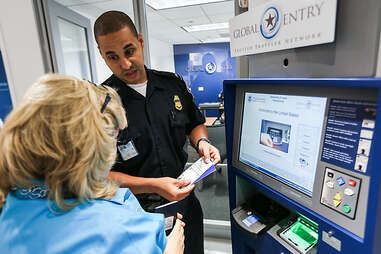 2. Skip every security line
Of course the easiest way to skip the line is by flying first class and getting waved into the crew lane. Didn't spend five figures on your ticket, though? Get yourself Global Entry ($100) or TSA PreCheck ($85), both of which get you past the security velvet rope and into a line of people who actually act like they've been to the airport before. You'll get to keep your shoes on too.
3. OK, so you didn't listen to us and you have to deal with security -- at least hit the secret shortest line
You can find crowd-sourced security wait times with the TSA's official app. Why the agency needs to rely on travelers to report this info instead of doing their jobs is one of life's great mysteries. Still, the good news is that -- on most days anyway -- you're only going to wait about 10 minutes at most JFK and LGA terminals. You might need a few more minutes at EWR, but the super-long waits that fliers once endured there are pretty much no longer a thing.
4. Eat burgers, drink at beer gardens, and hit the only place in the world you can get a Shake Shack breakfast sandwich
At JFK, the food situation has greatly improved in recent years with the additions of Shake Shack, Piquillo, and BRKLYN Beer Garden. In Terminal 4, you'll find the only Shake Shack in the world that serves breakfast sandwiches in addition to the usual burgers. In Terminal 5, the tapas spot Piquillo, from La Vara's Alex Raij, feels nothing like an airport restaurant, with a bar that would be mobbed if it were in the Flatiron instead of far Queens. In Terminal 2, Laurent Tourondel dreamed up a wurst-and-burger menu, but the real attraction is the more than 20 beers on tap.
At LGA, Biergarten has a rotating list of beers picked by Brooklyn Brewery brewmaster Garrett Oliver, who obviously knows what he's doing. An outpost of Artichoke has huge slices of its cult-favorite pizza. And if you absolutely must have Pat LaFrieda meat, hit Metro Burger Bar or Custom Burgers, two spots where the master's proprietary blend goes into the patties.
At EWR, yes, there's a Grand Central Oyster Bar, but do you really want to double down on bivalves before a long flight? Instead, opt for one of two wine bars in Terminal C -- Vino Volo or Le Grand Comptoir, both of which also have classy food to go with their classy drinks. (Since we're talking Newark, classy clientele is not guaranteed.)

5. Hang out on an open-air deck (plus other small things you can enjoy)
At JFK Terminal 5, restock your stationary at the MUJI store, which also has Japanese oddities (desk toys, scent diffusers, etc…) and super-simple basics like T-shirts and socks in case you forgot to pack them. In Terminal 4, go retro and watch planes come and go from the outdoor observation deck at the newish Delta Sky Club lounge.
At LGA, geek out in the Marine Air Terminal, where a 1942 mural aptly called Flight has been restored to its Depression-era glory. Look, if it's famous enough to be listed on the National Register of Historic Places, you should see it instead of just browsing a Brookstone.
6. Get unlimited drinks at airport lounges
While EWR and LGA both have lounges, JFK offers world-class options when it comes to Up in the Air-inspired travel. The kingpin is the Virgin Atlantic Clubhouse, with a pool table, free-flowing drinks, an in-house salon and spa, and all the subtlety you've come to expect from Richard Branson. The new and aforementioned Delta Sky Club in Terminal 4, with an open-air observation deck, is also more than worth the price of entry.
Before you commit to paying for a day pass, though, download the app Loungebuddy, which works like TripAdvisor for airports and fills you in on all the relevant details, like whether the booze inside the lounge is free or not. The app also lets you know if a credit card you already have can get you free access -- many do -- or if there's a lounge not tied to an airline -- like American Express' new Centurion Lounge outpost at LGA -- that might be a better alternative to your carrier's branded hangout.

7. Don't pay for Wi-Fi
For years, it cost $8 a day to get on Wi-Fi at EWR, LGA, and JFK, but starting sometime later this fall, travelers should get a free 30-minute session to blast out a last email and upload one more airport bar selfie. If you need more than 30 minutes, you'll still have to pay up, cheapo.
To its credit, JetBlue made free Wi-Fi standard issue when it opened its JFK hub at Terminal 5 in 2008. It's still as fast and as free as ever -- and there's no time limit there. Way back in the day (like, 2008), you could sometimes sit right outside a business-class lounge and ride their wide-open signal. Unfortunately, most lounges have since locked down their networks, but, hey, maybe it's worth a shot to try?
8. Deal with customs like a boss -- a boss who knows how to find automated kiosks
Flying home from abroad? Brace: JFK and EWR are notoriously bad at processing incoming flights, which dump hundreds of passengers into immigration and customs facilities that wouldn't be out of place in Mad Max. But some hope has recently arrived in the form of automated kiosks that have already sliced wait times in half. Punch in your info, and it's already ready for inspection by the time you get to a customs officer. The kiosks aren't perfect -- you'll still be waiting in at least one line -- but they'll help.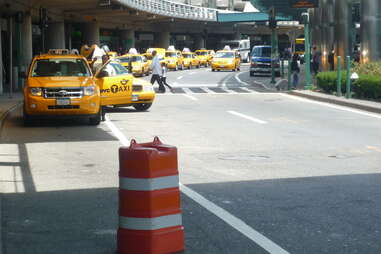 9. Don't fall for a gypsy cab scam. Just. Don't.
Once you've cleared customs and immigration, there's the matter of getting home. If you insist on getting a cab (see #1), duck the aggressive touts offering shady "car service" rides -- not only are these drivers running at least one scam, they're also likely to have their windowless vans parked miles away. Instead, line up with everyone else at the official taxi stand and you'll be on your way in just a few/slightly more than a few minutes.

10. Skip the taxi line altogether. Timing is key.
Don't have that much time? Request an Uber, or similar service, as you walk off the plane, and it should be pulling up right as you hit the curb. They hang out in nearby cell phone lots so they're ready for arrivals. You won't see a guy in a hat holding a sign with your name on it, but you will be on your way quickly, which is probably more important.
Sign up here for our daily NYC email and be the first to get all the food/drink/fun New York has to offer.
Jefferson Lewis is a freelance contributor for Thrillist NYC, has flown out of all three New York airports too many times to count, and his favorite thing might actually be the free Wi-Fi.