The Karaoke Bars of NYC's Koreatown Helped Me Find My Voice
This jam is dedicated to them.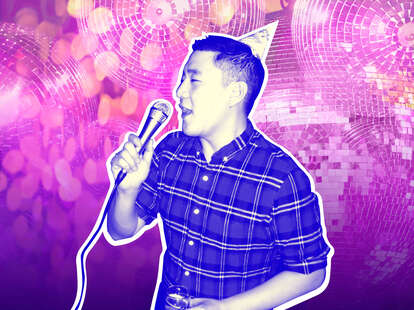 Photo courtesy of Tae Yoon; Design by Grace Han
Photo courtesy of Tae Yoon; Design by Grace Han
Welcome to Karaoke Week, Thrillist's celebration of our favorite global phenomenon, with drink recipes, singing advice, celebrity recommendations, tips for hosting karaoke at home, and much more.
In the late '90s, as a Korean-American teenager from Flushing, an area with one of the largest concentrations of Koreans in NYC, going to karaoke bars was practically a rite of passage. Called noraebang (aka "song room") in Korean, karaoke first landed on the shores of Korea in 1991 and exploded in popularity, becoming a beloved form of entertainment among Koreans worldwide. Even for someone like me, who was born in Queens with immigrant parents from Korea, karaoke has been ingrained into my entire New York life. And while all of the rich Korean kids in Flushing usually had a system in their house, for families like mine, we went to the karaoke bars. What started as a fun place for family gatherings and social events as a kid, became a place of refuge for me in my teens.
Back then, before cell phones and the Internet beyond AOL, Korean-American kids in Flushing regularly hung out in pool halls or karaoke bars. For the latter, it was a gathering place to sing Korean pop songs (decades before the genre went mainstream worldwide) and celebrate our Koreanness. Carving out our own cultural identity in this small pocket of Queens was important to us since the American entertainment industry deemed teenagers who looked like us as non-existent. And while I didn't mind pool halls, I was a shy gay kid confused about many things, and naturally gravitated towards environments where I could be my true self. By early high school, karaoke bars felt like one of those rare safe spaces. In an era when Asian gangs were rampant in NYC, karaoke became a place where I could let my guard down without worrying if I appeared not straight.
In fact, it was one of the first times in my life where I felt welcomed for being my secret gay self. If some grown men need a few drinks before mustering up the courage to sing in front of others, imagine the reluctance from awkward teenage boys who were sober and dying to impress all the girls in the room. As one of the few guys who willingly sang in front of girls, I felt appreciated by the guys for taking the pressure off of them, and by the girls for having the guts to get up and sing. It came easy to me, and before K-pop groups like Blackpink and BTS, my pre-pubescent voice was belting out H.O.T., Fin.K.L., and S.E.S. in all my glory. I sang their songs so often and went to karaoke so much that my Korean reading skills ultimately improved as well.
In my later years of high school, I eventually began exploring beyond Queens and started hitting up karaoke bars in Manhattan's Koreatown. Like so many others, I found the block's Vegas-esque charm and buzzy energy intoxicating. Here on 32nd Street between Broadway and Fifth Avenue, businesses are stacked on top of each other without apology, as they are commonly in Asia. With some sitting five stories up, colorful signage in both Korean and English compete for attention. In Koreatown, this one-of-a-kind, multistory synergy lures visitors to the array of restaurants that line the block and subsequent soju-fueled meals ensue, until the likely last stop of the night, a karaoke bar.
The beginnings of NYC's Koreatown date back to the late '70s with the establishment of businesses like Korean restaurants and a bookstore. Located in the shadow of the Empire State Building, this block of 32nd Street would eventually become the epicenter for Korean businesses and social life in Manhattan -- operating mainly as a hub for culture and commerce, but not as a place where Koreans live. The city officially designated it Korea Way in 1995 and while Koreatown has expanded farther beyond Broadway and Fifth Avenue since then, this particular block of 32nd Street remains the core of the community, growing vertically throughout the years to take advantage of the street's prime real estate. The restaurants, bars, cafes, and shops that appear on the street level are only a taste of what Koreatown has to offer, with the majority of businesses located above them.
Before COVID-19, this is also where you'd find most of Koreatown's karaoke bars open and ready for customers. Constantly packed with both Koreans and non-Koreans alike, these mini entertainment venues hidden in non-descript buildings appealed to a broad range of revelers: large groups, pent-up individuals in need of a primal release, awkward social gatherings where small talk feels painful, and those looking to be entertained steps away from where they just devoured Korean barbecue. On any given night of the week, parties would climb flights of stairs off 32nd Street or take an elevator ride to what seems like a quiet office, only to be transported to a Koreatown karaoke bar: a vibrant universe filled with disco lights, booze, tambourines, an expansive catalog of songs, and an applause button on every remote to cue good times in an instant. This secret labyrinth of private rooms helps shut out all that's happening outside its doors, providing an oasis of song, laughter, and blurry memories away from prying eyes. And stepping into this world always gives me a warm and fuzzy feeling, a familiarity and type of comfort I've loved since growing up in Flushing, Queens.
Going out to its karaoke bars has been a mainstay of my social life since then, and has seen me through important milestones of adulthood for the past 20 years. From countless birthday parties to my college graduation, or even an average Tuesday, so many nights out have ended with being at a karaoke bar. Especially in NYC, there's nothing like closing the door of your private karaoke room to let loose and sing out the stresses of life.
Since the onset of COVID-19, karaoke bars in Koreatown (and beyond) have been hit hard by the economic impacts of government mandated closures, in addition to dealing with anti-Asian sentiment. And since singing is thought to be an activity that increases the transmissibility of COVID-19, a return date for my beloved haunts is currently unknown. "It's been a challenging time for us and all small business owners due to the COVID crisis," says Turntable LP Bar + Karaoke. And for any of our favorite karaoke bars to reopen, they'll need all the help they can get. "We will be back soon," says Maru Karaoke Lounge. "This is the time we need locals' support the most... without it, many [of us] will close permanently."
Koreatown Karaoke Bars to Champion for an Encore:
Sign up here for our daily NYC email and be the first to get all the food/drink/fun New York has to offer.