Signed to Wind-up Records, like, five minutes ago, Sydney rockers The Griswolds just played their first Manhattan show at Mercury Lounge -- and if there's any truth to the old maxim "When a group of hot girls who've never heard you before insist on dancing even though it's Monday, then your band's probably going to do just fine", it won't be their last. After welcoming the boys to America by draining the better part of a Mexican bottle of liquor, we asked them a few quick, mostly ludicrous questions. God knows who answered what: Can there ever be too much percussion? "No!" "Yes. In classical music there can be too much percussion." Where did you get those pants? "Byron Bay. They're not really meant for men, but they're great conversation starters: 'Excuse me, are you gay?' That's off the record." "Fuck the record!" Best Aussie band we don't know about yet. "The Belligerents, with two L's." Best Aussie band ever. "INXS." "Guy Sebastian." [band name we didn't quite catch that clearly belonged to the last question regardless] "Keith Urban." "The Bee Gees!" "What about Tupac?" "Kylie definitely has the best ass. No American, no African, no Chinese can beat that ass." American foods you most want to try. "Yesterday I had a smoked salmon bagel and a slice of pizza and a Reuben at Katz's. I'm just getting started." Who do you most want to meet while you're here? "David Letterman. No, Jenna Jameson. No, David Letterman. He's old and he's cynical and I love that." "And he's got a big dong, and that's all that matters." Wolves. What's up with them? "They're like dogs, but they're a pain in the ass in the house because they can kill you. Sometimes." (Guy from record label): "They're like dogs, but better in bed." "What?"
Recommended Video
This Is the Coolest Way to Park Your Car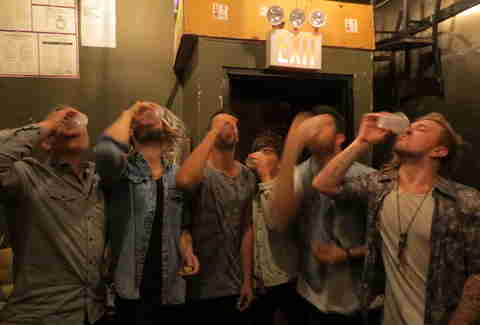 Previous Venue
Next Venue
Venue Description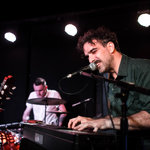 1. Mercury Lounge
217 E Houston St, New York, NY 10002
The Mercury Lounge is an intimate Lower East Side venue with a storied history: the Houston street space was originally part of the legendary NYC Astor family's pied-a-terre and was used to house servants, who reached the main house through a network of underground tunnels. While not quite so mysteriously extravagant these days, Mercury Lounge is one of the city's best spots to check out local and national touring bands up close and personal; it's no-frills (rather than divey) surroundings and quality sound system rightfully put the music center stage.