A private NYE Champagne butler slave can be yours for a measly $10k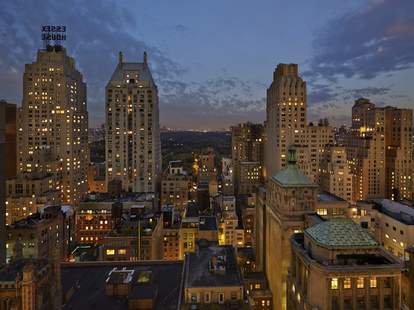 Spending New Year's Eve in New York City is like having a root canal on your birthday, with no one to pick you up, and also you got locked out of your apartment and your dog threw up all over your bed. Except somehow more underwhelming. But on some rare occasions, and if you really lean into it (and have copious amounts of money), it can be fun. 
For those of you giving two-thumbs-up to the "copious amounts of money" part, Viceroy New York in Midtown has an "Ultimate NYE Package" this New Year's Eve for a whopping $10,000. For the price of a nice used car, party-goers get to indulge in overnight accommodations at the lush Suite 57, Dom Perignon, a private Champagne butler to pour you that Dom Perignon (because this is no time to be using your own hands!), a private dinner for up to six guests in your suite, a VIP table for the party at Gerber Group's The Roof (including more Champagne and liquor, a DJ, a view of the fireworks, and a TV to watch the ball drop), and breakfast in your suite on New Year's Day.
If you're feeling less "Ultimate" and a little more "VIP", fear not: there's a cheaper option for you, you peasant, you. The "VIP" option offers a Junior Suite at $750, or a Park Suite at $1,000, and all the other benefits of the "Ultimate Package"... minus the all-important Champagne butler. There's also a $200 "Party Package", which features dinner at their restaurant, Kingside, and access to the party. Or you could opt to just attend their party, with GA tickets priced at $100, and table packages starting at $1,500. However, it's probably in your best interest to lean into this -- get that Dom Perignon poured for you -- you're doing alright in life!
Lucy Meilus is an Editorial Assistant at Thrillist, and would really hate to make the Champagne butlers she already employs jealous. Follow her on Twitter to witness her peasant-to-royal transformation.