You've probably endured a televised tree lighting ceremony or two over the years, and you may have even braved the tourist-ridden plaza to see the massive evergreen for yourself. But there's a lot more to the Rockefeller Center Christmas Tree than meets a jaded New Yorker's eye. And by "a lot more" we mean "these 18 things"...
1. In 1931, the first tree was put up unofficially as something of a Depression-era fairy tale
A group of workers responsible for the early construction phases of Rockefeller Center raised the tree to celebrate the fact that, unlike most of America, they actually had a way to pay the bills. They decorated the 20ft balsam fir with cranberries, paper garlands, and a few tin cans. A clerk distributed their paychecks from the foot of the tree later that night.

2. The first "official" tree though went up in 1933
A publicist organized the first tree-lighting ceremony. A 50ft pine decorated with 700 lights stood in front of the RCA Building, then eight months old.

3. The tree is super patriotic
In 1942 three small trees -- each decorated in one of the flag's colors -- were presented in support of the country's efforts in World War II. In 1944, because of wartime regulations, the tree went unlit. And in 2001, the tree was decorated in red, white, and blue as the US was still reeling from the 9/11 attacks.

4. The tree lighting ceremony was first televised in 1951
It made its debut on The Kate Smith Show hosted by the "first lady of radio" before moving to the iconic children's program Howdy Doody. Now broadcast on NBC, the ceremony has featured the likes of Bob Hope, Barbara Walters, Liza Minnelli, Sheryl Crow, Bette Midler, Billy Crystal, and Mariah Carey.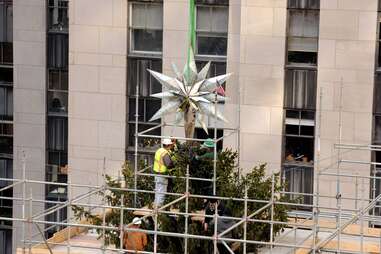 5. The current tree-topping star boasts 25,000 Swarovski crystals with one million facets
That's a lot of damn facets, it's also got 720 LED bulbs, 44 circuit boards, and 3,000ft of wire, and it weighs 550lbs. Rock Center won't disclose its cost, so it's got to be pricey (estimates value the stunner at $1.5 million, which actually makes it LESS expensive than the clock on top of the info booth in Grand Central). Unveiled by Fergie, which is kinda weird, in 2004, it's the largest of a series of stars to have topped the tree.
6. The tree is solar powered
LED lights were introduced in 2007 and are powered by 300 solar panels installed on the roof of One Rockefeller Center. The tree now saves enough energy to power a 2,000sqft single-family home for a month. That's 2,213 kwH per day (but you knew that).

7. The tree's lights reach farther than you can probably run
There are 45,000 LED lights on 5mi of wire, roughly the distance from 110th St to 14th St along Broadway. Or one mile less than the perimeter of Central Park.
8. The tree remains lit for 24 hours straight on Christmas Day
5:30am to 11:30pm on all other days with the lights going out at 9pm on New Year's Eve.

9. The largest tree to date was 100ft tall
Although the tree usually stands no less than 65ft tall -- or seven stories -- because it needs to be dense enough to hold all the ornaments, but narrow enough to fit under bridges as it's transported, horizontally, into Manhattan, the record-setter came from Killingworth, Connecticut and was on display in 1999. Any bigger and it probably won't make it here, the width of New York City streets limit tree height to 110ft.
10. To find the perfect tree each year, Rockefeller Center conducts aerial searches via helicopter
For many years, David Murbach, the Center's late garden manager, would rent a car and look for a tree on the most scenic routes. Now a team of scouts takes this loftier approach, seeking out the perfect specimen, year-round. Once spotted, a crane is required to support the tree as it's cut, as well as to move it to a flatbed truck.

11. They've floated trees down the Hudson River on a barge to get them here
The size and location of the tree determines its mode of transport, trees have been driven on highways and through the streets of Manhattan on flatbed trucks, floated on said barge, and flown in the world's largest transport plane. They're snuck into the city at night when traffic isn't quite so hellacious.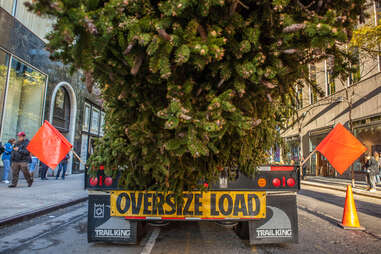 12. Nearly 450mi is the farthest a tree has traveled to get to Rockefeller Center
Most of the trees come from New England and suburbs of the tri-state area, but this 64ft spruce was donated by our neighbor to the North in honor of the Centennial of its Confederation (1967). It hailed from Ottawa, to be exact, and was the first tree to come from outside the US.

13. Trees are generally donated, not purchased
Rock Center sometimes gives a small payment (in the neighborhood of $2,000) to the owners of its chosen trees. But most part with their beloved evergreens gratis, taking advantage of the garden team's free landscaping services after the tree is removed from their grounds. Also, anyone can submit a tree for consideration, just fill out this form on Rockefeller Center's website. You know, in case anyone out there happens to be growing a gigantic Norwegian spruces on their fire escape.

14. This year's tree is 90 years old, weighs thirteen tons, and traveled 155mi to Manhattan
Rock Center's head gardener Erik Pauze had been coveting the choice evergreen for years after discovering it during a drive along I-80. It wasn't until this year that the owners, a pair of self-proclaimed "Christmas elves", were willing to part with it.
15. The tree gets turned into lots of useful stuff
The evergreen has been even greener since 1971 when it was turned into 30 three-bushel bags of mulch for nature trails in upper Manhattan. It has since been used to build homes for Habitat for Humanity in New York, Louisiana, India, and Brazil, and to rebuild houses in New Orleans after Hurricane Katrina. The stump, however, gets its own afterlife; it's donated to the US Equestrian Team to be used as obstacle jumps.
16. The tree doesn't need to be watered
Cold outdoor temperatures keep it fresh so it doesn't dry out like the indoor tree that may currently be wreaking havoc on your carpet.

17. The tree has been the site of many political protests
Hundreds gathered just outside Rockefeller Center this year to protest the Eric Garner grand jury decision, while police fought to keep them from disrupting the ceremony. But it wasn't the first time the tree formed the backdrop for dissent. In 1979, a 27-year-old man climbed the soaring evergreen, shouting "Free the 50!" in protest of the Iranian Hostage Crisis.
18. During the holidays, more people will view the tree (750,000) than live in Detroit (~700,000)
This is still tiny compared to the amount of people who ride the subway daily though.
Sign up here for our daily NYC email and be the first to get all the food/drink/fun New York has to offer.
Nina Stoller-Lindsey is a Brooklyn-based writer who's covered arts and culture for Time Out New York and New York Magazine. Reach out to her on Twitter or through her website with speakeasy endorsements or to debate the merits of growing up in New York City.