Last night at Terminal 5, Victory Combat Sports put on the first legally sanctioned MMA brawls in New York. There have been a few other exhibitions, but apparently they lacked important "legally sanctioned" elements, like ring doctors, and the really good stretchers. All bouts were amateur, getting around a 16-year-old NY state ban inspired, according to MMA Encyclopedia author Jonathan Snowden, by some dude repeatedly punching another dude in the balls back in '94. Here's a sampling of the action on the mat and in the seats.
Boxing announcer. Brooklyn Nets announcer. Cigar lounge owner. Is there nothing David Diamante can't do?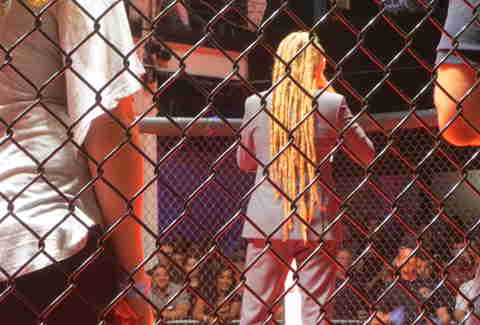 Other than "get all of his hair under a swim cap"?
James Jefferson was in the house. James heads up Global Proving Ground, and is also totally shy about showing off his mustache.
Anthony Bourdain, clearly super-impressed by the question "Who'd win in the octagon, you or your wife?". You just can't teach those kind of journalistic instincts.
Daily Candy NYC editor Jordan Blumberg and her boxing trainer, unleashing the fury.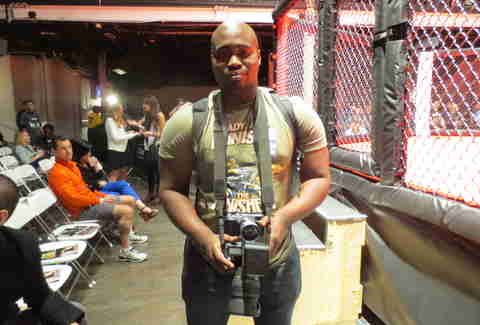 Seriously, you can't even shoot these matches without being jacked. Brooklyn photog Anthony B. Geathers is damn near as big as Jumpy Geathers.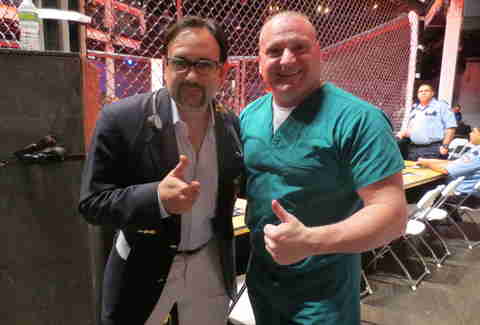 Not one, but two fight doctors. They say the job's a mix of overwhelming excitement and exhaustion from closely monitoring the effects of each punch.
They also agree that 2oz of alcohol a day is good for you.
Dovetail's John Fraser will turn you into a delicious vegetable.
"All right, let's have a good clean fight."
If only all high-fives were followed up...
... by somebody ramming their shoulder into your ribcage.
Jesus these guys are scary.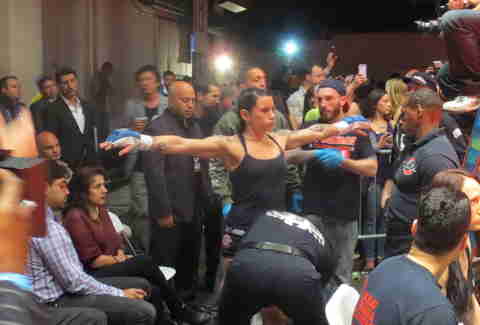 Friday Night Fights commentator and Victory CEO Kevin Lillis giving the thumbs up.
You don't want the thumbs up from this guy.
The calm before the storm.
Beats getting punched down there.
The main event. Is this guy closing in for the kill?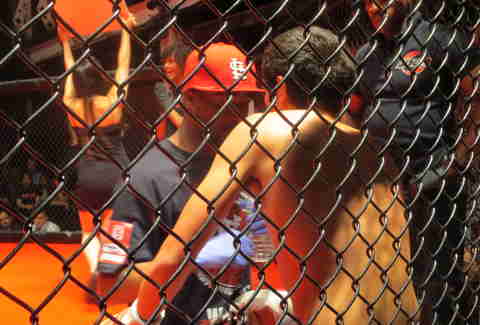 Not quite. If this were boxing his trainer would be saying "stick with the jab".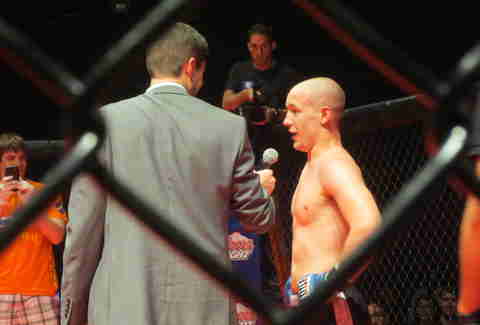 From the bottom, all the way to the top.
The docs say there are no real mismatches in amateur MMA, so this is rarely needed.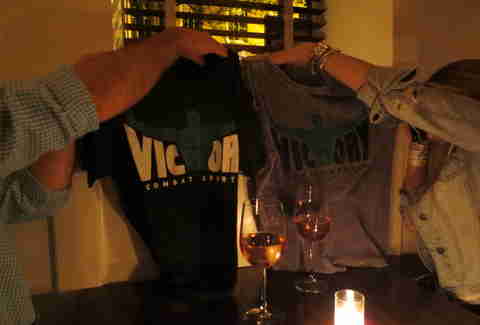 Although you can never be too sure you won't need a stretcher after pounding post-fight rose at Tremont. It doesn't get much more hardcore than this.