Not just an awesome Whitney Houston song from The Bodyguard, Queen of the Night's also a totally crazy interactive dinner show that starts outside Diamond Horseshoe's papered-over glass doors and -- thanks to unlimited drinks -- most likely ends at one of these.
From the lobby, you get led by the hand through dark, curved stairs surrounded by peeling paint and shabby remnants of long-faded elegance, into a dimly lit, decadently restored room. It's kinda like Eyes Wide Shut, minus the graphic sex/Tom Cruise. There's a huge, round stage extending into the middle of a sea of tables seating at least 200, and a bar that's lined with drinks for the taking.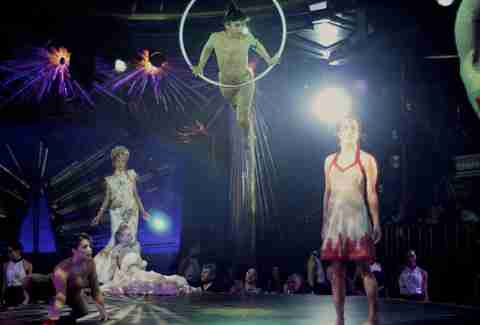 Once you're seated, you're thrown right into a totally immersive(/kinda naked?) theater & dining experience, where the cast and audience actually co-mingle. More specifically, cast member-servers mingle, by sitting and laying on tables and laps, performing, and talking intimately with the audience.
The whole thing is the brainchild of Randy Weiner, who produced "Sleep No More" and the venue The Box. It's a Game of Thrones-ish mashup of Mozart, dance, juggling, trapeze acts, acrobatics, whips, knife-throwing, and orgy... err... food orgy (there we go), all in celebration of "The Queen's daughter, Pamina".
Heads up: you may see people with a tiny jewel on them -- that's "the sign of The Queen", and it signifies that they've had a private show with a cast member in one of the small rooms hidden off of the main ballroom. For instance, they might lead you into a tiny freezer-like room and tell you that one spot on the performer's chest is a "stop" button, and another spot is a "go" button. Then, they'll put their hands high on your chest and lean forward until until you push "stop".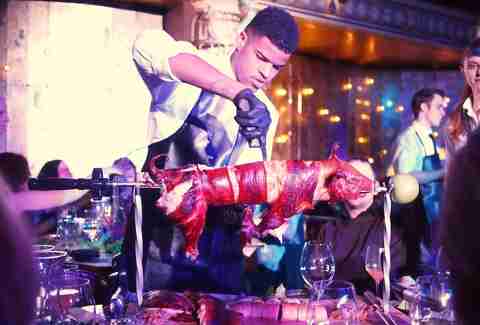 The food is all part of the show, as well. The gist is: unlimited drinks during mingling hour, unlimited wine at your table, and theatrically presented entrees. This includes whole pig, whole lobster, and standing rib roast of beef, all oversized -- and they're all brought out mid-show in a fantastic food parade on platters, or in bird cages, or by butlers in jackets and shorts. And for dessert? You may have an actor on stage feed you some chocolate cake.
Each table gets one of the three meal options: lobster, beef, or pig. Everyone is encouraged to mingle (read: make out) and trade food (read: um, trade food) and, as the wine flows freely, that's exactly what happens.
Tom Nite is the Founder of TomByNite.com and also a writer, photographer, occasional indie actor, and long-time submarine race-watcher. He loves flights of Scotch almost as much as flights of fancy.