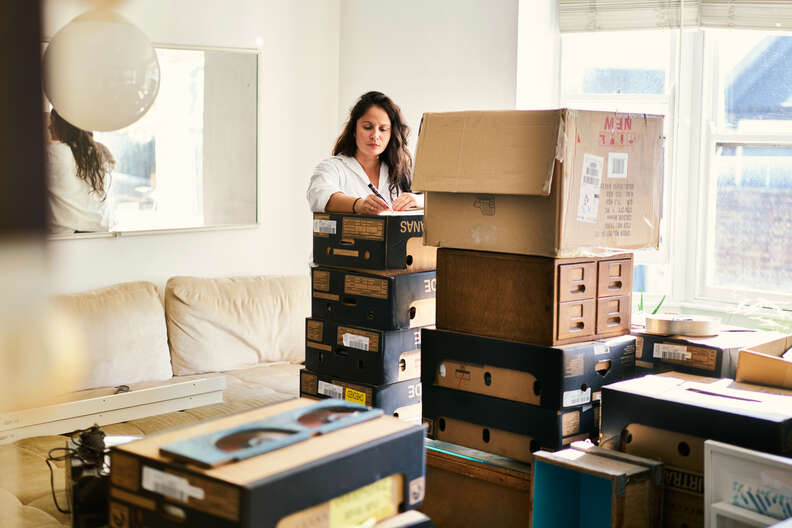 JustinLambert/DigitalVision/Getty Images
JustinLambert/DigitalVision/Getty Images
Few things are worse than moving in NYC, whether it's during peak summer heat or in the dead of winter. But moving in NYC during a pandemic presents its own set of unique challenges. We know the struggle of packing up basically your entire life in boxes and moving (all while wearing a mask that can get pretty toasty). If you're moving soon, fear not, as this guide will help you navigate the beginnings of your new life in a new borough -- or a new street if you're just moving a few blocks over.
Transfer your info over to your new digs
You can change your mailing address online here -- it takes 10 days to process.
Contact all entities that harass you for money every month
Credit card companies, student loans, Con Edison, and your cable company need to know you're moving. Log onto your Con Ed account and click "Services and Outages" to change your address and shut off service at your old apartment. Also a good idea? Alert doctors, banks, and HR at your office.
Be WiFi-enabled on day 1
Since a lot of people are working from home these days, the last thing you want is to have to wait until the day after you've moved in to have access to the Internet. Make sure you schedule your WiFi installation in advance, preferably on the day of your move so you'll be able to relax with Netflix after you procrastinate on unpacking.
Or if you've had enough of your current provider and want to switch over or cancel service, call the numbers listed for Optimum, Verizon, or Spectrum to start the process. Beware of cancellations fees for some before you proceed.
Measure the doors and spaces of your new apartment
With the pandemic still around, a lot of realtor companies aren't allowing in-person showings before you move in, so it's likely that you had to rely on photos, virtual tours, and awkward video tours to decide on where your next place of residence would be. A pesky side effect of this, however, is that you won't really know the measurements and dimensions of the space until you get there.
If you're able, do some quick measurements of windows, walls, and doors before all of your moving boxes flood your apartment. Some doorways in NYC apartments are insanely small, and you'll want to be sure your sectional sofa will fit through the door, and in the actual living space, before you lug it up five flights.
Purge your apartment of everything you haven't used in the last six months
It's time to be discerning. You probably don't need the cumbersome armchair in the corner that no one sits on... ever. And you definitely don't need that record player that looks like a suitcase that you got at Urban Outfitters. Instead of throwing them away, donate them, sell them on an app, or put up flyers in your building and have a good old-fashioned, socially distanced stoop sale. The less stuff you have to move, the cheaper and less time-consuming moving day will be.
Secure packing supplies...
For reliably sturdy and new boxes, City Moving Boxes sells boxes and rents reusable ones with free same-day delivery. With Bin It, a mini-storage system, a set of stackable plastic bins will be dropped off at your place, and picked up at your new pad after your move two-to-four weeks later. U-Haul also sells cardboard moving kits/boxes by the piece.
Scavenge for boxes
Establishments that receive major deliveries on the reg will likely have a large supply of cardboard that they're looking to unload. Try the closest grocery store/liquor store/furniture store and let them know you're looking for shipping boxes.
See who's still in town that may be willing to help you
But expect to offer some type of valuable trade-off like hard cash or at least a good meal afterward. And in case they work up a sweat from all that lifting, have extra masks on hand to replace any that might get soaked.
Ask your landlord for the keys a few days before your lease start date
Sometimes a prior tenant might have moved out, literally, the day before your lease starts, which could leave you and your roommates having no other option but to all move in on the same day (read: chaos). However, it's recommended to still inquire with your new landlord because planning ahead in any way to lessen the stress on your official moving day is worth it.
Use Zipcar for small moves
And take smaller items over in shifts. Zipcars run from $9 an hour or $74 for the day (plus a $25 application fee and other fees depending on things like your age, mileage, and tolls), so be sure of how many trips you need to make. Keep in mind though, most cars won't be big enough to fit a mattress!
Rent a U-Haul for the big stuff
At U-Haul, pickup trucks and 9-foot vans start at $20 a day plus mileage. Rates vary by zip code, but 10-foot trucks will run you about $150. Take note: anything larger than a van is considered a truck, so be sure to map out a truck lane route if you move between boroughs.
Install your A/C before you move anything
Especially if you're moving in the summer.
Make sure you have someone on truck-watch while you bring stuff in
Cops are always happy to write tickets for double-parked trucks and vans. And you probably don't want any of your stuff stolen on one of the most exhausting days of your life.
Utilize TaskRabbit
Enter what you need done on TaskRabbit -- help with packing, help with one large item, or someone to move your entire apartment (van included) -- and the site finds local "taskers." Each tasker has their own hourly rate, along with user reviews and recommendations. Depending on what you need, prices vary from about $40 to $100 per hour.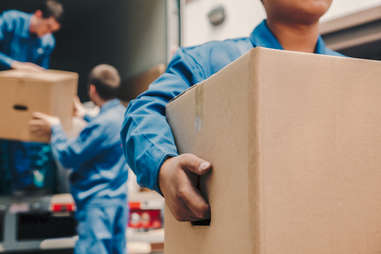 Bite the bullet and hire real movers
It's the easiest (read: most expensive) way to move -- you likely won't get away with spending less than $400, plus tip. Just keep in mind, most companies require you to submit a detailed inventory or even schedule a call to get an idea of your space and how much they're moving before giving you a quote. Make sure you check to see that each of the moving companies you're considering are taking sanitary precautions for COVID-19 (gloves and masks). Check out Rabbit Movers, Dumbo Moving, Clean Cut Moving, Intense Movers, or Dyno Moving for more info and estimates.
Move on an "off day"
If you do decide to use professionals movers, they're usually busiest at the beginning and end of the month, and weekends. Negotiate a discount by moving mid-week or mid-month.
Tip your movers
Moving is hard work, and there's a reason why you hired professionals. Depending on factors like the amount of furniture you have or if you live in a building with no elevator, industry experts on tipping range from $25 per mover to 18-25% of the total bill. If they were on time, efficient, and didn't break anything, giving them a little extra is the reasonable thing to do as a New Yorker.
Accept the inevitable
It'll be a long process, and you probably won't ever want to move again. But at least it'll be over when you're done!
Kristen Adaway is a staff writer at Thrillist who added "moved during a pandemic" to her resume. Follow her on Twitter.