Commute from hell this morning? You're not alone. Issues on several subway train lines across the MTA this morning resulted in delays for many commuters, according to the MTA.
Sick passengers at Roosevelt Avenue and Grand Central delayed F, M, and E trains and 4, 5, and 6 trains, respectively. On top of that, a pulled emergency break and police activity disrupted normal service on the L train, Gothamist reported. Thrillist reached out to the MTA this morning for more info.
If you need an excuse for your boss, the MTA offers verified excuses any time the trains are delayed — just fill out this form and wait up to three weeks for a response as your delay is "researched"... if you haven't already been fired by then. Or you can share an article like this one with them.
We filled out the form and this is what we got: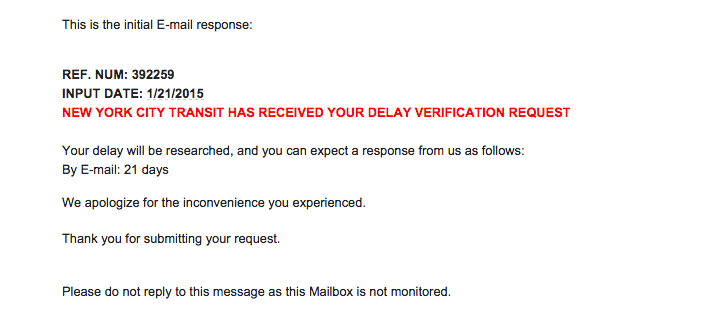 Currently, some trains
appear to be running
with some delays due to planned work. But this morning was a different story, as some chronicled on Twitter:
In response to one such tweet, the MTA said "We apologizes"

Tony Merevick is Cities News Editor at Thrillist. Luckily, he wasn't late this morning because of the train because he has great Karma. Follow him on Twitter @tonymerevick.
Sign up here for our daily NYC email and be the first to get all the food/drink/fun New York has to offer.