Jeff Somers/Thrillist
Jeff Somers/Thrillist
You think you know Hoboken -- I can hear you now: "Yeah, yeah, Mile Square, Sinatra, baseball, Sixth Borough, whatever." You, sire, do not know Hoboken, because you, sire, do not live here. And the more you tell me you wouldn't live here, not for any amount of money, the more I know you desperately wish to live here. And if you did, however, live here, you'd understand a few things a little better, like these 24 things...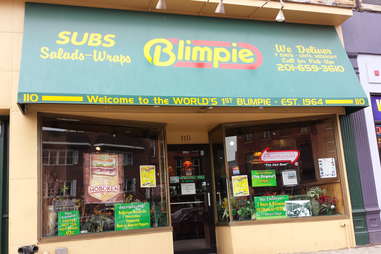 Carlos Bakery is kind of meh
Yeah, yeah, there's a line down the block of tourists to see the famous Cake Boss bakery every day. But people who live here know that if you want real Italian baked quality, you go uptown to Giorgio's.

Your Uber may get ticketed
Yup, right now operating an unlicensed taxi within the city limits is a no-no, and you could potentially be pulled over riding in one. Pro tip: do not call another Uber while the cop is still standing there writing your driver a ticket. It will end in tears.

Our Blimpie is the original Blimpie
It's not in the original location, but the first-ever Blimpie was opened in Hoboken in 1964. Your opinion of the Blimpie Best sandwich likely mirrors your opinion of Hoboken.
No one cares about Sinatra
Was Frank Sinatra born in Hoboken? Sure. Did he move out as soon as he possibly could and never look back? Yes. Does anyone in Hoboken today care? Not really. About the only sign of Sinatra you'll find in town these days is a sad plaque in the sidewalk outside the address where he was born. The actual building burned down decades ago.

Batman lives here
Hoboken Batman is a thing, and while his bicycle is perhaps a little less impressive than the Tumbler seen in the movies, people still love him.

The Nerds are always playing somewhere
If you don't live in Jersey, you've never heard of The Nerds, but it's okay: they've never heard of you. One of the most successful cover bands in history, The Nerds play Hoboken constantly and are part of the background track of the city.

Driving is for suckers
Parking in Hoboken is hell, and traffic at rush hour is a lower circle of hell, but the main reason no one drives is that Hoboken is literally the most walkable city in the world. Plus, you'd lose your parking spot, and chances are very high you actually murdered someone for that spot and have the body in your trunk.

No one cares about, or goes to, Sybil's Cave
Sybil's Cave is a cave. Edgar Allan Poe, who briefly lived in Hoboken, used the cave as inspiration for the story The Mystery of Marie Rogêt. As a result, someone refurbished the site a few years ago and it gets mentioned as a tourist destination sometimes. Don't do it: it's just a tiny park, and the actual cave was filled in with concrete decades ago.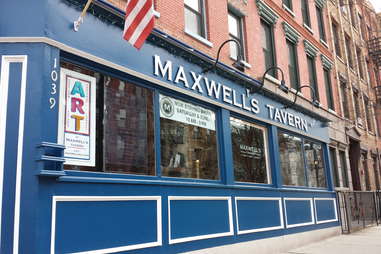 Maxwell's out-cools most NYC clubs
Maxwell's has started booking live shows again, meaning its legendary status in the music world continues. Springsteen shot videos there, and the list of bands that have graced that tiny, dark stage with muddy sound includes R.E.M., The Replacements, The Pixies, The Meat Puppets, Sonic Youth, Fugazi, Soundgarden, the Melvins, Nirvana, Hole, The Smashing Pumpkins, the Minutemen,the Red Hot Chili Peppers, and I could go on and on and on (and on [and on]).
It will take you longer to cab it home than to walk
When you pop out of the PATH to embark on your Hoboken adventure, you'll see a long line of shiny taxi cabs enticing you. Don't do it. The cabs insist on taking multiple people simultaneously, so you'll make four stops before getting where you're going.

Surprise! Eli Manning is a nice guy.
Manning lives with his family in Hoboken, and is always super nice, whether you run into him on the street or accost him at Dino & Harry's steakhouse while he's picking up dinner.

Always go down First St
When you come into Hoboken from the Holland Tunnel, head down First St to get to the main part of town. There's only one traffic light between you and the bars.

Our government is corrupt and comically stupid about it
How corrupt? Former mayor Peter Cammarano took office in July 2009. He left office one month later, after being caught in an FBI sting. How stupid? He was nailed accepting a mere $5,000 stuffed inside a cereal box as a bribe.

We have more bars per capita than NYC
Hoboken is about one mile square in size, has about 50,000 residents, and sports more than 120 drinking establishments. If a tavern is crowded, just walk three steps down the street.
We have actual old-school Italian social clubs
And yes, we all think they're mobbed up. And yes, the old men still speak Italian and play chess all day while drinking coffee.

We have what may be the best coffee shop in NJ
Inside Jersey magazine named Empire Tea & Coffee on Bloomfield the best coffee shop in New Jersey in 2010. The coffee there is incredible enough that it would be worth waking up at 4am to commute here to get your morning coffee, and then head back to NYC for work.

You can get a free limo ride any damn time
Life hack: the bar Willie McBride's has a limo; you can call and it will pick you up anywhere in town and bring you to Willie McBride's. It's slow, but it's often a free way to get to the center of town in a limo. Also, Willie McBride's is awesome, so stop in and have a drink anyway.
The Guitar Bar is not a bar
If you Google "Hoboken" and "bar" you might see a listing for the Guitar Bar and think you're in for a treat. You are, but it's of a different sort -- it's a guitar store run by legendary musician Jim Mastro.

We're a mecca for recording artists
You think your favorite band records its albums in exotic locales? Nope, it's here in Hoboken. Artists including Dave Matthews, Beyoncé, The Allman Brothers Band, Sonic Youth, Social Distortion, R. Kelly, Jimmy Eat World, The Pretty Reckless, Joey Ramone, The Hold Steady, Ryan Adams, and Ben Folds Five have all recorded in the Mile Square.

You can kayak on the Hudson for free
The volunteers at the Hoboken Cove Boathouse hold free kayaking days every summer when Hoboken residents can get out on the river and plot the waterborne invasion of Manhattan.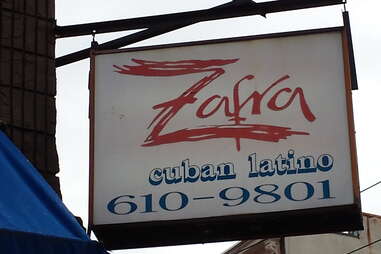 Zafra is the best bargain dinner in town
It's owned and operated by Maricel Presilla, a world-renowned chef and food writer, but it's super cheap and BYOB. Really: you can have a world-class meal for two there for $30.

We told Snooki and JWoww to take a hike to Jersey City
Not classy? When Hoboken found out that MTV planned to shoot the spin-off of Jersey Shore starring Snooki and JWoww in our classy town, the mayor shut that noise down fast, forcing MTV to move the production to Jersey City. You're welcome.

We judge our pizza based on its size
At various pizza joints throughout town, you'll see signs proclaiming that they have the "largest" slice (fact: Benny Tudinos on Washington St, in fact, does have the largest slice).

Gateway Park is the best place to be alone
Gateway Park is tiny, about the size of someone's (small) backyard. It's on the edge of town and the only sign identifying it says "Your Park." No one ever goes there, and there's only room for maybe a dozen people at most anyway, if they were all willing to stand. If you want to be alone on a nice day, it's your spot.
Sign up here for our daily NYC email and be the first to get all the food/drink/fun New York has to offer.
Jeff Somers is the author of We Are Not Good People, the Avery Cates series, and other novels and short stories, as well as a contributor to LifeInHoboken.com and the mad genius behind The Inner Swine zine. He enjoys whiskey far too much for a coherent Internet presence but his ramblings can be followed on Twitter.