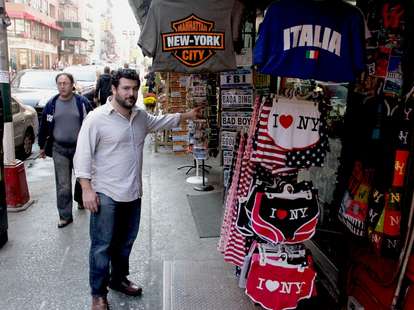 New Yorkers are so often defined by their neighborhoods, even though those 'hoods themselves often change definition by the week, thanks to rampant gentrification, blah, blah, blah... man, that bodega where everyone got knifed had so much charm... blah, blah, blah, Mars Bar, etc.
No matter what ol' SJP and her real estate agent want you to think, none of them are perfect. So in which specific ways does your 'hood suck? We dove in to find out
Little Italy: Do you want a 12-course seafood dinner for $13.99 (20% gratuity included, bad table wine included, noise from the never-ending construction on Grand St included)? No? What about a t-shirt that says "Cool Story, Bro"? No? Maybe seven cell phones, none of which work? No?! What exactly are you doing here?
Nolita: Your hood is named for its Northerly proximity to Little Italy, but it's full of normal-sized Australians instead of little Austrians. The fact that Cafe Gitane isn't packed with tiny blonde people named Amadeus & Greta is unacceptable bullsh*t, and would upset you more if you weren't reading this on your phone from the statue garden on Elizabeth St, where it's impossible to get upset about anything
Williamsburg: And now, a game of Gentrification Roulette: Williamsburg Edition! Spin the wheel (reclaimed from Who-Really-Cares Farm in upstate New York, of course) and find out what the post-hipster apocalypse holds in store for your hood -- more glossy high-rises, or an Eisenhower-esque return to abnormalcy? More importantly, do you know how many more seasons of Girls are left
Park Slope: The whole "it's only for families" thing is kind of exaggera--HOLY HELL YOU CAN'T EVEN HEAR THE MUSIC AT THIS BAR OVER THE SOUND OF CHILDREN CRYING! BUT… IT'S LIKE MIDNIGHT?! YOUR FOOT JUST GOT RUN OVER BY THREE DIFFERENT MACLAREN STROLLERS! FLEEEEEEEEE!
Bushwick: For the entire duration of your residency, you will ponder whether your ragged loftmate is Banksy, Hanksy, or just a vagrant named Steve who traffics Carhartt beanies and always has a U-lock wedged in his waistband even though his fixie's handlebars are so impossibly narrow that no one would steal 'em anyway. You will move out not knowing, but years from now you'll definitely see Steve unmasked for something on the news. It's inevitable. Poor Steve.
West Village: Was that just Jake Gyllenhaal? It looked like Jake Gyllenhaal. You heard he lived here, but you never thought you'd see him wandering aimlessly past White Horse Tavern at 530p on a Wednesday. You should yell his name and see if he turns around. Is that lame? You work in finance, so you're not sure. Screw it -- "Jake!" HE LOOKED!

Chelsea: Roving packs of impeccably dressed yuppies & gay men make it impossible to get anything good/ quick from Housing Works, Williams-Sonoma, Bed Bath & Beyond, Pinkberry, and every single Zipcar location. They take ALL the mid-sized sedans! You're thinking about moving to Brooklyn, but you hear their Sunday night Trader Joe's line is even worse, which frightens you deeply.

East Village: Isn't it weird that you don't know anyone who actually liked Mars Bar? Isn't it weird that all these "creatives" can somehow afford to live here, even though you're forced to eat leftover This Little Piggy to make rent? Isn't it weird that all the cool EVill bars are in Alphabet City now? Isn't it weird that when you get kicked out of one Bean for squatting, you can just go squat at the other one, eight blocks away? Raise all these points the next time someone tries to tell you that your 'hood got "too normal". So meta.

LES: If you can get over the fact that punk rock isn't dead until the middle-aged former roadie who shares a wall with your tiny apartment says it is, and that none of the hot girls at Pianos want to sleep with you unless you have drugs, and probably not even then, AND that no one wants to pregame at your place because Pitt St is terrifying after dark, this might work out. Or just admit that you've been priced out of your old stomping grounds and move to Brooklyn.
Meatpacking District: Did you go to the gallery? You should really go to the gallery. There are 17 Lamborghinis parked outside of the gallery. Do you know the gallery owner, Yvonne? Don't talk to her. She's doing performance art for the gallery. Her husband is opening a gallery-themed version of Soho House… in Reykjavik. Those are his Lamborghinis outside the gallery. You should really leave the gallery now.

Murray Hill: The Vineyard Vines mafia that controls your hood is perennially FACING Bro J's fish bowls and getting into brawls over which Ivy has the strongest recruiting class of long-stick middies, which is why you go to the Hill, where at least they have the open-mindedness to talk about the long-stick middies at state schools.

Midtown: You don't live inside a Bolt Bus OR a Tim Hortons. This is completely lost on all of your friends, who are convinced that you live inside a Bolt Bus that is, itself, inside a Tim Hortons. As soon as your first year at the bank is done, you're moving to Murray Hill. You shame-eat a lot of Tim Hortons.

Upper East Side: You use words like "diversity" and "culture" to describe your Irish bars, exceptionally well-decorated Starbucks, and museums -- as in, the one your family has funded since the Kennedy administration. You also use those words to characterize your new-to-the-city neighbors who insist on "commuting" to "work" on the 6. Why don't they just take town cars? Adorable plebes!

Upper West Side: They're sort of insular, they eat unfamiliar foods, and you don't really "get" them sometimes, but they mean well, which makes it totally OK to admit that it's annoying to be absolutely surrounded by students. Wait, are we talking about the same thing? Totally unrelated: Have you SEEN all the wealthy Jews around here?
SoHo: Your 'hood sucks because the massive-windowed lofts are all hard to heat, and the women on the street are all models, and the streets are all narrow and like, kinda hard to walk on, and… well, Broadway sucks... so there!

TriBeCa: Someone gave you Bright Lights, Big City as a loft-warming gift because it's partially about The Odeon, but you've never opened it because print is dead, and you read everything on an iPad like a sleek, wealthy person who uses non-words like "loft-warming" should.

Fidi: You brag about the ubiquity of subways to hide deep-seated embarrassment. The broker swore this was the new TriBeCa!

Hoboken & Jersey City: You're not reading this because you're stuck on a PATH under the Hudson right now, but somehow you still feel superior for saving on rent.

Yes, yes, we know we missed some others. So tell us what people are saying about any/all of those places behind their backs in the comments section below.