This year, the world of holiday entertaining is your oyster, so have that oyster shucked by a totally hot chick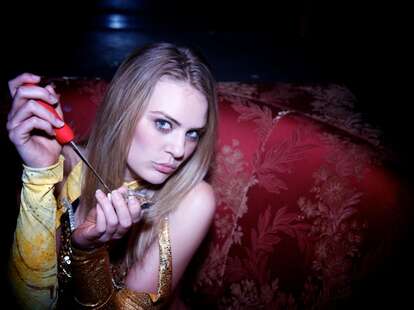 Because beautiful women only open their clams in your apartment via the internet, get some real-life hot babes to crack open their oysters instead, thanks to New York Oyster Parties. From the "boat-to-kitchen" bivalve supplier to the likes of Batali and more, NYOP leverages their considerable hospitality contacts to hook up your next party not only with a host of top-notch oysters, but also hot hostesses who're experts at preparing them, and apparently willing to put up with your friends' hilarious "shuck me" jokes.
Getting your party started begins by choosing what the models will wear, with options ranging from "sophisticated cocktail dresses to just heels with sexy lingerie and garters". And should you not want your apartment filled with filled with hot-ass ladies, they can provide a venue in the form of a glass-rooftop penthouse complete with a runway for the "occasional walkoff", as apparently having models in lingerie and garters alone won't make your bash a home run.
The spread options are top-notch and plentiful as well, with liquor including absinthe and Champagne, and non-rawness from oyster sliders to lobster rolls, but fresh oysters delivered as quickly as within seven hours of harvest are the highlight, from Kumamotos and Fanny Bays, to Blue Points, Wellfleets, and Widow's Holes, a search term that may explain why no real-life ladies are opening up their clams in your apartment.