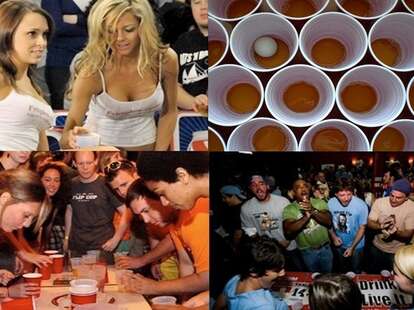 Drinking almost always impairs your ability to perform in a competition, unless it's beer pong, or you're David Wells. Prove you can hold your liquor well enough to hold a trophy, at The Drink Olympics.
With more than 4000 brews fueling 500 rabid spectators, 50 co-ed teams of six (one of whom must be a mascot, w/ points earned for craziness) will compete in three rounds to determine the victors at The Drink Olympics, a Beerfest meets Fight Club that's calling itself the "premier drinking event in the United States...and maybe even the world", though that might just be the booze talking. If you want to compete for glory -- or prizes like pong tables, Das Boots, brewery tours, and a golden keg -- you'll have to step into "The Cage" (a playing field built out of NYPD barricades) and dominate games both familiar (speed quarters, beerhunter, etc.) and not, with newcomers sporting titillating names like The Psychic, and The BrewCanoe, sure to get at least a little tipsy. Aside from watching the awesomeness, spectators can get involved by hitting an ice luge, joining the betting pool, or testing their own physical strength in contests like the "George Steinholder", and the ladies-only shotgun challenge (don't worry, you'll get your shot at them later...and you will blow it).
While the drinktivities'll be the main attraction, there'll also be side entertainment in the form of DJs, hot ring girls, standup comedians, and BBQ eats, something else that generally impairs your ability to perform unless you're David Wells.