Because turning those hot dogs doesn't do much to de-stagnate typical theater fare, the Michelin-starred chef behind Saul and the Vanderbilt has teamed up with an Angelika booker and a few other food+film buffs on Nitehawk Cinema: a two-level, semi-industrial complex with a bar/cafe on the ground, and, on floor 2, three art-house-leaning theaters and a boozy lobby. Here's the setup: The Cafe: Decked in taxidermy, wood accents, leather banquettes, and an undulating bar backed by old seat-tags, they're plating everything from BBQ pork belly steamed buns, to cotija/mozz/cheddar/salsa verde empanadas, to watermelon salad, and'll be mixing cocktails including a rotating one inspired by a now-playing movie (so, no Y Tuaca Mamá También). The Lobby: Serving 'tails & beer (eight local & craft drafts w/ one rotating obscure/seasonal), plus concessions like homemade jerky, queso w/ black beans, chorizo & guac, and crazy-flavored popcorn, this pre-/post-hangout features a marquee'd bar, and a wall lined with VHS action from an owner's old video store: Spider Baby, Bionic Ninja, Hustler Squad, even The Peanut Butter Solution -- thankfully not about a canine last resort for a guy with no Hustler squad. The Theaters: Food's waiter-serviced from the cafe (they'll seat you about 45min early to give you time to order), and every two seats have a "guitar pick"-shaped table between them. If you need anything once the show starts, write your order on a paper-backed mechanism and turn it up "like a flag" -- a churrascaria-like way to ensure You Got Get Served. They'll also host private parties in the theaters, and might even rent out their VHS collection -- if they've got 1984's Hot Dog: The Movie, your Friday night just got a little less stagnant. And so did David Naughton's.
Recommended Video
The Definitive Eggnog Recipe You Need for the Holidays
Previous Venue
Next Venue
Venue Description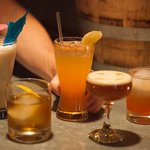 1. Nitehawk Cinema
136 Metropolitan Ave, Brooklyn, NY 11249
Williamsburg's Nitehawk Cinema changed the movie-going game when it opened in 2011. Not only did it relieve L Train film buffs of venturing into Manhattan to see an indie flick, but it combined the movie experience with actually enjoyable food and alcohol. The theater seats here are equipped with tiny tables and menus; during the movie, you write your order on a notepad and a waiter comes by to collect it. The New American selection includes fried chicken sandwiches, fish tacos, and flatbreads, plus specials crafted to honor the headlining movies. Even if you aren't in the mood for a movie, it's worth showing up to Nitehawk: the street-level Lo-Res Bar is outfitted with a large curving bar and tables for sipping and snacking.