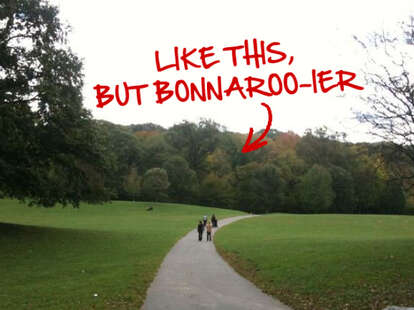 From the long flights to the difficult sleeping arrangements, summer festivals can be a pain for NYers, a shame considering many of 'em want nothing more than to take an extended trip that leaves them passed out somewhere weird. Thankfully, the Bonnaroo guys concocted The Great GoogaMooga, a free, two-day festival in the slightly-closer-than-Tennessee confines of Prospect Park, billed as an "amusement park of food and drink" that's mercifully free of amusement park food and drink. Spread out over eight pavilions, the roller coaster of consumption was revealed just moments ago, and'll include
The Hamageddon, an End of Days of bacon from Allan Benton.
The Beer Experience, a Munich Oktoberfest-inspired tent featuring 35 craft brewers, curated by Garrett Oliver of Brooklyn Brewery.
The Wine Experience, where 30 global vintners'll booze you up Napa-style, co-helmed by the vino honcho at Terroir/Hearth.
The Pizza Experience, a "gathering of the city's top hamburgers". No, wait... "pizza".
The Jimi Hendrix Experience. No wait... he's dead.
Cookin' With Coolio. Seriously. Coolio will be there cooking.
Grub from over 75 spots, including BaoHaus, Blue Ribbon, Big Gay Ice Cream, Char No. 4, Co., DBGB, Frankies Spuntino, Joseph Leonard, Luke's Lobster, M. Wells, Mile End, Minetta, Momofuku Milk, Porchetta, Red Rooster, Roberta's, Russ & Daughters, Spotted Pig, Tia Pol, and Vinegar Hill House.
And if that isn't enough, not-as-free VIP tix will get you access to Extra Mooga, a wooded section with views to the main stage (local & national acts still under wraps), plus demos, theme soirees (Marcus Samuelsson's 1920s Harlem Renaissance Party, y'all!), and live performances by everyone from Aziz Ansari to James Murphy, a dude who'll have no problem getting a weird sleeping arrangement, probably with your date.