Woah, it's already August? We're not sure how that happened either, but we feel the sweater-covered, swaddled days of Fall creeping up on us slowly, which is why we need to make the most of the next four weeks.
Here are 12 ways to make the most of the tail end of tropical drink season.
Get one of the best new burgers in NYC
When: Every Monday
Where: Rosette
After garnering buzz from justabouteveryonearound, Rosette is doing a special on its burger -- a Pat La Frieda dry-aged masterpiece topped with clothbound cheddar, tomato confit, house pickle, and a house-made pain au lait bun -- every Monday through August, when you can snag it with a beer for $18.

Eat Mission Chinese Food at a pop-up
When: All Month
Where: Frankies 457
Even though Mission Cantina has been a worthy stand-in, you've probably been missing (or at least, you should have been) the OG Mission Chinese Food. Well, you're in luck: it's been popping up at Frankies 457, and will keep things going at least through August (as well as an expansion pop-up at Mile End in Manhattan). Grab eats like Kung Pao pastrami and pork belly with Sichuan peppercorns while you still can.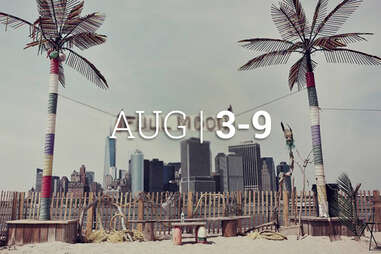 Have a dinner party with Brooklyn Brewery
When: August 3rd
Where: Brooklyn Brewery
In collaboration with rooftop farm Brooklyn Grange and host Humboldt & Jackson, Brooklyn Brewery's Chef Andrew Gerson will cook up a a multi-course meal utilizing the freshest and best ingredients from the rooftop farm. Get your spot
When: August 3rd (and every Sunday after that)
Where: Playland Motel
The Rockaway motel-cum-party spot is hosting a bunch of... parties!... this Summer, including its Sunday music series in collaboration with Topshop. Add this to the list of reasons why you can't believe you haven't been out to Rockaway yet this Summer.

When: August 8th
Where: Governors Island
The craziness is going down on a Friday, when this beach festival on Governors Island hosts artists like no-road-needing Delorean, The Knocks, and Penguin Prison.

Get to Governors Island
When: August 9th
Where: ... Governors Island
If getting wild under a full moon isn't your thing, 1) we don't even KNOW you, and 2) you should still make sure to get to Governors Island anyway before the Summer's out. There's a hammock grove, bikes, and maple syrup grilled cheeses.
When: August 29-31st
Where: Randall's Island Park
If you don't have a ticket, scalp one for this massive EDM festival. Trust us.

When: August 31st
Where: Coney Island
This monthly party is returning to the Coney Island Boardwalk, so get there for great music and a chill vibe. This is definitely one of the beachiest things you can do on this list.
Andrew Zimmer is Thrillist's NYC Editor and he feels like the Summer pretty much just started. Follow him on Twitter and Instagram.