The 19 absolute best days to live in New York City (yes, there are only 19). Obviously today is one of them (hello, Yankees home opener), but what about the other 18? What days would make your list? Would it look something like THIS?...
1. The day that Winter finally breaks
AKA, the day you can finally walk down the street without worrying about falling into a slush lake.
2. The day of the Yankees' home opener
There's just something about seeing people on the subway in their hats, and knowing where they're going, that makes you feel like a part of the city. Sorry Mets, your home openers will get us excited when you stop losing them.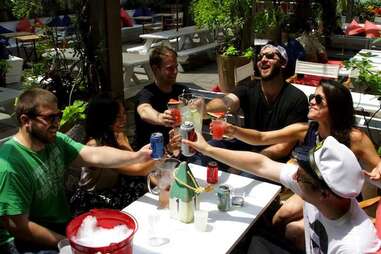 3. Every single Summer Friday
Every damn one of them.
4. The day any of our sports teams are in -- or even better, WIN -- a championship
This is just actually amazing.
5. Memorial Day
Because you can stay in the city, go to any restaurant you want with almost no wait, and generally have an "I own this city" day.
6. The day when they start doing the weekend street festivals
And you find out by accidentally walking past one, NOT by trying to take a taxi through one.
7. Best Day Of Your Life
The literal one. It's June 21st. It will change everything. We will tell you more soon, but this happened last year. So, yeah: stay tuned.
8. That day when it's finally hot enough out for everyone to start wearing a little less
And NYC gets about 25% sexier.
9. The opening day of football season
The Jets haven't let us down yet, plus, we have at least 20 weeks of wing-eating ahead of us.
10. September 15th, when all the tourists go back to Europe after their month-long break
And the streets of SoHo/Times Square breathe a huge sigh of relief... for about two days.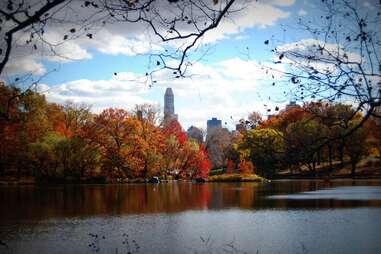 11. The day when Fall actually hits
And you can breath in your apartment without having to turn your rickety, bought-off-of-Craiglist-for-$75, 2003 AC unit down to 50 degrees. WHY IS IT LEAKING LUKEWARM LIQUID?!?
12. September 26th
It's comfortable out. Still light kind of late. The Fall TV season has started, so your DVR is full when you get home from the bar. Yeah, September 26th is a solid day.
13. Marathon Day
We can't agree on which baseball, basketball, football, or hockey team to root for because we have two of each, but on Marathon Day, we all root for the same, sweaty nutbags who're running 26.2 miles while we hold signs and day drink. Properly day drink.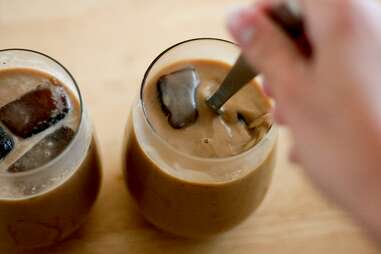 14. The day a little later into the Fall when you can switch back to hot coffee
Alternatively, the day in Spring when you can switch back to iced coffee.
15. St. Patrick's Day
But only if it's on a weekend and you don't have to worry about "work".
16. Halloween
And the day after Halloween. Costumed walk-of-shames are hilarious.
17. Those few days right before Christmas
When you're not yet sick of Winter (you're actually kind of excited for it... remember THAT?), nobody's really working, and there are lights everywhere.
18. New Year's Eve
If you moved here less than 5yrs ago.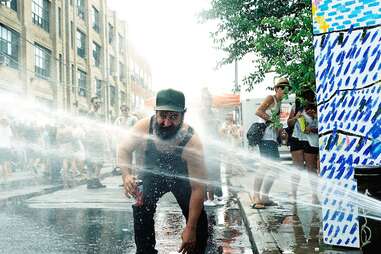 19. The day during the Summer when somehow every single neighborhood in Brooklyn decides to have a block party
Do they coordinate it?
Andrew Zimmer is Thrillist's NYC Editor, and his favorite day in NYC is actually every day. Please don't punch him for being obnoxiously upbeat. Instead, follow him on Facebook, Twitter, and Instagram.