10 Dates You'll Actually Enjoy in New York This Weekend
Want to learn about naked yoga? How to navigate an NYC sex party? Other sex and dating things? Check out previous Sex on Friday stories here.
Now that you're in possession of the ultimate New York dating cheat sheet you're kind of a dating master, but if you're looking for some more this-weekend-specific ideas that'll make it seem like you really put thought into plans (which you kinda did if you're reading this!), welcome to the date idea promised land.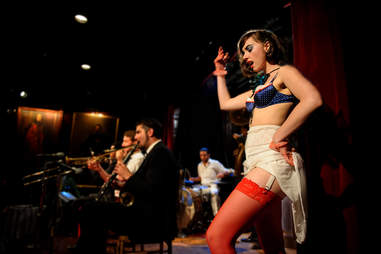 Courtesy of Jane Kratochvil/The Salon
Get dapper for a swanky, Mad Men-themed cocktail party
Gramercy Park
Toast the end of the Mad Men-era at the Player's Club this Friday. The Salon's event will feature live music, burlesque performances, and genuinely antique cocktails -- the organizers got their mitts on bottles that were part of the show's props and set dressing, so the booze that's flowing will be more than FIFTY-years-old, and straight from Don's own bar cart. Request a rendition of "Zou Bisou Bisou" from your date at your own peril.
Bonus: Thrillist readers get 10% off any ticket, using promo code "thrillist"... woot!
 
Experience erotic weirdness at Funland
Flatiron
You've only got another couple of weeks to scope out The Museum of Sex's "erotic fairground" (which is actually super playful and less overtly sexy than you'd think, sorry). Plus, they're offering a short-lived Linda Lovelace exhibit, so now's the time to swing by.
Courtesy of the McKittrick Hotel
Get lost in the The McKittrick Hotel
Chelsea
The McKittrick Hotel, home of Sleep No More, might be primarily known for its immersive theater, but the place also happens to host one of the coolest collections of bars in the city. On Saturday and Sunday, People vs. Larsen will be playing in the Manderley Bar, and house band The Heathens will be playing upstairs (downstairs? Next door? In a parallel universe? At the McKittrick, it's hard to say...) in The Heath.
 
Get into grown-up comic books
Chelsea
Get your nerd on this Saturday with small-press comic book artists and enthusiasts. Drawing more than 2,000 people annually, the MoCCA Comic Arts Fest showcases the smarter, less muscle-bound side of the words-and-pictures business. Better still, it's held right next to the High Line, so when you want to escape the conference crowd, you can bask in the springtime sun and read books aloud to each other.
Courtesy of Hudson Hotel
Three words: rooftop putt-putt
Lincoln Square
As we've previously noted, you can play nine holes of putt-putt golf on the roof of the Hudson Hotel this month (there's a loop de loop!). What better date than day-drinking and mini-golf for the first real weekend of spring? The course basically doubles as an activity-filled brunch: it opens at 2pm, and serves great cocktails and country club-inspired snacks, including a Southern-style pimento grilled cheese.
 
Check out a Friday night comedy show at the Karma Lounge
East Village
This thrice-monthly Bad Karma show offers a few shots of stand-up with an improv back. The week's lineup is looking especially great, and will be featuring five acts, including one of the writers for Last Week Tonight With John Oliver. Bonus! The drinks are half-price until 9pm.
Courtesy of Smoragsburg
Snack on all the snacks. All of them.
Williamsburg
Celebrate the return of Smorgasburg! Ok, technically, it opened up again last weekend, but this weekend is actually supposed to be warm. This collection of 100-or-so vendors is ready to sell you its foodstuffs, which is probably enough options, even if you're not sure what your date is into.
 
Movies in the park are back
Tottenville
Take the ferry out to Staten Island (they sell drinks on the boat, so you can toast the Statue of Liberty), then head over to Conference House Park, where they'll be screening the 1948 film noir classic Key Largo. Admission is a suggested $5, including popcorn. Adorable.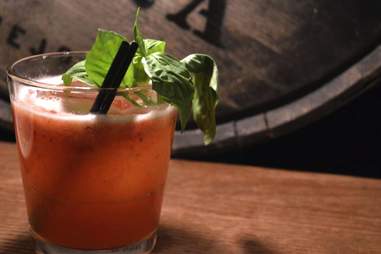 Courtesy of Bodega Negra
Cocktails and concert series on the West Side
Chelsea
Toast the turn of the season with a Fruta Hermosa: a springtime concoction of tequila, fresh strawberries, and basil. Then wander over to Chelsea Market, peruse artists and fleas, and scope out the concert series featuring artists on Brooklyn's Paper Garden Records.
 
Pretend you're a fixture on the local music scene
East Village
This Friday, there's going to be a solid date-night musical performance at the Bowery Electric, featuring a few artists, most notably Brooklyn sweetheart Janna Pelle, whose unabashedly New York-loving, upbeat, hot-sex-minded songs are kind of a surefire win.
Sign up here for our daily NYC email and be the first to get all the food/drink/fun New York has to offer.
Jess Novak is so good at dates, you guys. Not so much dating, but totally with the dates. Ask/give her advice on Twitter @jesstothenovak and Instagram @jtothenovak.