Want to learn about naked yoga? How to navigate an NYC sex party? Other sex and dating things? Check out previous Sex on Friday stories here.
Everyone's looking to get something different out of dating in NYC, whether it's a date that'll lead to The Sex, or a date that'll lead to The One... or a date that'll lead to The Sex. Well, we're here to help you find whatever it is you're looking for: here's a list of 35 kick-ass NYC date ideas sorted into six different endgames.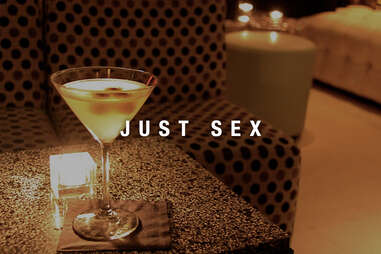 If you're dating for sex and sex only (and as long as both parties know this), you don't have to put in that much effort. You really don't have to put in any effort at all. You like this person with the lights off (or on?) and that's really about it. Their world views matter very little to you, unless they can be found inside their pants.

Do literally anything with drinks
Be it a rooftop bar or the diviest of dives, as long as there's alcohol you're good to go. Just make sure it isn't TOO fancy. You don't want them getting the wrong idea like you actually care about where you go to consume the alcohol. Consider spots like Berry Park, Northern Territory, Cantina Rooftop, or Welcome to the Johnson's, Rudy's, Grassroots Tavern... you get the idea.

Do literally anything within a five-block radius of your apartment
This could be your favorite pizza spot, casual sushi, or your favorite bar. It really doesn't matter what it is, so long as it's quick, cheap, and close to your mattress.

Down a beer and a shot at Milano's then get tacos
One of the greatest dives in NYC is Milano's Bar on E Houston. During happy hour relish in the beer-and-shot special and then soak it all up with cheap and delicious tacos at Fonda Nolita. You could even get the tacos to go and save them for... after.

Invite them over to see your "view"
We all know you aren't referring to the skyline. At least be a gentleman/lady and have some chilled beers at the ready.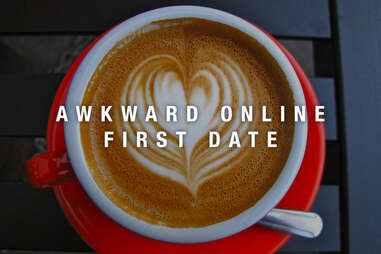 You really have no idea what the other person is hoping to get out of this situation, whether that be a second date or a quickie in the bathroom before they disappear forever. With these dates it's best that they be casual and fast with room for follow-up if need be.

Sip on some daytime coffee
Absolutely NOTHING is safer than daytime coffee. It's quick, it's cheap, and nothing about coffee says "come to bed." Still, you don't have to resort to Starbucks or Dunkin' Donuts. You can class it up at any one of these great coffee spots. And if you're both feeling the vibes, no one says you can't follow your coffee up with a cocktail later.

Happy hour... with the disclaimer that you have somewhere to be by 7:30
Grab a drink at any of these great happy hour spots and get a feel for the situation. If it's going well, you can be totally honest that you lied about having plans later. They might find you adorably upfront.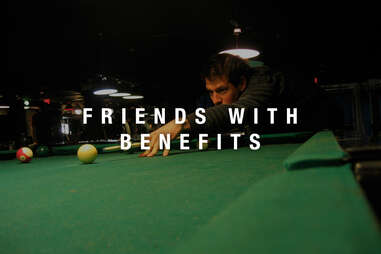 To be clear, you are JUST friends. But sometimes you get naked together. Still, there is no requirement to see each other, talk, or text at all. Ever. Still, for the times you do see each other, you know you enjoy each other's company. With or without clothes. Like a "just sex" date, these should be quick and easy without much thought or effort, but with ample room for actual conversation since, you know, you're still "friends."

Get your game on
A little friendly and flirty competition is a great method of foreplay. Hit up bars like Fat Cat, Royal Palms Shuffleboard Club, Burnside, or Barcade to get your blood flowing for whatever might come later. Just no beer pong. We want you to STAY friends.

It might be a little too romantic to separate these two, but if you do them together jury rules it's an excellent FWB date.

Like I said before, TAKING your FWB to dinner is starting to toe the uncomfortable "what are we" line. But finding a grill and setting up shop in one of NYC's many parks is total FWB zone. Add to that a cooler of well-concealed beers and a quick bee-line to your apartment and you've got it made.

Play with boobs
No, not ACTUAL boobs (well... maybe later). But I'm talking about the Boobie Trap, a Brooklyn dive bar with a focus on beer, barbecue, and... yeah, boobs. Decked out with rubber boob blobs and limbless, topless mannequins, this bar has everything you and your "friend" will need to have a laid-back, casual evening with not-so-subtle sexual undertones.

Hit the Olive Garden in Times Square
When you're here, you're family!! Plus, you also have the best view of Times Square in maybe the world. And Times Square is at its best when 1) you're not right in the middle of it, and 2) your pockets are becoming more and more full of breadsticks while you look at it.
The term "dating" in New York tends to make us recoil in fearful disgust, because it oozes with eau d'commitment, and that's not a New Yorker's favorite scent. We call it "hanging out," mostly because we're probably "hanging out" with three or four people at a time. The rest of the world calls this casually dating. These dates can be slightly more romantic than the FWB dates, but not SO romantic as to let your partner think he or she is the only one on the menu.

Delicious, cheap oysters in this city tend to be accompanied by delicious, cheap-ish cocktails. Put the two together and you have a fun, somewhat sexy date.

There are now a few outposts of this beloved Williamsburg #foodporn extravaganza, which means there are now several locations from which to choose if neither of you lives in or near Williamsburg. Whichever one you opt for, make sure you have a divide-and-conquer tactic and then meet up over some beers to share your spoils; because nothing says casual romance like offering someone a bite of your ramen burger.

Bare all at burlesque
Watching strangers get naked with your casual date du jour is a pretty good way to get yourself in the mood to get naked. New York has some excellent spots to enjoy a classy nip slip, like the Slipper Room, Nurse Bettie, or Duane Park.

Get dim sum & cheap massages
Exploring Chinatown, whether in Manhattan or Flushing, is a fun and casual date filled with non-romantic things like cheap beers and greasy shared plates. But if the call of soup dumplings and scallion pancakes isn't enough to get you in the mood, check out one of the numerous budget massage spots that sit nearby. You two can then go home for your own happy endings.

Listening to live music is a great casual date option. At Rockwood there are three separate stages and often you can catch sets late into the night. Plus its Lower East Side location puts you within a stone's throw of tons of great bars and restaurants should the night want to go really late.

Dance! Outside! During the day!
Maybe "clubbing" isn't your thing, and is far too serious of an endeavor to embark on with a casual date, but you really do love to dance. Through September take your date to hear some great DJs all the while enjoying outdoor food and drink, in case the dancing becomes too "serious." Spots like Mister Sunday, Tiki Disco, and MoMA PS1: Warm Up are all great warm-weather spots for outdoor dancing... casually.

Coney Island has all the makings of an awesome daytime summer date. Hit Luna Park, slurp down refillable piña coladas, and win someone a giant bear. If all else fails, just hit the beach or sip frosty boardwalk beers.

Visit a brewery
Hit one of New York's many breweries, where you can both discuss your mutual love of IPAs and overall dislike of Belgian wheats. There's always Brooklyn Brewery, but if you want something more off-beat, visit ones likes SingleCut Beersmiths in Astoria, Transmitter Brewing in Long Island City, Threes Brewing in Gowanus, or Gun Hill Brewing in the Bronx.

Maybe you're going here because you hooked up the night before, or maybe you are just meeting up for daytime debauchery, which will then lead to hooking up. Either way, this is a great daytime date to satisfy all types of indulgences.

Going out of town might be too much of a commitment with your casual date, but going to Queens is an appropriate, scaled-down substitute. Especially if that trip involves more than 100 vendors selling food, art, and other stuff. The Queens International Night Market celebrates all the cultures of NYC, and specifically Queens, which includes Chinese, Indian, Pakistani, Thai, Greek, Brazilian... the list goes on, and on...

Get crabs together...
But like, actual crabs. And then play mini golf! Visit Brooklyn Crab, a tri-level seafood hut in Red Hook that serves beer, a medley of crustaceans, and has plenty of games to make a date just a notch below actually romantic.

Get weirdly cultured
A stroll through the MoMA or the Met is fine, but been there, done that. Why not try checking out some of New York's more bizarre museums like the Museum of Sex, the Morbid Anatomy Museum, or the City Reliquary Museum.
So now you've crossed the line into legitimately dating, where using that word is no longer a faux pas. Perhaps you've even dropped the BF/GF title, or are extremely close. Now it's time to up the level of romance, while still remaining lighthearted enough to drive the point home that no one is putting a ring on anything... yet.

Nothing says commitment like looking through piles of old furniture/knick knacks and envisioning how that end table would look in "our" apartment someday.

But not exactly. This sexy cooking class is a great spot for couples to learn how to cook delicious meals with common aphrodisiac ingredients. The atmosphere is fun, booze soaked, and provides an all-around great way to meet other couples. If this leads to actual sex on the table... so be it.

Take tango classes
Your partner might not actually be Latin, but for a night you can pretend that they are. At Triangulo in Chelsea newbies and tango aficionados can learn the sexy art of Argentine tango. Even if you're terrible and awkward and hopeless, you probably will still get turned on watching everyone else.

If you've gotten to the commitment stage, chances are you've already seen some embarrassing shit. So why not add cables and a helmet? At the very least you'll both have fun "spotting" each other.

Come on... what's more adorbs than that?

It might not be the most relaxing spa experience you can find in NYC, but it will be one of the more unique. Head out to Flushing or Manhattan to woo your significant other at this aquatic Korean day spa under the misty spray of a giant raining rooftop mushroom.
There comes a time in every relationship when we all have to proverbially, romantically, poetically, shit or get off the pot. Should you find yourself at this crossroads, you're really going to have to up the ante. Here are some SUPER-CRAZY-ROMANTIC dates that, while not necessarily guaranteeing a "yes" to any specific questions, will get you a whole lot closer.

Your mom probably drinks rosé, so if you drink it that means you are ALSO a classy adult who is ready for commitment. La Nuit en Rosé is a food & wine festival dedicated to rosé wine and rosé Champagne, with more than 85 different labels all served aboard a yacht. Turning someone down who just plied you with 85 different types of wines all aboard a yacht would just make you absolutely heartless. The 2015 season has passed but visit NuitRose.com for information about the 2016 festival.

Picnic in ANY park
Let's say you can't exactly afford a night of bottomless rosé and yacht-cruising along the Hudson. Fair point. No worries, you can still get the girl (or guy)! Play it simple with a smattering of cheese and meats from Murray's, a cleverly concealed bottle of any booze you fancy (doesn't even have to be rosé!), and your pick of one of NYC's 1,700 parks.

Leave NYC
JFK and LaGuardia are preeeeeetty close. And they can take you to some awesome getaways that are also pretty close. Start with these.

Take a sex class at Babeland or the Pleasure Chest
If you're looking to lock this person down for literally the end of time, you better be sure they do it how you like it. Or that you do it the way they like it. Drop some sexual knowledge on each other at Babeland or the Pleasure Chest and ensure that the end of time will be filled with many orgasms.

For better or worse, right? Unleash your competitive edge at the driving range at Chelsea Piers and see if your significant other is really up to the challenge.

The plan is simple: you provide the rooftop, the Rooftop Chef provides... everything else. The Rooftop Chef is a relatively new NYC dining concept that takes rustic Italian dining to new heights... literally. For as few as two people to as many as 200, the Rooftop Chef caters private dining events high above the NYC pavement.
Sign up here for our daily NYC email and be the first to get all the food/drink/fun New York has to offer.
Meagan Drillinger is a freelance writer for Thrillist and still doesn't understand the difference between friends with benefits and casually dating. Follow her on Twitter, Instagram, and Facebook at @drillinjourneys.