After a winter of face-dismantling snowstorms, there's a very, very good chance you've become a mole person, unsure of what to do given the opportunity to go outside with another person, other than slowly blink with gratitude towards the sun. It's cool, though -- we've got you covered.
Recommended Video
Adam Rippon Opens Up About Dating, Unsolicited Dick Pics, and What He's Up to Next
1. Check out the old-school-sexy belly dancers of Casino Badia
East Village
Playful, smoky, sexy -- a belly dance performance sets a great mood for the night, and Casino Badia pulls off a fun, legitimately gorgeous version on a monthly basis in the Red Room of KGB Bar. There's an especially killer show coming up on April 24th, featuring nine dancers and a whole slew of costume changes. It's like burlesque plus...
 
2. Heckle each other at the batting cages
Chelsea
Hit Chelsea Piers for a daytime date full of hey-batter-batter-style taunting -- because if middle school taught us anything, it's that relentlessly teasing someone means you like them. Alternatively, you could actually help each other hit the ball, if collaboration or whatever is more your deal.
3. Get lucky... at karaoke
Theater District
Queen of the Night is always a perfect date (if you've got the ducats), but now you can hone your excellent mid-week decision-making skills at the Wednesday night karaoke party, "Get Lucky." Start off with dinner at Queen of the Night, drink enough to believe you're capable of belting out "Satisfaction," then kick back and enjoy a pretty impressive show -- many of the regular attendees are actually Broadway singers.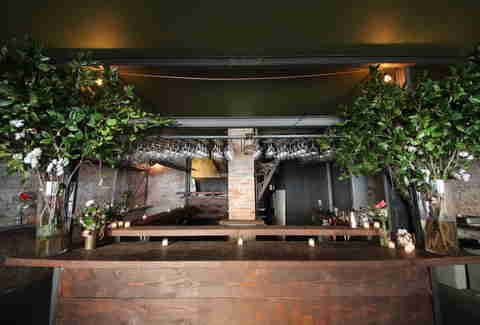 4. Visit The Third Man for a Jäger root beer float
East Village
Because splitting a root beer float with two straws is probably a little too Grease for a date night, split a root beer float with a couple of very un-Grease Jäger shots (and some Chartreuse for good measure), then prepare for one of you to go from Boring Preppy Sandy to Hot Slutty Makeover Sandy.
5. Pretend you're sophisticated at the Brooklyn Museum
Prospect Heights
Starting this April, the Brooklyn Museum will feature paintings, sketches, and 160 pages of notebooks belonging to big-deal, Brooklyn-born artist Jean-Michel Basquiat. Don't know a ton about art? Well, just say this and no one will be the wiser: "we basically have to go to this right?? Basquiat was of the most important figures of the early '80s New York art scene, a street painting activist and graffiti artist who once collaborated with Andy Warhol."
 
6. Kayak around the city
Clinton
Manhattan Kayak offers tours for every skill level, so if you're not an expert paddler, you can take a chilled-out tour that involves plenty of snacks (yes, please), or for those who know their back bands from their bow draws, you can sign up to paddle all the way around the city, out to the Statue of Liberty, or over to New Jersey for great views of Manhattan.
7. Ring in blue crab season
Red Hook
Have you spent a bunch of time in Red Hook lately? Of course you haven't. But, turns out there are some great dates to be had in this under-explored neighborhood, and a night at Brooklyn Crab is high on the list. Blue crab is just coming into season in the spring, and while smashing crustaceans with a wooden mallet isn't the most elegant date of all time, it's definitely among the most fun.
8. Watch people get hurt for your entertainment in a live, Japanese-style game show
East Village
Schadenfreude-based comedy competition Batsu! pits improv theater-trained challengers against each other for fun and punishment. Losers are treated with everything from electric shocks to torture by a giant chicken. It's hilarious, strange, and kind of sick, plus you're encouraged to turn torture-time into dinner theater by ordering sushi from the bar upstairs.
 
9. Learn about wine to be less embarrassed about how little you know about wine
Union Square
What do you know about wine? Be honest. There's red and white, and both have distinct notes of... grape? Did I just sum up your total wine knowledge? Yeah, you should probably go to this class from Master Sommelier Laura Maniec, who's smart and nice, and if you meet up with her at Corkbuzz, will drop some real fermented grape knowledge on whatever topic you're most into, whether it's a schmancy Tour of Italy or what to pair with your take-out Thai.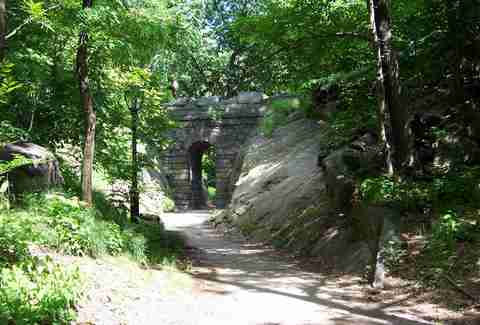 10. Check out the Desire Lines in Central Park
Lenox Hill
Put together a picnic and scope out all of the 212 paths in Central Park identified by artist Tatiana Trouvé. The installation is made up of miles of colored rope wound around enormous spools, one for each path in the park. Pick one at random, take a stroll, and you just had yourself the best free date in the city.
 
11. Drink on a boat
Chelsea
Duck out of work early (cough cough, you sound so sick) for Spirit of New York's happy hour any Thursday or Friday this spring. Whether or not you're actually feeling peaky, a combination of salt breeze, Hendrick's cucumber martinis, and crispy little spring rolls are the best medicine for whatever ails you, especially if what ails you is a serious case of "lack of boat drinking."
 
12. Paint Nite date night
Various locations
At Paint Nite, it's okay if your paintings look like they were rendered by a strung out T-Rex. The idea is to just sip some beer and socially paint. Plus, there's an instructor, so if you suck, it's totally their fault. While Paint Nite happens all over the city, we have it on good authority that Coffeed in Long Island City and Room 53 in Hell's Kitchen are among the best date night spots.
13. Enjoy the roof deck of the Skylark
Midtown
The weather is no longer trying to kill you! Celebrate with a gorgeous rooftop view of the city and a cocktail or three (they make this thing with Don Julio tequila and bird's eye chilis that's pretty devastating). Plus, Skylark wants to feed you mac & cheese cupcakes. You heard me.
 
14. Ride bikes in a neighborhood you haven't explored
Various locations
New York is gigantic. So gigantic that it can be practically impossible to get to know every single New York neighborhood. Even if you were born here, chances are high that some pretty cool city neighborhoods are foreign to you. So grab some bikes and check out an area like Sheepshead Bay, Washington Heights, or St. George. Tour around guide-less, or play tourist in your own town with a company like Get Up and Ride bike tours.
15. We're definitely not telling you to go explore North Brother Island
North Brother Island
This activity is probably not exactly legal, so you didn't hear it from us that a visit there always gets referred to in a totally awe-struck tone as "spellbinding" and "spooky" and "totally effing amazing." It's certainly not worth the risk to check this place out. Uh-uh. No way.
16. Relax a little bit at Wave Hill
Riverdale
Is a garden really worth a ride on the Metro North? You bet your ass it is. The manicured garden here is nuts-beautiful, and the entire month of April is when the blooms peak and the space becomes a little city oasis.
17. Become volunteer dog walkers
Various locations
Commit yourselves to a weekly date with a furry third wheel. Walking a shelter dog is hardly the worst way to get a little city smog-riddled spring sunshine, and if you do it often enough you pretty much automatically become a better person. That's how that works, right?
18. Fly drones in Prospect Park
Prospect Park
I have been on a variation of this date involving motorized paper airplanes, and it was awesome. Pick up a toy drone or two, head to the park, and try not to hit any kids in the face with your super-powered flying robot.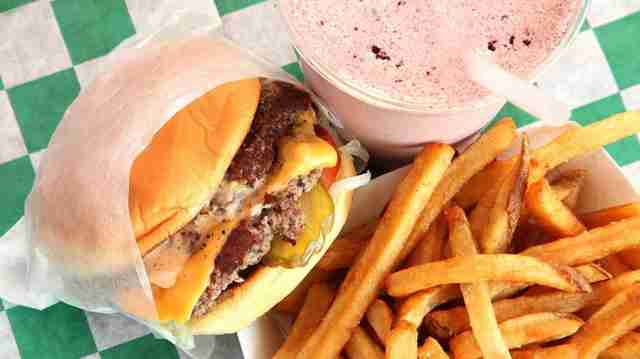 19. Head uptown for flea markets and milkshakes
Harlem
Harlem's Sugar Hill Market is filled with awesome designers and artisans who display their work up 'til seven in the evening. Afterward, swing by the inimitable Harlem Shake for what could very easily be the best milkshake in New York/the world -- the signature red velvet.
 
20. Grilling season is starting, so get on it
Various locations
Grab your one friend who actually has a back yard out in Brooklyn, or head over to Brooklyn Bridge Park, and get busy making charred, smoky meats outside, aka what spring was designed for. If you're a mixologist, pair it up with the appropriate cocktails, and if you're not, have some stupid-good versions delivered right to your door via Cocktail Courier. Yes, entire cocktails are messenger-able now. It's the future.
Sign up here for our daily NYC email and be the first to get all the food/drink/fun New York has to offer.
Jess Novak is a Thrillist contributor who divides her time equally between drinking Scotch and exploring New York. She'd love nothing more than for you to stalk her on Twitter and Instagram.