Editor's Note: Want to learn about naked yoga? How to navigate an NYC sex party? Other sex and dating things? Check out previous Sex on Friday stories here.
If you're dating in New York and you want to make it past three dates, sooner or later you're going to have to, ugh, try. And despite the infinity awesome NYC date ideas we've given you, you'll inevitably fall back on a few classic New York City standbys, and you'll even more inevitably never get to date No. 5.
Here are 14 alleged "classics" that, at this point, just make you look lazy and/or boring.
 
1. Ice skating at Rockefeller Center
You go around once and it's novel. "Ohh, look at the tree, I love you so much, you complete me in every way." Then you go around a second time and it's exactly the same. Plus, it's really cold and you haven't been on ice skates since you were nine. Head over to the bar downstairs at Andaz 5th Avenue and call it a freaking day.
 
2. Carriage ride in Central Park
"I want to move at six miles an hour on a hot summer day with flies buzzing around my head as I stare into the ass of a clinically depressed horse with a bag over its face," said no New Yorker ever. EVER.
 
3. Anywhere for "the view"
Yeah, I live here, too. I know it's awesome.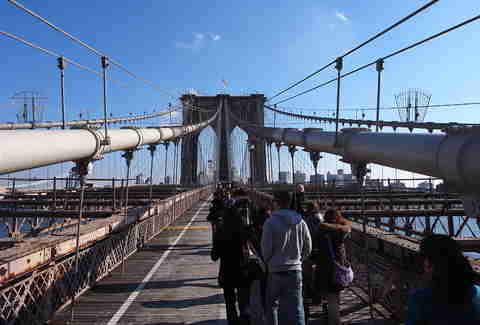 4. Walking across the Brooklyn Bridge
If we want to go to Brooklyn, the N, Q, B, or D trains are much faster and it's pretty much the same view.
 
5. Comedy clubs
It's too soon in the relationship to find out that we don't have the same sense of humor, aka your sense of humor is actually terrible and now you annoy me.
 
6. Broadway plays
New York has some of the most innovative art and theater in the world (Sleep No More, Then She Fell), so if we're going to do theater, then let's not have it involve glitter and jazz hands.
 
7. The High Line
Soooo... here we are. Now what?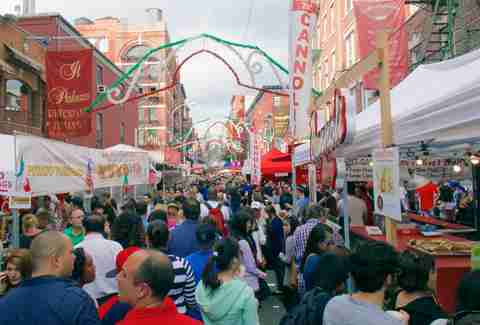 8. San Gennaro
I know that air perfumed with powdered sugar and the grease of 1,000 zeppoles should be romantic (this is not even a joke), but elbowing my way down Mulberry St through the herds of slow-moving tourists stuffing their faces with said celestial treats is not. Let's just buy a bag from any Italian bakery anywhere else and lick the powdered sugar off each other.
 
9. Blue Note
We are not 57 years old.
 
10. Any club on the West Side Highway
WHAT DID YOU SAY?! I SAID I'LL HAVE A BEER... A BEER!!!... I HATE EVERYONE HERE.
 
11. Dessert at Serendipity
If we are here, this means you saw that movie with John Cusack and Kate Beckinsale. If you recall, they also went ice skating in the film, and we've already covered that.
12. Karaoke
We all know you need to have more than a few drinks in order to participate in karaoke in a meaningful way, so congrats. Now you're stuck with this hot mess for the rest of the night.
 
13. Movie in Bryant Park
I said I wanted to watch a movie because I really wanted to make out on the couch. Now we're just stuck outside, surrounded by hundreds of other people watching a movie.
 
14. Brooklyn Bowl
You might respectfully disagree with this choice and that's fine. This one really is just for me. I think bowling is one of the top five most boringly cliche activities on the entire planet, and no amount of Blue Ribbon fried chicken is going to change that. But... I do believe in compromise, so if you want to bowl while I snack on this six piece, I'm willing to talk about it.
Sign up here for our daily NYC email and be the first to get all the food/drink/fun New York has to offer.
Meagan Drillinger is a freelance writer for Thrillist. The perfect date for her would involve fried chicken and zeppoles. It's unclear whether or not a man even needs to be there. Follow her on Facebook, Twitter, and Instagram at @drillinjourneys.