Whether you're running the 1980 Boston Marathon or just living your life in 2014 NYC, everyone loves a good shortcut. Especially when it leads to cheap beer, tolerable cab rides, and screwing the subway at its own game. Here are 15 hacks every New Yorker should be using: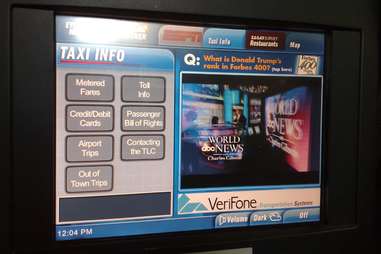 1. Don't wait for the end of your ride to pay for the cab
You can't fix traffic, chatty drivers, or weird smells, but at least you can speed up your exit. Tap the fare on the TV screen, swipe your card (even if it doesn't seem possible), type in a tip amount, request a receipt or not, and enjoy the rest of your pre-paid trip.
2. Or just pay $5 for a cab
New cab on the block Via will chauffeur you (and anyone else going your way) anywhere between 32nd and 110th Streets for $5 when you prepay using the Via app. The virtual hail-a-taxi service operates weekdays between 6:45am and 9pm. Your first ride in their black SUVs is free, plus you get a $20 credit for referring a friend. Boom boom pow.
4. Skip the line for Shakespeare in the Park
Put this tip in your back pocket for next summer, when waiting in long lines for Shakespeare in the Park tickets: The Skint says that every borough has an "additional designated location that distributes tickets twice per season. Sure, you have to be available to go on that specific day, but picking up tickets at these locations quickly sure beats wasting half a day with scalpers".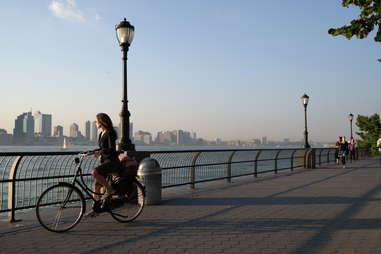 5. Bike without owning a bike or using Citi Bike
Citi Bike is great, but there are some great, lesser known ways to get around on two wheels, including Spinlister, a peer-to-peer bike-sharing network that allows you all the freedom of biking, and none of the having-a-bike-sit-in-the-middle-of-your-apartment issues.
6. Maximize your beer intake without emptying your bank account
When was the last time you checked to see if you were, in fact, spending as much on booze every month as on rent? Minimize that possibility like Urban Oyster founder and professional barfly David Naczycz, who buys his beer from local beer purveyors like American Beer Distributors on Court St in Cobble Hill and New Beer Distributors on Chrystie St on the Lower East Side. "Beer distributors sell for less since you skip the extra markup that the grocery store or bodega puts on the beer," says Naczycz. "Or get a growler and go straight to the brewery. Several of the new breweries that have opened in NYC over the past few years allow you to come and fill up growlers directly. And it's cheaper, fresher, and better than buying the beer at the bar."
7. Make farmers market shopping easier
Planning a dinner party and shopping for gifts can be a stressful affair. But it doesn't have to be. According to Markets of New York's Karen Seiger, it pays to become chummy with a farmer or favorite flea market vendor who offer repeat customer discounts and reserve items (be it a handmade tie or a whole turkey) that might otherwise sell out. "If you want it, make sure you get it," says Seiger. "Build a relationship. If they know you, they will hold it for you." If you're not plugged in to the farmers market scene, or lack social skills (or both!), just go online and track Markets of New York, or follow foodies like @TheExpGourmand and @SkeeterNYC who offer great tips.

8. Actually be able to afford the Broadway show you want to see
Skip the trip to the TKTS box in Times Square and download the TodayTix app for major discounts, check Broadway Box for reduced prices (often up to 50% off the biggest shows), or hit up Broadway for Broke People for last-minute deals available at theater box offices for students and the general public. Or just wait for NYCGO's Broadway Week, which offers two-for-one tickets.
9. Go on a fancy date without spending a shload of $$$
Oysters are "a great way to have a luxe experience at an otherwise unaffordable destination," muses Matthew Wexler, chef-turned-food journalist and author of Roo de Loo. So, head to one of these 64 oyster happy hours in NYC, where you can grab the bivalves for around $1.

10. Be a high roller without breaking the bank
Whether you're looking to plan a little romantic rendezvous, have buddies in town, or a rat/bedbug scurrying across your floor/face was the last straw, there are hotels in town that can offer an affordable mini-vacay. HotelTonight and Stayful are great resources for grabbing a luxurious getaway at non-luxurious prices.

11. Book your staycation at the optimal time of year
Budget Travel's digital editor Kaeli Conforti says, "the best time for bargains is right after New Year's when rates are slashed at hotels." That usually coincides with Hotel Week NYC, as well, which exists, and is when dozens of popular Manhattan properties provide deep discounts at fixed prices -- from $100 per night -- throughout two weeks in winter.
12. Also there are some everyday cheap rates to be had
Urban Cowboy (from $100) in the heart of Williamsburg is your best bet if you like free breakfast and that whole "most stylish rodeo you've ever been to" thing. The One Boutique Hotel has weekend rooms from $109, free shuttle service to the Spa Castle, fire pits, a rooftop glass house with far-off views of the Manhattan skyline, and easy access to some of the best eats in the city.
15. Get in and out of the city with (relative) ease
Oh, and we know traveling in and out of the city is a unique nightmare at times, and the trains, buses, and airports deserve their own sections, so check out the train & bus station hacks here, or the airport hacks here. Good luck out there.
Sign up here for our daily NYC email and be the first to get all the food/drink/fun New York has to offer.
Lauren Matison is the co-founder and editor of offMetro.com. If you liked any of these hacks, in lieu of taking her out for a beer, please follow Lauren on Twitter and Instagram.