Finding an apartment in New York City is madness. I should know -- I just did it. While moving is hard no matter what city you live in, it's a particular dog & pony show here thanks to NYC's rental brokers. They're a monolith of compulsive dishonesty & frank unprofessionalism, the likes of which you might expect from a dude hawking Rolexes out of a trench coat, not, you know... a home. But are rental brokers really the scum of the earth, or are there market forces hidden beyond the view of John Q. Renter that dictate their rank crappery?
To help you figure out exactly who's to blame for your NYC housing-induced misery, I turned to Brandon Major, a licensed real estate agent with Nest-Seekers International. Short answer: yep, rental brokers suck. Long answer: they suck in a staggering variety of ways.
Catharsis, right this way (emphasis mine; responses edited for brevity & clarity).

On the agents themselves...
"Do you know what it takes to become a real estate agent in New York City? It's a joke. $400 dollars and 75 hours worth of classes. Oh, and now there are Groupons for $120."
"I actually chose to go to the class instead of taking it online because I thought, 'Hey, maybe I'll meet some cool people.' WRONG. Just about everybody there was awful."
"It's not that every single broker I have met is dumb, it's just that you don't necessarily need a degree to do this job."
"Don't get me wrong -- there are some good people in this business. The problem is the majority of rental brokers are incompetent, and people get into this business just to collect a check."
"There are zero ethics. It's not difficult to get your license, which is probably the first problem. Second, most firms will hire you if you have a pulse, because it's 100% commission and they aren't paying you anything. What do they have to lose?"
"When I was a show-er [the guy with the keys], I had a broker show up to meet his clients on a Citi Bike. The apartment was on the fourth floor, and he didn't want to leave the bike unattended, so he had me show his clients the apartment and do all the talking and answer all the questions. What a jackass."
On "standard" fees...
"I have a soul (I think), and feel it's borderline criminal to charge [a 15%] fee unless the apartment is an exclusive. It really was awful having to charge pretty cool people 12-15% because I wasn't in control."
"Most firms... give you a really tough time when negotiating down from 15%. I just don't understand why. They always revert back to 'it's the standard commission in NYC'. Which is nonsense. The firms sell themselves by telling you in training 'let us be the bad guys'. Why does there have to be a bad guy in the first place?"
"I used to work with other brokers that'd be like, 'if you don't want to pay the 15%,then work with a discount broker'. What... the hell... does that even mean? Is that an insult? These people think they're such hot s**t."
"I once had a broker ask my clients for a non-refundable security deposit for $1,000. Initially, I thought this fee would secure the apartment, but the broker insisted that he'd keep showing and take the strongest application. How does that make any sense?"
On "short walks to the subway"...
"You want to sell the apartment and make it sound like the best apartment ever, so of course brokers beef up the neighborhood. I was totally guilty of this when I first started -- I'd end descriptions for places in FiDi with 'surrounded by great bars, restaurants, and shopping!' Then I spent a few days down there."
"It's hard to advertise buildings all the way on the West Side. I see [brokers] put in there 'short walk to the subway' -- have you ever walked three West Side avenues?"
"A client was sending me a listing she thought was real at 30th & Lex. In the pictures, there was a direct view of the East River in the window. She didn't want to live on 1st Avenue, but she keeps telling me 'the listing says it's one block from Grand Central'. So, I called the broker for her to see if it existed. Sure enough it had been "rented" and they asked what else I was looking for. [Expletive] that."

On landlords...
"Some landlords are friendly to brokers. Others are jerks. When I say 'jerks', I mean they won't answer questions for your client unless you have an application already in. So your client wants to move in a couple days earlier/later than the landlord's listed start date? [The landlord] might not answer 'til the clients spend $100 on app fees and submit everything, then it could be a 'no' anyway."
"Basically, being a landlord in NYC is [expletive] fantastic."
"Walk-up buildings often have landlords who don't want to pay leasing agents to show the apartments and handle applications. Instead, they work out a deal with the brokerage and those brokers do all the showing & paperwork. They get paid by the renter (that's the broker's fee)."
"[Landlords] won't even waste time showing a broker an occupied apartment without a client. For example, if I see an apartment available that you might be interested in, we set a time to view it. If you hate it, you're like, 'Dude, why did you waste my time?' It's kind of a crapshoot because I can't go see it myself to preview it for you."
On lying in listings...
"A lot of brokers will just list an apartment that doesn't exist, just to get the phone call [from the renter]. For example, I could go on a website right now and just make an ad for, let's say, a convertible three-bedroom in FiDi for $2,900. My phone will be off the hook. What really sucks is if a broker sets an appointment [for that fake place], makes you go out of your way to meet him, and then tells you it was 'just rented'."
"I don't call fake listings 'fake', I like to call them 'BOGUS' -- I don't know why, but that word is awesome. 'Bogus' listings are if you see a true two-bedroom on 9th & Bowery for $2,500 with hardwood floors, floor-to-ceiling windows, washer dryer in unit, etc."
"It's almost impossible to get pics of every single apartment you list, because a lot of times the building won't let you view without a client, and they don't allow pictures anyway."
"Firms train their agents to NOT say what the apartment is converted from in the description."
"I found a one-bedroom exclusive in Brooklyn [for a client] and called about it. He told me all sorts of great things, including that the landlord was giving two free months [of rent]. I set the appointment. Day of, I called him to confirm. He didn't answer. I called his office and someone picked up saying 'Yeah that guy got fired for posting our listings as if they're his own exclusives, then taking his 7.5% in the form of cash and pocketing it. We're taking care of it'."
"I had clients [who chose to] rent an apartment through another broker because he told them 'all utilities were included' in the price. After their first month, they received a bill for electric & gas. He told them that the landlord 'just changed the policy' and it was in the lease."
"I had a client hit me up on a flex-3 in FiDi that was rented. I told her there were other options, so we met up and I showed them to her. She said she had another appointment downtown to see an apartment. I looked at the listing and told her it was the same one she'd inquired about -- the one I knew had already been rented -- so I told her. She met him anyway. Sure enough, the guy pulled the ol' 'ahhh it JUST got rented' and had her sign paperwork, then showed her everything out of her price range."
On your pets...
"I had a lady call me looking for a new studio. The landlord of her current studio had served her an eviction notice because of her cat. Why did she move in if the landlord didn't allow cats? The broker told her the landlord was fine with them, and [she never got confirmation directly from the landlord]. She paid the broker a 12% fee, and [when this all went down], he ignored all her calls & emails."

On compensation...
"I think your average broker stands to make between $60-80,000 a year doing rentals if they're on a 50/50 split with their firm. I've seen a guy make $20,000 in one month, working hard every day, and on the other hand, I've also personally gone a month without receiving a paycheck. You have good months and bad months."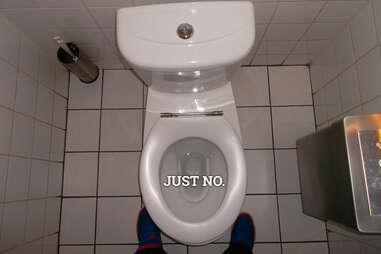 On an entirely separate kind of crappy broker...
"At my old firm we had a broker get fired because she took a dump in the bathroom of the apartment she was about to show, then texted her friend about it, who told everyone in the office. Not too crazy, but kinda funny." [Editor's Note: definitely crazy]
Sign up here for our daily NYC email and be the first to get all the food/drink/fun New York has to offer.
Dave Infante is a senior writer for Thrillist Food & Drink, and is getting horrible flashbacks just thinking about this. Follow @dinfontay on Twitter, Instagram, and Snapchat.