On any given day, you probably run into at least a zillion people on NYC's streets, subways, and parks who're after some of your hard-earned cash. Since you're never quite sure whether you should give said monies to the Elmos, doo-wop guys, the Naked Cowboy, or the classically trained violinist, we've gone ahead and made the decision much, much easier for you with this power-rank of 27 different NYC street performers.
27. Mimes
They're terrifying.
26. The guy who weirdly plays the saw with a bow
If you're thinking about turning some old junk into an instrument, at least stick with buckets.
25. The guy who plays the traditional Irish fiddle
We don't have anything against this guy really, but he's just kinda easy to look over.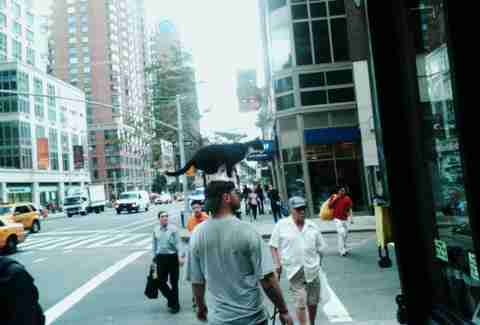 24. The guy with a cat on his head
Maybe if this was 2009... but we haven't seen this guy in a while.
23. The person who's rocking an old-school Casio
Sometimes; mostly if they're accompanied by someone who can really sing -- or a kid -- they're awesome, but most of the time it just reminds you of your parents' basement.
22. The steel drum player
Obviously if you were in Saint Croix or something, this would be way up there, but nobody wants to be reminded they AREN'T on a beautiful tropical island while they're waiting for the F train.
21. The guy walking up and down the subway car with an accordion
Props for old-world charm, but it's just really hard to impress with an accordion.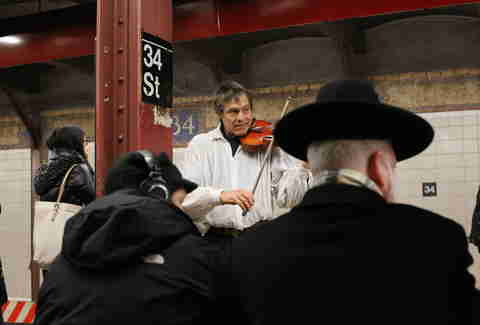 20. The classically trained concert violinist who loves the acoustics of the subway platform 
This would be awesome if you, or any of your platform companions, knew the difference.
19. The toooooootally outrageous dancer
You've seen this person, whether they're in a gold unitard and rollerblades, or a pink thong and sunglasses. They never fail to draw a crowd, but often it's just novelty and no talent.
18. The hippie folk singer chick
They might sing one of the most beautiful renditions of Alison by Elvis Costello ever, or they might sing one of the most okay renditions of Alison by Elvis Costello. Very take 'em or leave 'em.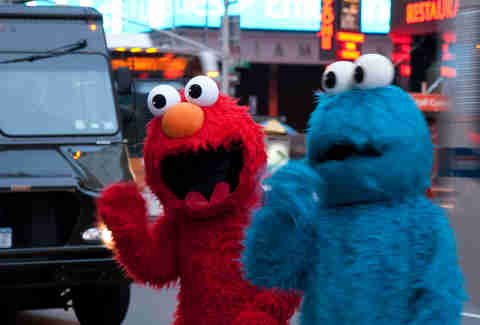 17. The Elmo's giving hugs and taking pictures with people in Times Square
They're annoying and weird, but they're part of the character of the area, and that counts for something. Also: tourists (or you, if you've had too many at Dave & Buster's) love them.
16. The world music pan-flute guy
He'll move up some spots when we can Shazam him.
15. The musician with a shtick or costume
We've all seen the three-piece band that's dressed up as pink gorillas, or the Boba Fett who plays the accordion, and we're glad to live in a city that has these things -- but how long have you ever actually stayed and watched them?
14. The kids that do flips in the subway
On pure talent and entertainment alone, these guys would be higher, but being constantly terrified that they'll kick you in the face keeps them out of the upper echelon.
13. People painted as the Statue of Liberty/ a robot
These guys are high on the list because tourists love them, they expect to see them in certain spots, and they don't actually bother people who aren't into them.
12. The guy who wheels around his piano everywhere
He plays enjoyable music, you probably took a picture of him the time you saw him playing under the arch in Washington Square Park, and you just have to respect the fact that he lugs that thing all over the place.
11. The one-man band
How do they do that? It's amazing.
10. David Blaine
His performances are too infrequent, and hopefully his next trick doesn't involve standing for a while. But damn does he do some crazy stuff.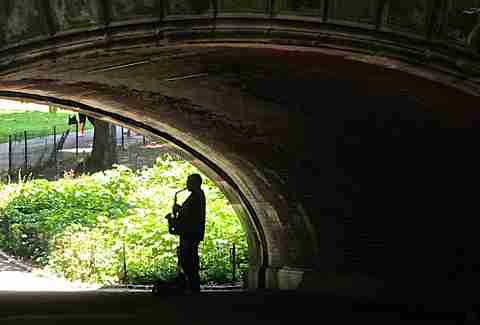 9. The guys who play the saxophone under the bridges in Central Park
Would Central Park be a slightly worse place without these guys? Yes. Yes, it would.
8. The full band with real instruments and amplifiers, that clearly has real gigs somewhere
They're just much better than the others, and you almost always drop them a buck.
7. Jimi Hendrix guy
He's like the perfect storm of #15 and #8.
6. The mariachi guys
Maybe we're giving these guys too much credit, but if you don't smile when they get on, your heart is made of stone.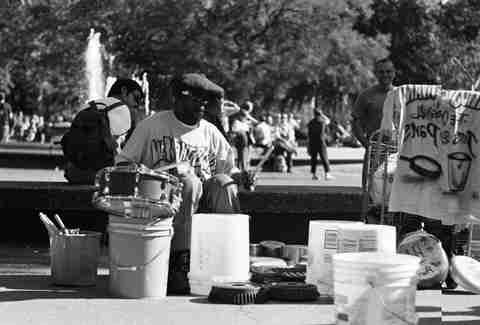 5. The bucket drummers
Some of the things these guys can do with stuff you use to clean your apartment is just downright crazy.
4. Little kid who's better at his instrument than you are at anything
Don't be jealous; just drop him a dollar, and plan to someday learn guitar from some dude on Craigslist.
3. The doo-wop guys
Iconic and talented. The best of them always draw a crowd.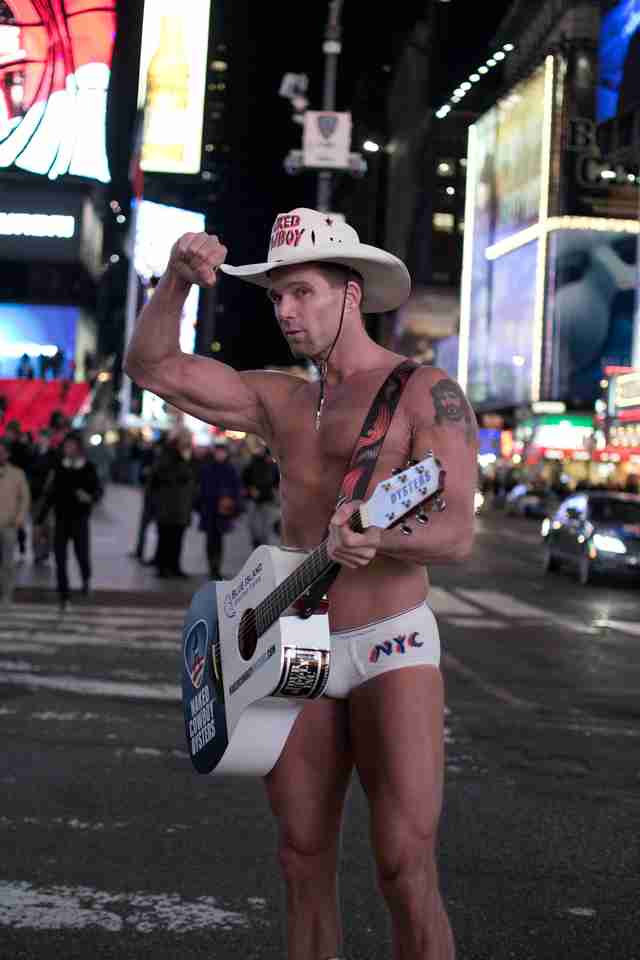 2. The Naked Cowboy
There probably isn't any other street performer that people put on their must-see list when they come to NYC. Well done, Naked Cowboy. Well done.
1. The kids who circle everyone up and dance in Central Park (and the bigger subway stations)
They've got choreography, charisma, style, and they're actually good. Combine that with their ability to actually get people to watch and give them money, and these guys are at the top of the street performer food chain right now.
Andrew Zimmer is Thrillist's NYC Editor, and he wishes he had a special skill he could perform for money on the street. Follow him on Facebook, Twitter, and Instagram.