11 things I learned at New York Comic Con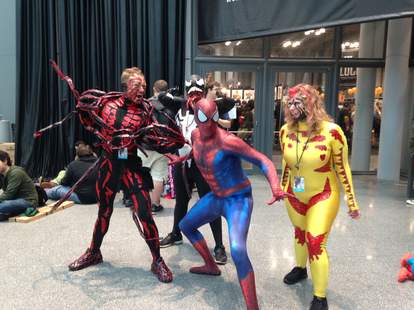 After years of admiring it from afar, I finally attended my first-ever New York Comic Con. It was fun, and weird, and exhausting, and at the end of it all, I came away thinking, "man, I wish I had known more going in". Well, at least now you totally will: here's a list of the most important lessons I learned at NYCC 2014. Use them well, young Jedi, and may fully charged phones be with you.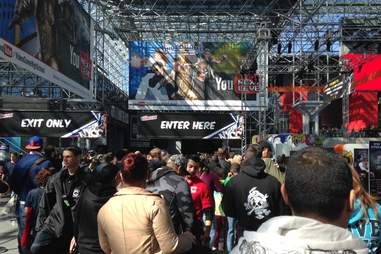 Kristin Hunt
1. Checking in is pretty painless
Provided you remembered your tickets/badge and can follow the cues to the correct entrance, getting in is simple. You do need to remember to tap your badge with a NYCC rep if you step outside, but they're easy to spot. (Note: they're not dressed like Deadpool. Do not believe instructions from anyone dressed like Deadpool.)
Kristin Hunt
2. Your friends who complain that it's too commercial have a point
New York Comic Con stopped being just about comic books a long time ago -- nowadays, you'll spot multiple Barney Stinsons and Alex Vauses walking the floor. But it's hard not to feel like you're walking through a giant advertisement, especially on "The Block", a jammed collection of vendors armed with giant dragon busts casually reminding you that The Hobbit: The Battle of the Five Armies hits theaters everywhere this December.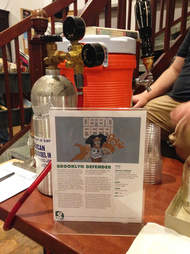 Kristin Hunt
3. But it has led to some undeniably cool stuff
If New York Comic Con hadn't blown up, we might never have goods like the Brooklyn Defender, an annual brew from Brooklyn Brewery that enlists a legit comic book artist to design the label. This year's batch was a red IPA featuring the beer's first lady crime fighter. Justice never tasted so hoppy.
Kristin Hunt
4. Don't feel bad about asking people for photos
Your first instinct is to feel guilty for stopping Doc Ock on his way to the Marvel panel, but ignore that. He spent four days constructing that costume for a reason, so go ahead and snap a billion selfies.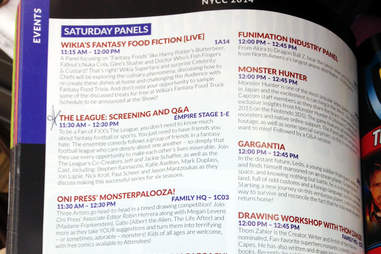 Kristin Hunt
5. Have a game plan
Given the sheer lunacy of Comic Con, structure is going to save your sanity. It's fine to spend some time aimlessly wandering, but have specific panels, workshops, or signings cemented into your schedule. Otherwise, you're liable to morph into The Joker. Without the sweet costume.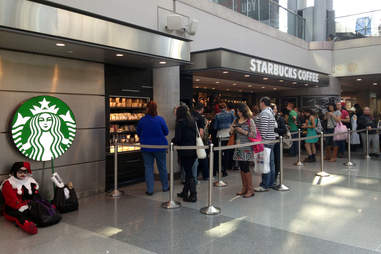 Kristin Hunt
6. Stay caffeinated
Even though you're really just shuffling between stops, this beast is exhausting by nature. Show up with coffee already in your bloodstream, and keep replenishing as the day goes on. 
Kristin Hunt
7. Bring Advil
You are going to get a headache after 45 minutes. Tops. That's just inevitable, so have painkillers on hand to ensure you get to the Karate Kid reunion panel in one piece.
Kristin Hunt
8. There will be children there, and you will have mixed feelings about it
On the one hand, seeing a Papa Ghostbuster, Mama Stay Puft, and Baby Slimer strolling together is downright delightful. On the other hand, watching lil' Slimer bump into Poison Ivy and her scantily clad friends is kinda uncomfortable. Nowhere was this worse than at the League panel, where the cast rightfully predicted that the 10-year-old in the front row would have to ask his parents what a "murder boner" is.
Kristin Hunt
9. Charge your phone
Showing up with a fully charged smartphone is essential. You're going to be taking a ton of photos, Instagramming about half of them, and smugly texting your friends about how you totally brushed past Patrick Stewart on your way to the pretzel stand. There are a few phone charging stations planted throughout the space, but they get crowded fast. Best to come prepared with a full 100%.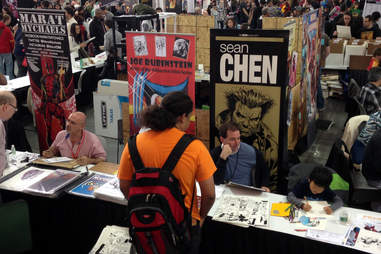 Kristin Hunt
10. Don't forget to stop by Artist Alley
It's easy to get stuck in The Block and panel rooms, but make sure to spend at least a little time in this OG Comic Con space. Whether you're there to schmooze with an illustrator you already love or check out some new talent, it's a great time, and far more relaxed than the insanity across the way.
Kristin Hunt
11. Be ready for anything
Being at NYCC is a lot like living in New York: you're going to be assaulted with a ton of bizarre stuff, but everyone is going to act like it's completely normal. Embrace the weirdness, and make sure to hug at least one Stormtrooper before you leave.
Sign up here for our daily NYC email and be the first to get all the food/drink/fun New York has to offer.
Kristin Hunt is a Food/Drink staff writer for Thrillist, and will always cherish the selfie she took with Mr. McGibblets. Follow her at @kristin_hunt.