Pete Davidson and Colin Jost Will Turn a Defunct Staten Island Ferry into a Comedy Club
Because Pete will do anything to continue reminding us he's from Staten Island.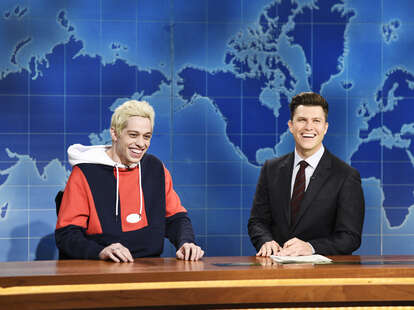 Pete Davidson and Colin Jost are the proud new owners of *checks notes* a Staten Island Ferry.
The Saturday Night Live duo teamed up with Paul Italia, co-owner of the Union Square comedy club, The Stand, to place a bid on a decommissioned Staten Island Ferry on sale by the city, Vulturereported. And while there's a laundry list of things to do with a newly purchased ship if you're two borough natives and comedians just in it for the bit, sailing isn't one of them.
Currently, the vessel isn't in working condition and the past two put up for grabs by the city have been sold for scraps. Instead, Vulture reports that Davidson, Jost, and Italia plan to turn the space into a live entertainment and event venue with comedy shows, art exhibitions, and food on sale aboard the ship.
The 60-year-old ferry, named the John F. Kennedy, has a capacity of 5,200 and was listed for auction in "poor" condition due to "mechanical issues," according to the New York Post, which first reported Wednesday that an anonymous bidder bought the ship for $280,000.
Now there's no word on when the ferry will be transformed into an event space. Davidson and Jost, who both grew up on Staten Island, and Italia will still need to find a spot to permanently dock the 277-foot, four-million-pound vessel, as the Post reported that the new bidder is responsible for picking up the ship themselves within the next 10 days.