My Morning Commute from Brooklyn to Manhattan in the "Blizzard" of 2015
If you're reading this, you already know: Winter Storm Juno was pretty much a no-go in New York City. The so-called Blizzard of 2015 dumped about 6.5" of snow on the Five Boroughs before turning its attention North & East to pound New England harder than Bill Nye. Around the city, sighs of relief were quickly replaced with groans of disappointment as 8 million New Yorkers realized they probably had to go to work today. (Now that the subways are running again, the list of solid excuses is dwindling fast.)
But hey! Turn that frown upside-down, unless it already is upside-down, in which case, continue smiling, because 6.5" inches of snow is still enough white stuff to make NYC look not-crappy for a few days/hours/minutes. Huzzah! To take advantage of the idyllic city scenery, I woke up early this morning, grabbed my camera, and hit the streets. Since my Q train was still Cuomo'd as of about 7:30am, I walked from my apartment in Fort Greene to Thrillist HQ is in Soho. Here's what I saw on the way in.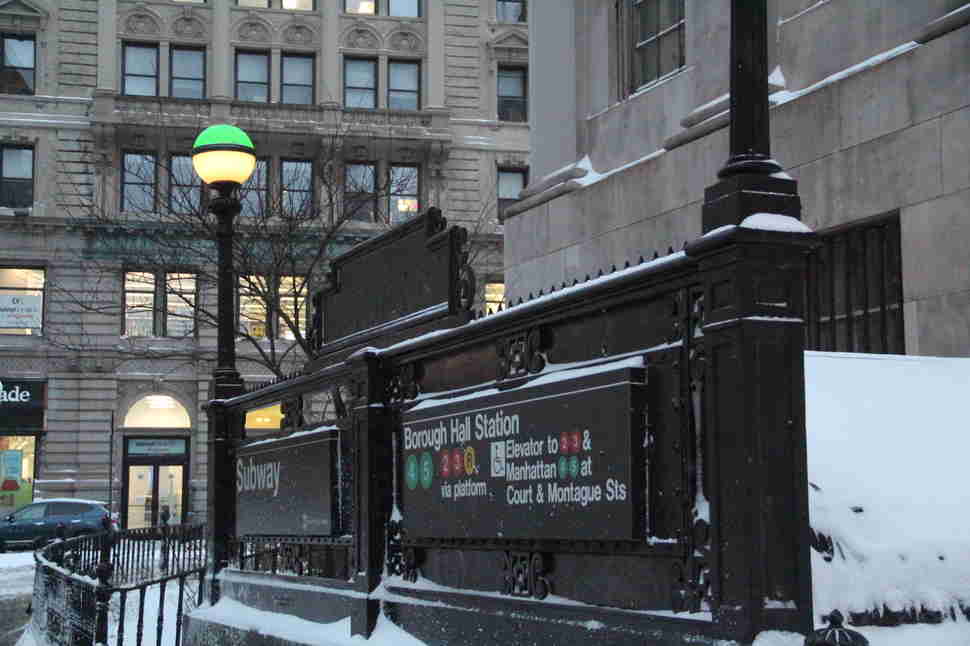 Empty subway stations
Because of last night's city-wide closure, the stations were vacant... of people, that is. The MTA was running empty, out-of-service trains all night to keep the tracks from freezing. On Twitter, these eerie rollers quickly became known as "ghost trains," because there's nothing creepier than a rush-hour 4 train cruising by at a crawl with no one inside.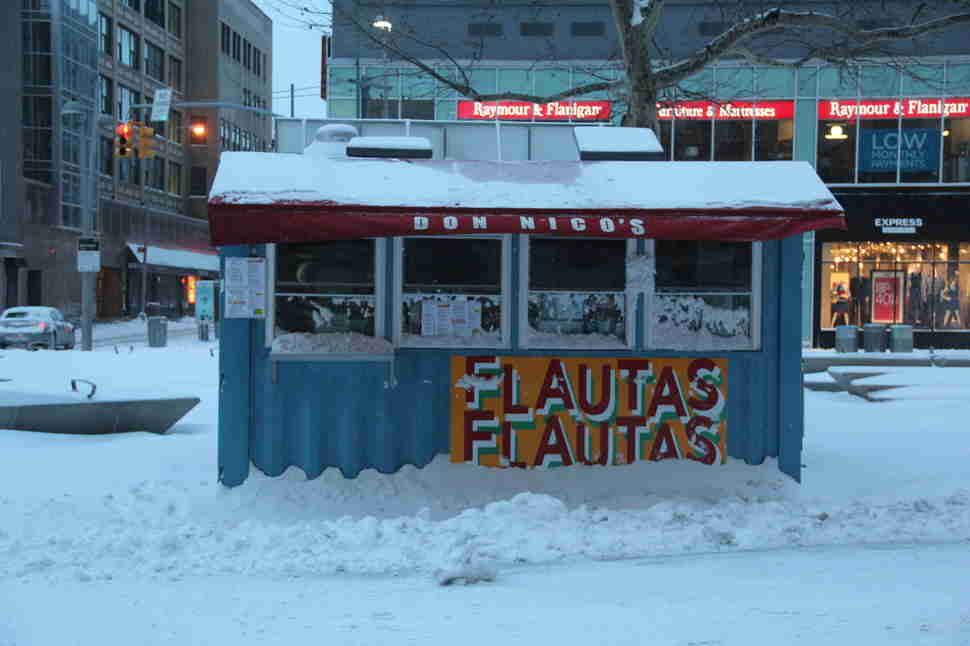 No Mexican street food.
There was a severe shortage of flautas-flautas on this journey.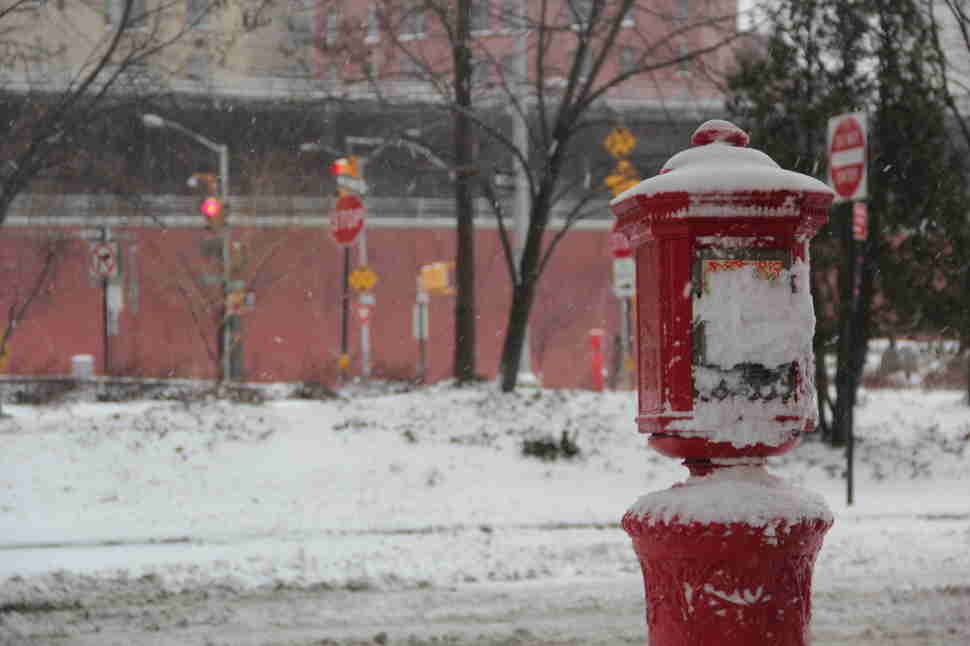 Collateral plow damage!
Street posts, signs, cars... you name it, it got crushed with the run-off from the city's plows, which is not surprising given the fact that said plows were attached to the city's garbage trucks, which are not exactly delicate instruments.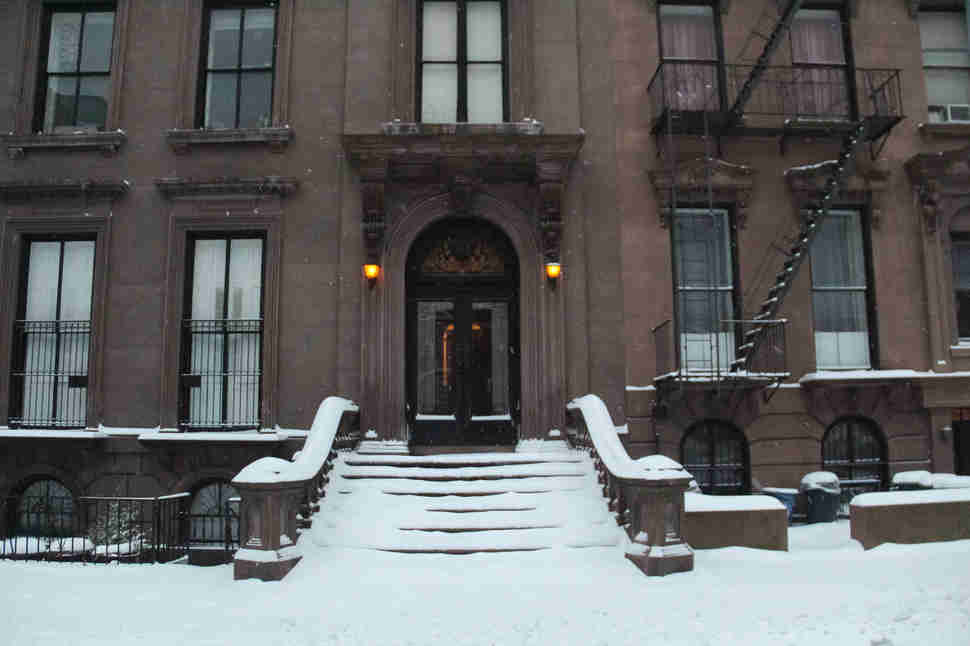 Tremendously quaint snow-covered stoops
I walked down Joralemon Street to see what the snow looked like on all the gorgeous brownstones I love and can never afford. Findings: the snow looked darling, the brownstones are still gorgeous, and I am no closer to affording them.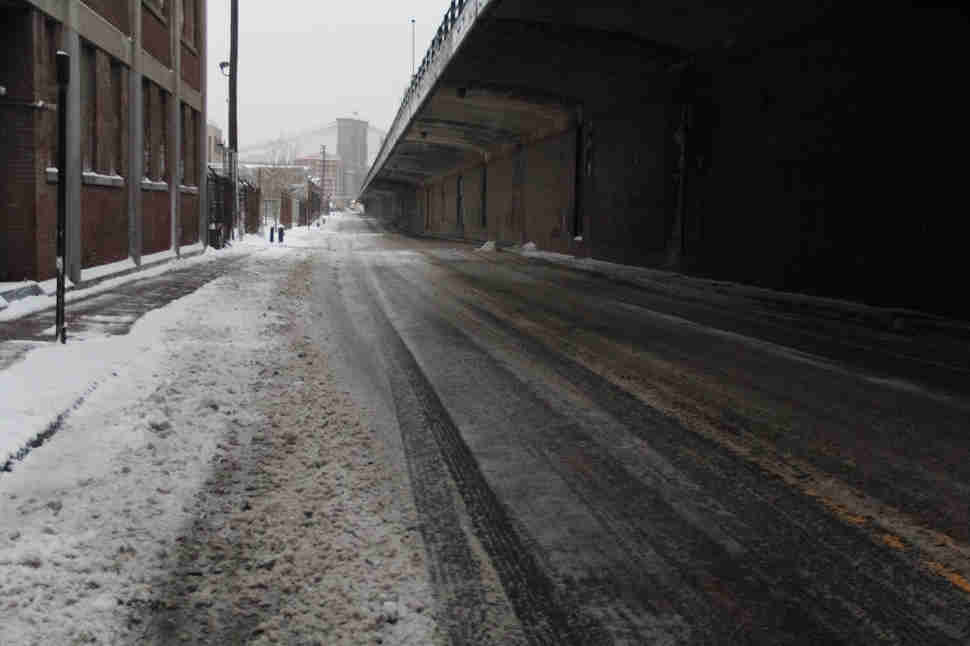 Unearthly bridge views
The snow was still coming in while I was walking this morning. As a result, the Brooklyn & Manhattan Bridges were both half-socked-in, making them look like Halo landscapes instead of the real thing.
Unearthly not-bridge views, too
Like this stained-glass water tower, which I spotted on a rooftop in Brooklyn Heights, because... well, Brooklyn Heights.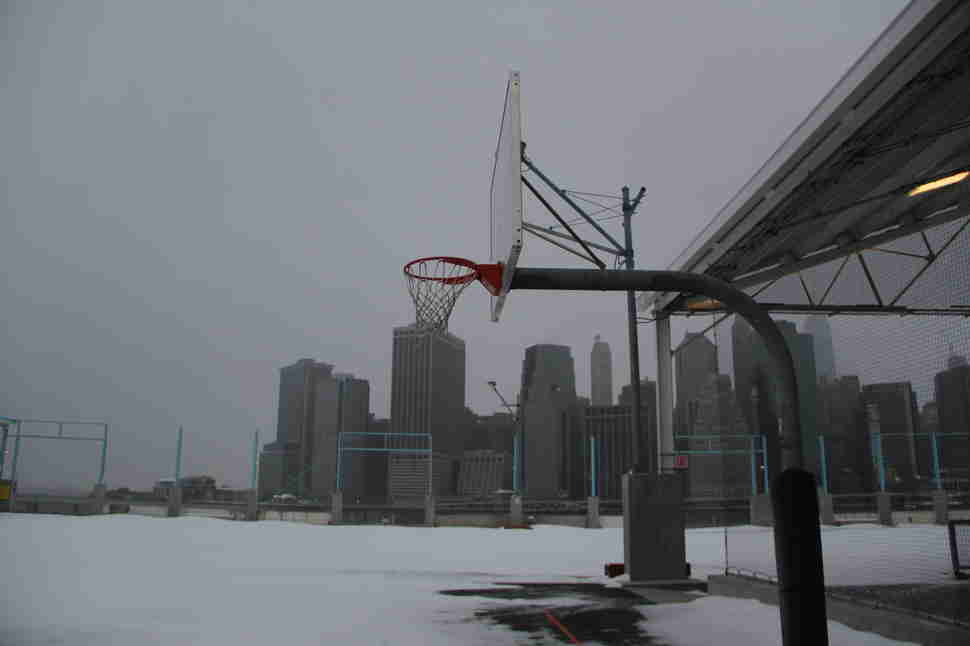 Waterfront: cold, colder, coldest
I was wandering through an abandoned, drifty Pier 6 and taking photos of the Financial District when I realized that I couldn't feel my hands. Or face. Or like, torso. But hey -- the shots are good, right?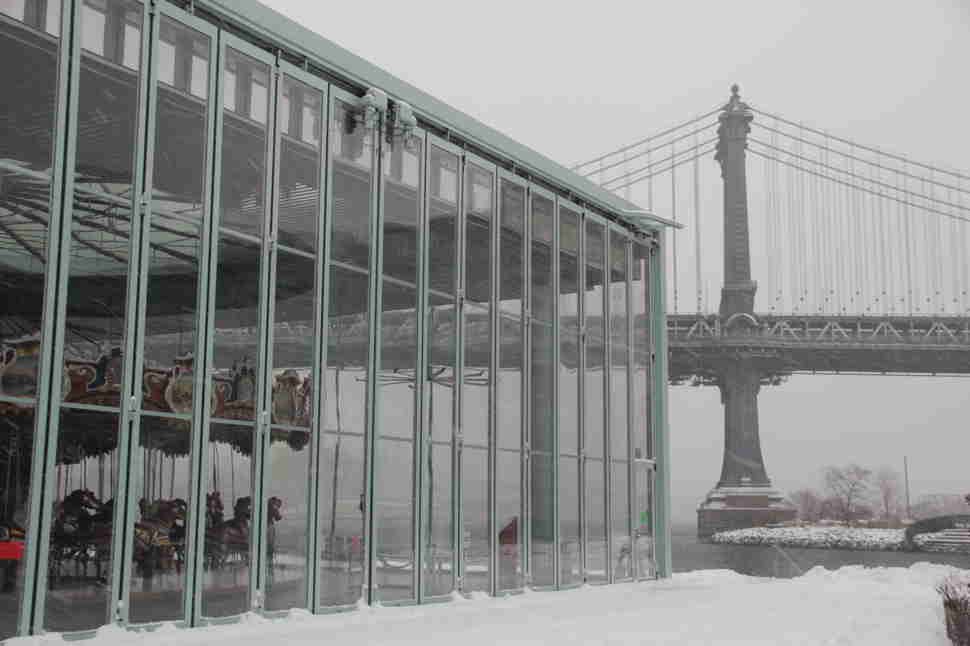 Carousel, ho!
Despite the fact that most of New York is swaddled in approximately infinity microfleeces, Jane's Carousel in Brooklyn Bridge Park seemed nonplussed by the storm.
Stained glass, now in house form!
Artist Tom Fruin's installation looked nothing short of resplendent surrounded by Juno's bounty. You hear me, people?! Nothing. Short.
Crossing the Brooklyn Bridge
There were actually more people than I expected on our city's most famous bridge. I even saw a couple joggers, which is frankly absurd.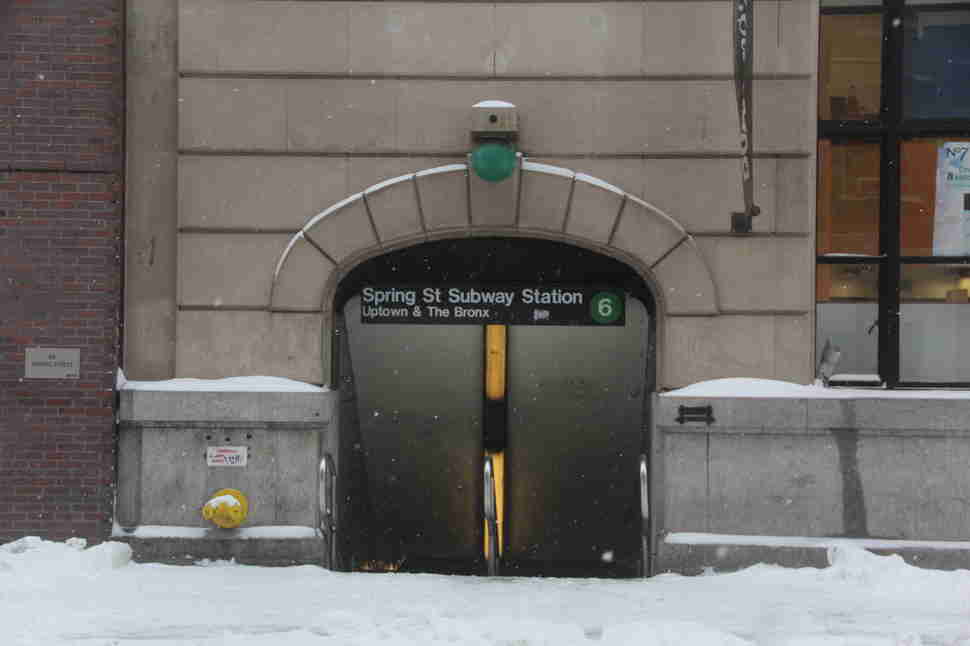 Hey, the subways are back!
By the time my feet touched ground in Manhattan, the transit ban had been lifted, so I popped on the 6 at City Hall and whisked up to HQ.
Juno, you've got nothing to be ashamed of
I made it to the office and started writing this very article, and... well, here I am. There's no real punchline to this story. Is anyone even reading this? Was the Blizzard of 2015 worthy of its hype? Was it even worthy of the title "blizzard"? The answer to at least two of those questions is "no." But Juno made New York City look damn pretty for a few hours this morning, and that's no easy feat.
Stay safe out there, and enjoy the snow. Don't forget to follow THRILLIST on Snapchat to check out more adventures like this as they unfold in real time!
Dave Infante is a senior writer for Thrillist Food & Drink and remains extremely cold to this very moment. Follow @dinfontay on Twitter, Instagram, and Snapchat.