From booze-filled pools to secluded ponds, the 5 best places to cool off in the water around NYC
It's Summer in New York, so naturally you're drenched already, but here are a couple ways to get soaked the good way, thanks to mad Super Soakers our ranking of the top places to swim around NYC, from pools, to ponds, to other places groundskeeper Bill Murray might take a dip in.
5. The + Pool
That fact that it's able to push as far as the fifth spot despite not exactly being real yet should let you know just how awesome this thing COULD be. It's a floating pool in the East River that cleans all the dead dolphins and mobsters out by way of a science-y filtration system, and lets you frolic unencumbered by pollution in a way that hasn't been possible in like 100yrs.
4. Delaware River Tubing
2998 Daniel Bray Hwy; Frenchtown, NJ; 908.996.5386
While actually real, this one's not higher because of inconvenience. But about 1.5hrs away in Frenchtown, NJ, there's some of the best river tubing you can hope to find, plus a friggin' hot dog island -- that's right, there's a guy who sells hot dogs and BBQ right in the middle of the river. Buy lots of both.
3. Hotel Pools
There are a couple reasons these aren't #1: they tend to be smaller than you hoped, some aren't open to the public, and they are no doubt expensive. But there's probably no better way to cool off while drinking pitchers of alcohol in the middle of the city. Bonus! Here're a few that're open to the public: the Dream Downtown, Jimmy at The James, King & Grove Williamsburg, and La Piscine.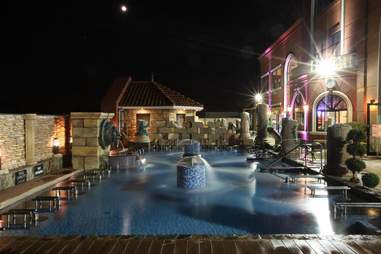 2. Spa Castle
131-10 11th Ave; College Point, NY; 718.939.6300
A spa isn't for you, you say? Well, have you ever been in a hot mineral bath built with ancient pine woods, while also surrounded by a fragrant pine aroma? Received acupressure from water jets? Felt a refreshing rush of water from "deep mountain" waterfalls while you gaze out into the evening with views of the Whitestone Bridge? Also, it's a castle.
1. Trout Pond
Corner of Noyac Rd and Ruggs Path, Southampton
Arguments could probably be made to have just about anywhere in the Hamptons top this list, but Trout Pond gets points for being a little bit more off the beaten path than the other spots. It's just off Noyac Rd, and it's the rare secluded spot where you can actually relax, be in nature, and soak in the Summer. Until everyone reads this. Sorry.